Imagine a woolen dreamland snuggled within silken fantasies sewed expertly at the seams, sirens gliding down the warmly lit aisle, their hair slicked back neatly behind the ears, a vampy lip shade that means business… This season, LA Fashion Week was treated to a bold showcase by the School of Fashion alumni Vicken Derderian and Kyung Hua Kim who collaborated on a beautiful collection. Fashion School Daily checked in with Derderian about life after graduation and leaving a job at BCBG Max Azria to pursue a dream of one's own label.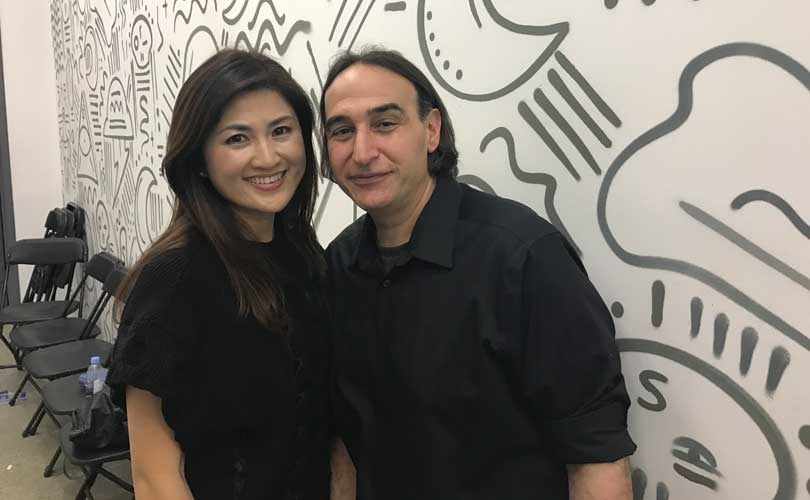 Instagram – @vickenderderian | @kyung.hwa.kim
FSD: Can you tell us about your 2017 fall collection presented at LAFW?
Vicken: It started off with the concept of women in flight. I guess, we were trying to raise the proverbial glass ceiling or find a way to break it. It could stem from all the things that took place during the recent election. Our garments explore the idea of a "woman" as a flightless bird. Even though her wings have been clipped, she can still move swiftly. Despite the obstacles, she gets to her destination anyway, in a different way. "And still she persisted…"
FSD: How did your professional relationship with Kyung Hua Kim come about?
Vicken: Kyung and I were fortunate enough to have our paths cross both at the Academy and again at BCBG Max Azria. She brings femininity to our collaborations and keeps them grounded despite being also very experimental. We balance each other throughout the design process. First of all, we're quite honest with each other. When we discuss our work, we don't take it personally and allow each other room to work through everything. When we offer our points of view, we have our own creative vernacular and "simply" marry our ideologies of the subject. Not everything fits, but we make adjustments along the way.
FSD: Is it different collaboration in school and in "the real world"?
Vicken:  It has been a fairly smooth transition. The way we create collections at the Academy really runs parallel with how it is done professionally. In fact, it probably gets more chaotic outside the classroom. It only matters on how much risk one is willing to take. I mean it not just financially. It's about how much you are willing to put your work out there and handle criticism. For most people, it's a very scary thing.
FSD: What made you move production to Armenia?
Vicken:  We are hoping to start producing there, yes. We are a niche brand and we aim to establish ourselves first and then expand. I believe the U.S. is a saturated market. With a studio in Armenia, we get a little detachment from what is done here, something slightly off balance, off the beaten path. The coolest thing about having a place to work in Armenia is its Old World flavor. When you walk down the street you see all the different ateliers that have been crafting things since forever. In Armenia, we feel in control of our creative destiny.
[metaslider id=41184]
FSD: What are some of the challenges facing a new independent label?
Vicken: Other than financing, it's risk management. There's a huge learning curve, especially dealing with vendors and suppliers. You get criticism as a designer and as a business. This year, one challenge is about refining, refining and refining, doing a better job every time.
FSD: You describe your work in strong terms such as "armored", "shield-like" and "touch of warfare". Quite a vision for womenswear…
Vicken: We design for very confident women. They feel a bit more protected in our clothes and can take bolder risk. I do not fall in love with my work and, given a rationale, I'm ready to burn it down in order to get to stronger creative ground. It is important to not be satisfied for success.
FSD: Any advice for current Academy students?
Vicken: Find your voice, but understand that you cannot do this alone. Fashion is a team effort, so keep your ego in check and have a thick skin. For every ten people that like your work, there's a hundred that won't. Try to align yourself with people who support your vision. At the end of the day, it's important to let the negativity roll off your back.
---
Cover Image Credits – Enrique Bautista
Interview by Nivetha Sundar (MA Fashion Journalism)