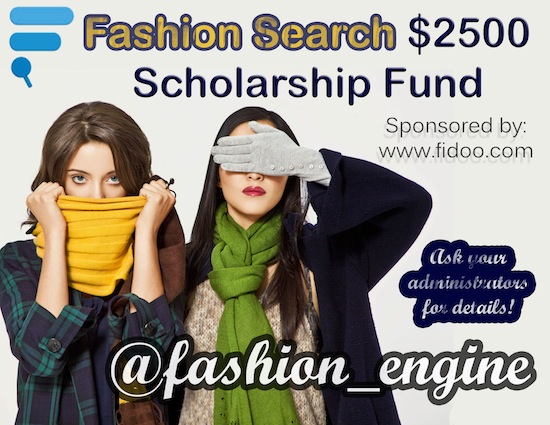 The Internet's latest fashion search technology, FIDOO (Fashion Information Distribution Organized Online) just launched last week and is on the lookout to award one lucky fashion student with a $2500 scholarship that will help the winner find his/her own fashion, through education.
Fidoo.com, the world's first online fashion search engine, is a revolutionary tool that will enable the world to "find their fashion" by way of a simple search. FIDOO will eliminate the need to call around to stores to make sure they have an item in stock. Users will even be able to read current reviews from real people, online, in real time. FIDOO (The Fashion Engine) enables stores, brands, and designers to reach a wider audience, and makes it possible for customers to find the right products quickly and accurately. With technology's purpose in simplifying our everyday needs, why hasn't a tool like this already been created?!  
FIDOO has partnered with top fashion schools around the country, and embraced new-wave marketing and communication to create an essay contest via Twitter.  The scholarship will be awarded on January 15th for the Spring Summer 2012 term.
For full details, follow the jump.

The Fidoo Inc. Fashion Search Scholarship is awarded to a college student or graduating high school student who shows passion in enhancing the fashion community and promise in their future involvement in the industry.
AWARD
A $2500 scholarship will be awarded to one student by an appointed committee within the Fidoo Inc organization.
ELIGIBILITY
– High school seniors who will graduate in 2012 and are permanent residents of the United States
– College undergraduates who are permanent residents of the United States
*Applicants must be majoring (or declaring a major) in Fashion Design, Fashion Marketing and Merchandising, or Retail Management.
APPLICATION PROCESS
Complete each of the following:
– Submit a 140 character Application Post via www.twitter.com indicating why you deserve to be awarded this scholarship.
– "Application Post" must include ALL of the following text:
#fidoo.com
@fashion_engine
#fashionsearch
#scholarship 
– Follow @fashion_engine on twitter
– "Like" our Facebook page at: www.Facebook.com/fidooinc
Applicants can also add a link to a video, Tumblr article, or blog post indicating why you deserve to be awarded this scholarship, posted on www.twitter.com. Videos should be no longer than 1 minute in length.
DEADLINE
Deadline for application is September 1st. Recipient will be announced on November 1st.
Applicants should have family, friends and acquaintances retweet their Application Post to help their chances of winning the scholarship.
SELECTION
Fidoo Inc will determine the final winner. The decision will be based on the following criteria:
1.) Number of times your "Application Post" is retweeted
2.) Originality and creativity of your "Application Post"
3.) Ability to show a unique passion in pursuing an education in fashion
"Application Post" must abide by Twitter rules and guidelines (which can be read here).
Fidoo Inc. will choose one student deserving of this scholarship fund to help pursue their fashion career. In addition, the company will help mentor the student in preparation of entering the industry.
Scholarship will be awarded on January 15th for the Spring Summer 2012 term.