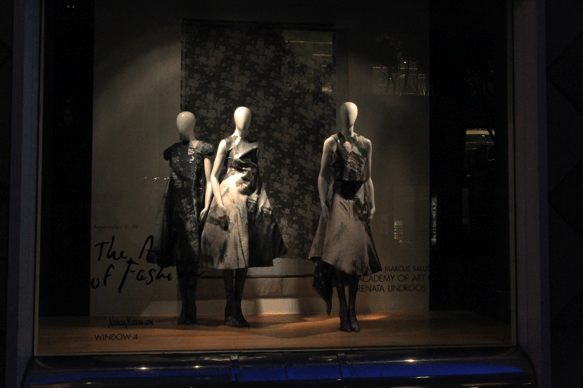 Renata Lindroos collection stuns in the Neiman Marcus windows. Photo by Bob Toy.
Amidst clans of clicking heels, DSLR cameras, and fur-clad women, Union Square was transformed Thursday night for the 4th annual shopping extravaganza, Fashion's Night Out. This year the event hit a new high, occurring in 13 markets worldwide. The celebratory event is meant to excite, encourage spending and bring fashion to the people. Ladies and gents unabashedly crammed sidewalks outside Neiman Marcus and Macy's to circulate through mini events and fashion fetes hosted inside the department stores.
"Fashion's Night Out is a great opportunity to get your feet wet. I'm a new face to the world. So this is a great evening to get comfortable, meet new people and see what's out here [in San Francisco] in fashion," said model, Daniel Padilla, on what brought him out to celebrate Fashion's Night Out.
"Everything about tonight makes fashion so exciting. It's the one night all the stores are open and everyone can get together and shop for a cause. Although I do wish I was in NYC, BUT San Francisco is really picking up their game compared to last year!" said Academy of Art University M.F.A. student, Stephanie Skangos.
Follow the jump to read more!
Once ushered through the doors of Neiman Marcus, patrons hit make-up counters for Fall Face makeovers from Chanel, Armani, Laura Mercier and other pro make-up artists. The next stop, post beauty bar, was a red carpet photo op. Other notable discoveries included a trunk show from jewelry designer, Jamie Wolfe, a display of the upcoming fall Marc Jacobs collection of handbags with an MJ rep, and humorous digital profiles drawn by Bay Area Caricatures. Guests tweeted, snapped photos, and chit-chatted away as Amazonian models meandered amongst the crowd fitted in designer looks for Fall 2012.
"I came out to Fashion's Night Out just to experience it and see all the trends for Fall" exclaimed first year Academy of Art University student, Aaron Newsome.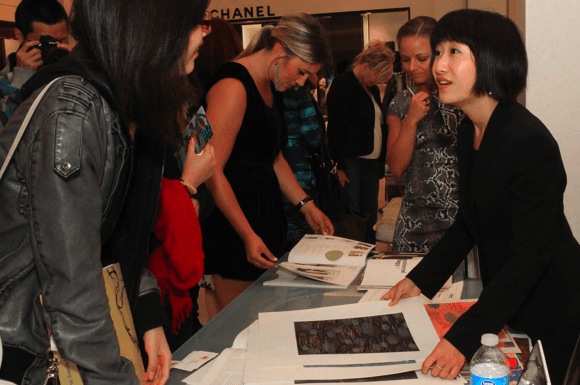 Merchandising graduates show their portfolios to FNO party-goers. Photo by Bob Toy.
Neiman Marcus saluted our very own School of Fashion by hosting students and displaying their work in the windows and on the Neiman Marcus floor. B.F.A. Fashion Design graduate Renata Lindroos' three dresses were a sight to see on Geary Street. And fellow B.F.A. Fashion Design graduate, Maria Romero's Dulce de Reliquias video (featured on NOWNESS) from the 2012 Graduation Fashion Show show was looped continuously in-store for guests to enjoy.
We chatted with B.F.A. Fashion Merchandising graduate Olivia Muniak, who displayed her portfolio along with two other selected Fashion Merchandising grads. "Because I just started a new job [as creative director for Inspirare}, I'm really hoping to expose what I'm doing with our company. We're a small platform, which sources emerging designers and helps them launch their brand. Being asked to do an event like this is great. I'm hoping to meet some great new designers to watch, network and get our name out there."
A block away on Geary, Macy's partnered with SF culture-mining online magazine The Bold Italic, for the evening's festivities.
Inside the store, the air was a bit different as asymmetrical, bleached and ruffled hairstyles munched on mini burgers and sipped on white wine. DJ's blared positive beats. The 3rd floor was packed with guests treated to a denim remix workshop with the creative visionaries behind Holy Stitch! Done-up nail designs were hard to miss once inside as  creators from Bay Area's pams&kin nail polish had people swarming around a D.I.Y. nail bar. However, the longest line of the evening was to meet Academy of Art graduate and NBC Fashion Star finalist, Ronnie Escalante.
Academy of Art knitwear design alumnae, Sabah Mansoor Husain and Bethany Meuleners, form San Francisco based design team, Mansoor Scott, and were also included in the festivities at Macy's. The pair was armed with gorgeous models clad in dresses from their Spring '13 collection which they produced as part of Macy's San Francisco Fashion Incubator program.
The duo was excited to chat and catch up with their alma mater. "We went to a blog, from this school called the Academy of Art University [very funny ladies]… And saw applications were being accepted for Macy's Fashion Incubator program and decided to apply and got selected,'' Sabah explained. "They [Macy's] provide a space and basic machinery in a mentorship program to help us get our business off the ground. We call it the B.A. of starting a fashion business!"
After a fashion-induced coma set in, fashion cookies filed onto the streets of Union Square to follow the evening up with drinks, catch one of the many other FNO events around the city or just drop dead from creative overload.
Until next year!
[imagebrowser id=41]
All Photos by Bob Toy.
Written By Sara Iravani, MFA Fashion Journalism.