A creative artistic hub just a couple of hours of drive from San Francisco, Santa Cruz is home to numerous cultural events and attractions. Film, fashion, music and surf vibes fill the air around Santa Cruz's boardwalk.
A fusion between fashion and art, the annual "FashionArt Santa Cruz" event features new creations by Bay Area fashion designers and artists. It was started in 2006 by Angelo Grova, director of Michelangelo Gallery, with a fashion show on a parking lot featuring a single designer brand launched by Angelo's friend.
This year as FashionArt marks its 11th year, 20 designers and artists participated in the runway show at the Santa Cruz Civic Auditorium on Saturday, September 24, while others presented their lines at an adjacent trunk show. Sustainably sourced ready-to-wear collections appeared on the runway along wearable art outfits created by Santa Cruz artists.  Orchestrated as a theater performance in two acts with an intermission, FashionArt featured designers and artists of various ethnic cultures, from Brazil to Ivory Coast. Many of them were using recycled and upcycled materials, or ethically sourced fabrics from Southern Africa and Morocco.
[metaslider id=38718]
Ben Ellis, BFA Fashion Design, showcased his collection which just returned from the New York Fashion Week show. His eco-minded denim shamanic dresses and animal painted coats hit the runway under a punk rock soundtrack, and a cheering audience reaction.
"Participating in FashionART so soon after NYFW was a great lesson in how democratic fashion is as an art form" says Ellis.  "The context from where each person approaches fashion is as varied as people themselves.  The enthusiasm of models and organizers was infectious, and reminded me of how great the staff was at NYFW when they told us that Academy of Art University show was one of their favorites because everyone is so pumped to be there and for the creativity we bring to the runway.  The event in Santa Cruz was full of creativity and expertise at varying levels; all of it was exuberantly supported by the crowd.  That kind of community can be a great source of support for an aspiring designer."
"Most of the models who walked for me in Santa Cruz had never done so before – they rallied and gave it their all!  Paula Pfotenhauer of JEAJA Oakland came down with me and it wouldn't have been as fun without her as she was such a pro backstage.  I loved my squad, and had a great time."
The models cast in the show continued the theme of diversity. Brandon Gruber, one of the first male models with Down syndrome, walked the runway for Sonia Le's Cosmo Chic collection. A painter, artist, and dancer, Gruber is starting his modeling career and will appear at LA fashion week next month.
The highlights of the evening in wearable-art creations were: the Story Coat Collection by Kay Holz, Autumn Leaves Dress by Christina Morgan Cree,  The Water Gawd by Santa Cruz renowned performance artist The Great Morgani, and Chemistry Lessons, a 1920s inspired dress by Charlotte Kruk, created from a recycled chemistry film.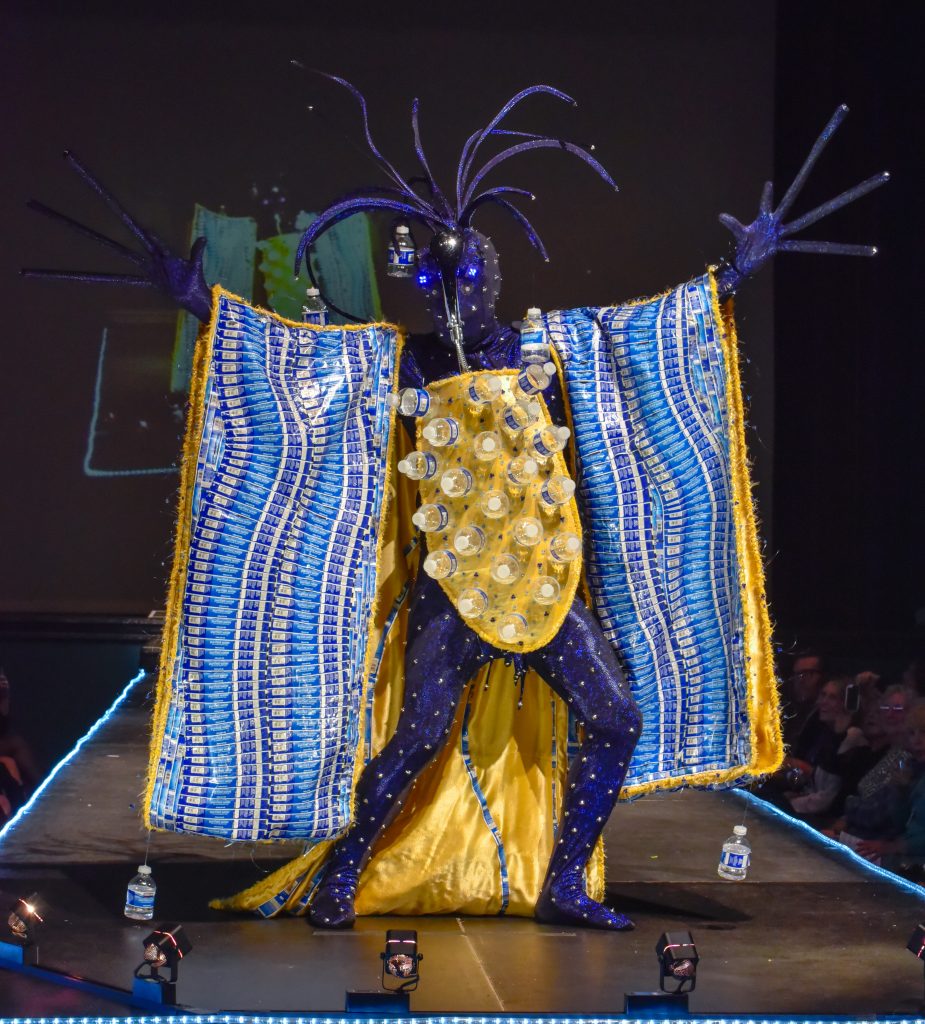 Text by Elena Eberhard, Public Relations & Special Events Manager at the School of Fashion, Academy of Art University.