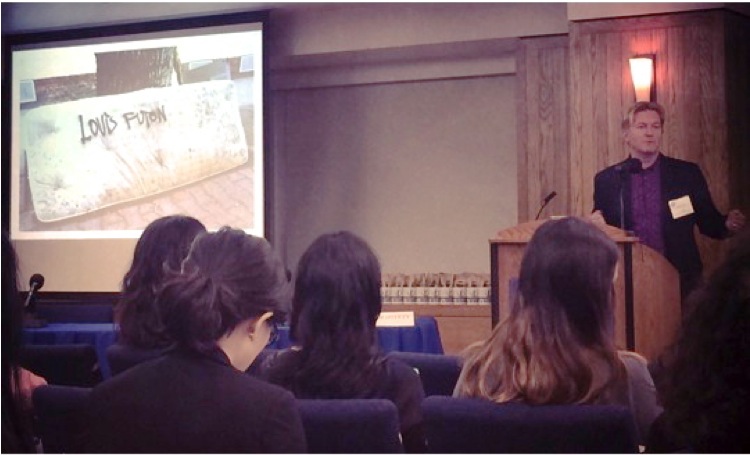 On February 28th UC Hastings College of Law held the first West Coast Fashion Law Symposium. Keanan Duffty, Senior Director of Fashion Merchandising at Academy of Art University, led the discussion with a warm welcome to a room full of law students, fashion lawyers, and fashion industry professionals.
Duffty used quirky humor, fashion parody, and personal experiences to shed light on fashion design protection. He emphasized the importance of protecting your own brand and offered advice to young designers, "Hire the best people," he said, "find the absolute best legal team that you can." He explained how licensing strategy for brand and image, as well as intellectual property and design patents, are uncertain and often intangible when it comes to the design industry. He referenced his own experience starting out in the business when he received a cease and desist letter for his clothing brand "Slinky Vagabond."  A name he chose from a rock song by David Bowie, Young Americans, that he figured "no one else in the world would have chosen."A preexisting shoe company already held the trademark for the name Vagabond, and in the end Duffty chose change the name of his brand. Said Duffty of his choice to change his brand name, "Part of the name had already been taken, know when to cut your loses, and know when to fight back."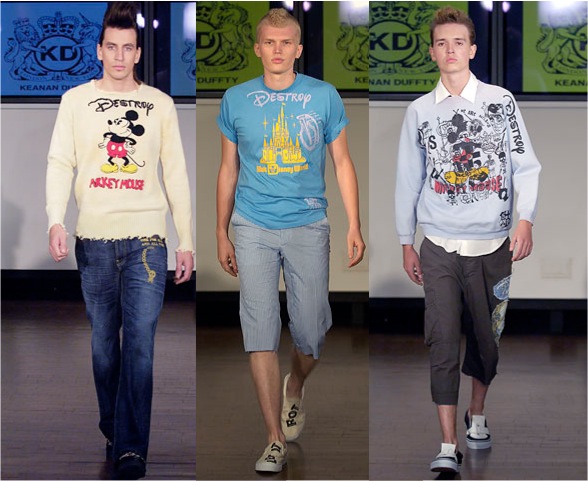 He used another design dispute example to elaborate on the definition of intellectual property rights. He created t-shirts with a tongue and cheek logo of Mickey Mouse (holding an Uzi in one hand and a grenade in the other) that were being sold at luxe boutiques including Fred Segal. When Disney came after him for using their iconic mouse, and for tarnishing their logo from Disney to "Destroy," he defended the designs by calling them "customizing." He quickly realized that fighting with a large corporation like Disney would only be an uphill battle. He politely rejected their claims and luckily they backed off. This was very unexpected.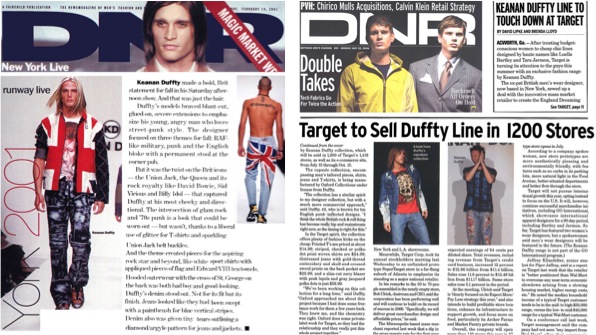 Years later Duffty experienced another road block with a product being sold at Target; he received a cease a desist letter from a company who claimed they owned the rights to the British flag design he was using on pairs of jeans. He assessed the situation and decided to fight back. Duffty was able to defend his designs with proof of artwork, sketches, and mentions in the press. He ultimately won the dispute and his jeans continued to be sold in Target stores. To conclude his talk he reiterated the importance of knowing your battle by being knowledgeable about your options and the weight of the brand up against you.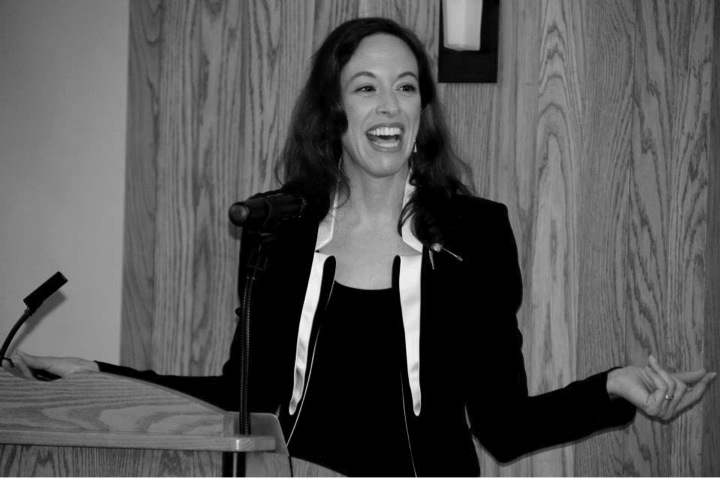 Susan Scafindi, Founder & Academic Director of the Fashion Law Institute at UC Hastings, touched on the definition of fashion law, and spoke on her experience in forming the relatively new branch of law. She defined labor & employment law as pertaining to interns, retail employees, models rights, and diversity. It is because of fashion law that new regulations have been made to protect underage models, unpaid interns, and underpaid garment workers. Barbara Kolson, the Executive Vice President and General Counsel of Stuart Weitzman Holdings, LLC. provided insights from her work as an in-house lawyer. She started the first in-house legal department for Stuart Weitzman, and worked for 7 For All Man Kind, Kate Spade, and Calvin Klein. She has had similar experiences to Duffty with regards to intellectual property rights and legal battles. She touched on the difficult process of achieving design patents and how they are almost impossible to obtain. In addition to being costly and time consuming originality is often hard to prove when it comes to garments. Her advice to students, "Protect your business and your work, pick your outside counsel carefully."
6 major points from the lecture for aspiring fashion designers:
Owning the URL to your website/blog does not mean you have intellectual property rights or own the trademark name.

Don't battle with large corporations like Disney, take your chances with smaller companies when defending intellectual property rights.

From conception to everyday operations- get the best legal team you can, protect your brand.

Be aware of the style names you choose for your pieces- don't call your piece the "chanel dress" or the "roxy board short," it wont matter as much for smaller brands, but the large sharks (like Chanel and Roxy) will come after you.

Do not use your own name for your brand name, if you're ever in a position to sell your company your name will go with it.

Design Patent vs. Trade Dress: a patent pertains to a design, while trade dress pertains to an "iconic design." To be qualified as iconic, the design must be widely recognizable with a brand (like the red soles of Christian Louboutin Shoes, or the shape of the Coca-Cola bottle).
Written by Ashley Castanos