Did a designer copy someone else's design or logo? Did a designer use an exact copy of an established pattern? Fashion law is definitely a hot legal topic, which arises more than one may think. For those who are interested in broadening their knowledge of the law and business of fashion, the annual Fashion Law Bootcamp is here in San Francisco!
This year, Fashion Law Institute has partnered with Levi Strauss & Co. for the West Coast edition of the Fashion Law Bootcamp. Opened to fashion students, industry professionals and designers, this intensive two-week summer program covers current business and legal issues involving the global fashion industry. It's an excellent opportunity for fashion people to gain a more comprehensive understanding of the legal issues that they could face on a regular basis.
Here're some of the covered topics:
Intellectual property
Business and finance
International trade and government regulation
Consumer culture and civil rights
Sustainability and green fashion
Import/export regulations
Licensing agreements
Fashion financing
Any plans for this summer? Go check out the Fashion Law Bootcamp! Participants will explore diverse areas that affect the fashion industry, plus an opportunity to meet the industry insiders.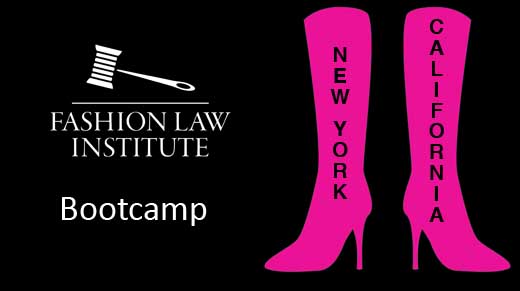 The original Fashion Law Bootcamp program for fashion professionals, law and design students is now entering its 4th year in New York and is   now coming to San Francisco.
When | Weekday evenings August 4th -8th, 2014 and all day Saturday, August 9th (Time TBD)
Where | Levi's Plaza, 1155 Battery St., San Francisco, CA
The fee for attending is $3,900, which covers all expenses associated with the program. There are a small number of full-tuition scholarships that are available for designers and certificates of completion will be awarded to all participants at the conclusion of the program.
To apply and learn more, visit the Fashion Law Bootcamp Page.
Written by Doreen Du