Former Vogue staffer Emily Holt joins faculty, offers perspective on East and West Coast sensibilities
The Academy of Art University's Fashion Journalism program continues to grow, with contributions by talented instructors from all over the world.
Starting Fall 2015, the existing roster of faculty is joined by five renowned industry experts, each teaching a specialized course within Fashion Journalism program.
In this kick-off to a new series of interviews with Fashion Journalism instructors for Fashion School Daily, we profile Emily Holt.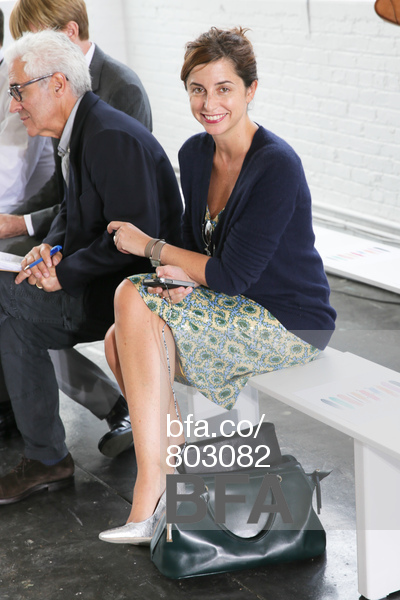 FACULTY PROFILE: EMILY HOLT
A native California who migrated to New York – first as a graduate student in journalism at New York University, then fast-tracking to positions at Women's Wear Daily, W magazine and Vogue – Emily moved back to the Bay Area last year to begin the process of launching a fashion and lifestyle store.
After being introduced to Assistant Director of Fashion Journalism Stephan Rabimov by Jinah Oh, Associate Director of Fashion Merchandising, it was quickly apparent that she was a natural fit to add her unique skills and experience with Academy Fashion Journalism students.
In Fall 2015, she will teach FSH 108 Introduction to Fashion Journalism. And she also recently authored an updated online version of FSH 619 Developments and Debates in Fashion Journalism – to reflect the vibrant debates that affect fashion journalists, industry professionals and consumers alike.
We know you will be as delighted to meet Emily as we are.
Paul Wilner:  You're originally from here but moved East and ended up at WWD, W and Vogue? How much of a culture shock was that, and what led you to explore fashion in the first place?
Emily Holt: I grew up a shopper. It's just what I liked to do in my free time. Granted this was the '80s and all the cool teenage girls I idolized were going to the mall, so that probably had something to do with it.
Then one summer when I was home from college, I worked in a small boutique in Los Gatos that subscribed to WWD. It was my first exposure to the paper and I loved it. When I went back to UCLA in the fall, I landed an internship at WWD's LA bureau (thanks to both strategy and luck) and realized that's what I wanted to do with my life. So I went to NYU to get my Masters in journalism, and, again with the help of strategy and luck, I got a job there after graduation as a junior accessories reporter.
I can't say I experienced any dramatic culture shock. S.F. and N.Y. actually feel more similar than S.F. and Los Angeles. And in terms of shock of working in the industry, nothing happened overnight. It wasn't like one day I was on Pier 39 and the next I was in the offices of Vogue. Everything took time, and I made sure that I was prepared and ready all along the way.
PW: How did you come to work as an editor at Vogue and what were your responsibilities?
EH: I had been a writer and editor at W and WWD for seven years when the Vogue opening came up. I knew people who worked at the magazine—it's a small industry—and someone suggested me for the job. Maybe it was because I had a good reputation or was known to be a strong editor. It couldn't have been because I was pedigreed or particularly fashionable. I went in for several interviews and, again, made sure I was prepared. I studied the latest issues, the latest collections, thought about my favorite designers. I ended up getting hired as fashion news editor and contributed fashion news features to the front of the book and reviewed runway shows for Vogue.com.
PW: Who are your main literary influences? What books or writers made you decide to become a writer?
EH: I like straightforward and smart voices. Joan Didion and Nora Ephron are probably the two most represented writers in my library.
PW: Who are the fashion writers who have most influenced you? Can you name some of the people you think are at the top of the field?
EH: I've long admired Bridget Foley, who I worked for and is the Executive Editor of WWD. She's been in the industry for a long time, which is not to say she's old but rather that she comes to her work—reviews or new stories or op-eds—knowing the full backstory. She also has a sense of humor and "let's get real" attitude that comes across in her writing, which I think is important in this business.
I feel similarly about Robin Givhan. She wrote a post for New York magazine's The Cut about taking a few seasons off of reviewing fashion shows to work on her book and how differently she was treated by the designers and houses who were no longer wooing her for press. It was the most honest piece I've read about what it's like to be a fashion journalist.
PW: How have blogging and the rise of the Internet affected fashion journalism?
EH: I think it's affected outlets' priorities. Online readers aren't necessarily so interested in long form journalism, or lengthy analytic reviews. So you see a lot of slideshows.
PW: What about fashion icons – who are your favorite style leaders?
EH: In the documentary "Iris," Iris Apfel was quoted as saying it's better to be happy than well-dressed. And I liked that.
PW: Do you have a basic uniform? Do you feel pressure to be as stylish as the people you cover?
EH: My uniform has changed a lot since moving to S.F. and working from home. I could talk about that for hours. But let's just say I wear jeans more often than I used to. Usually with a nice sweater and Ancient Greek Sandals.
I only feel pressure to be as stylish as the people I cover because fashion is a way to connect. If a subject respects or admires or likes something I'm wearing, they'll see me as someone worth talking to (it's just human nature). But if I'm going to an event or gala or something, I don't stress unnecessarily over what I'm going to wear because I know no one will be looking at me. They'll all be too busy looking at and photographing the people I cover.
PW: You're teaching an undergraduate course FSH 108 Introduction to Fashion Journalism this fall. Any advice for budding fashion journalists?
EH: Report. Report. Report. Don't assume you know anything. Ask questions. And always be polite.
PW: When you studied journalism at NYU, did you dare to tell them of your interest in fashion? What was the reaction?
EH: I was waitlisted at NYU because I wrote on my application that I was interested in fashion journalism. They said it wasn't real journalism. So I called up the admissions office and pleaded my case, telling them all about WWD and how it approaches fashion as a business, etc. etc. It worked. They let me in. (Or a student dropped out at the last minute.)
PW: Why did you decide to return to San Francisco last year? Has The City become more stylish?
EH: I returned to S.F. for a number of reasons. First, I was feeling ready to leave N.Y. I was there for 12 years. Second, everyone on the East Coast (and in the world) is looking at what's happening out in Silicon Valley and S.F.0 (mostly because of tech) so I decided as a hometown girl I should go check it out for myself and report back. Third, I saw an opportunity here to start a fashion and lifestyle store that brings an identity to SF style. So that's what I came here to do.
Written by Paul Wilner