In a year where presidential candidates hurl increasingly vicious accusations at one another as Election Day draws near, the theme of hypocrisy that runs through French playwright Molière's classic 18th century comedy The Misanthrope seems especially relevant.
The play is a product of the School of Acting studio class, which is taught by Bruce Williams, who is also directing the play. The cast includes Jamiel Abddelrazzaq, Adianez Crespo, Adella Fornes, Nakita Mclntire, Elizabeth Reyes, Angelo Ricci, Greg Snyder and special guest Karen Hirst, a long-time School of Acting instructor.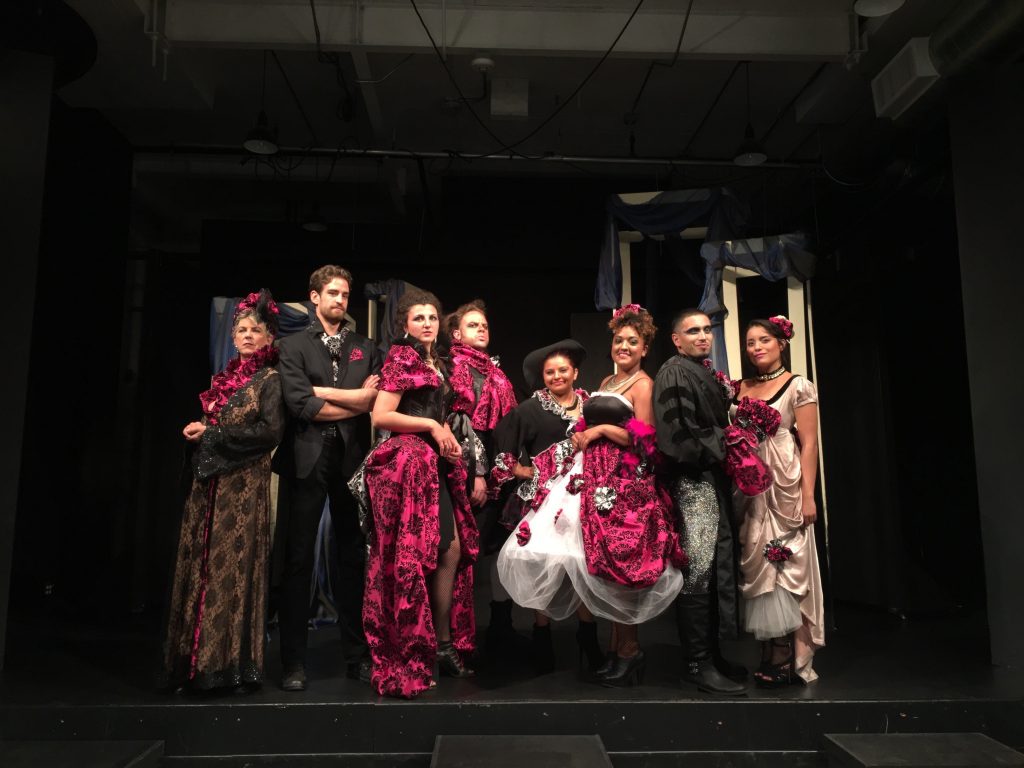 The play revolves around Alcete, the misanthrope, who claims he hates mankind because there's so much hypocrisy, deceit and false flattery in the world that he can't find anyone who will speak the truth. He is brutally honest at all times, even when his words offend others. But when he falls in love with Célimène, who's known to gossip, he finds it harder to stand by his principles.
Among key collaborations that have made this play possible, one particular element stands out, and quite literary, on the stage: costumes.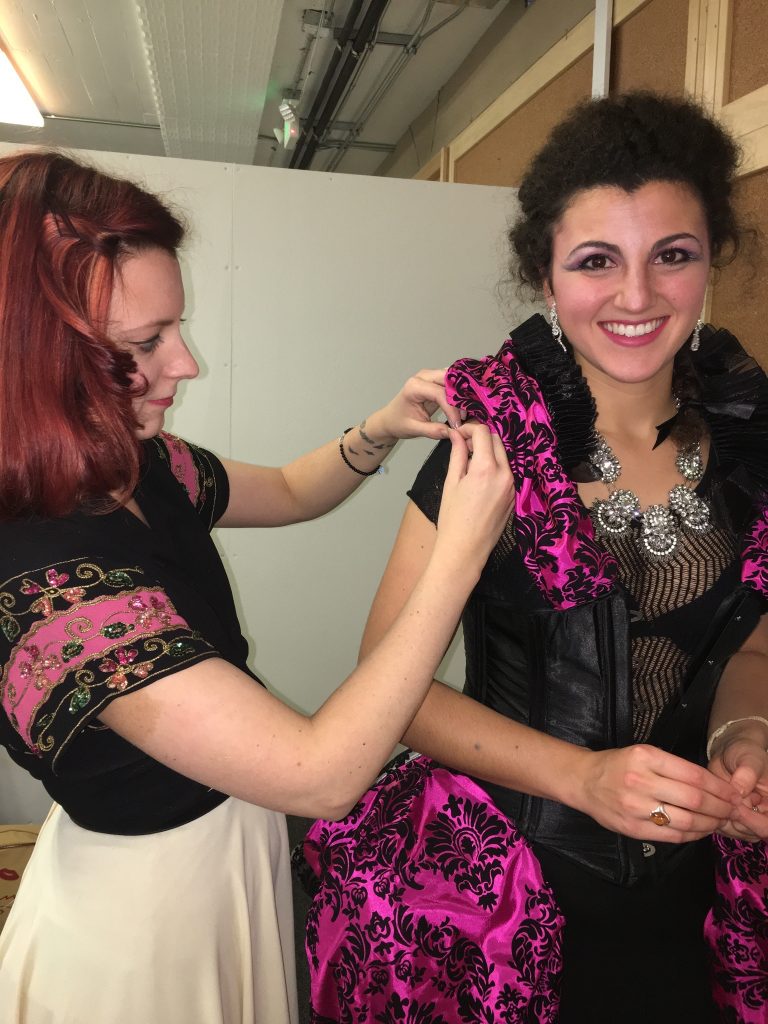 Bree Dills, BFA Costume Design student took it upon herself, as a volunteer during her last semester of studies, to step into the coveted, yet arduous, role of a costume designer for a play that was penned in the distant year of 1664. A challenge that was met with a full bravado by this costume design student.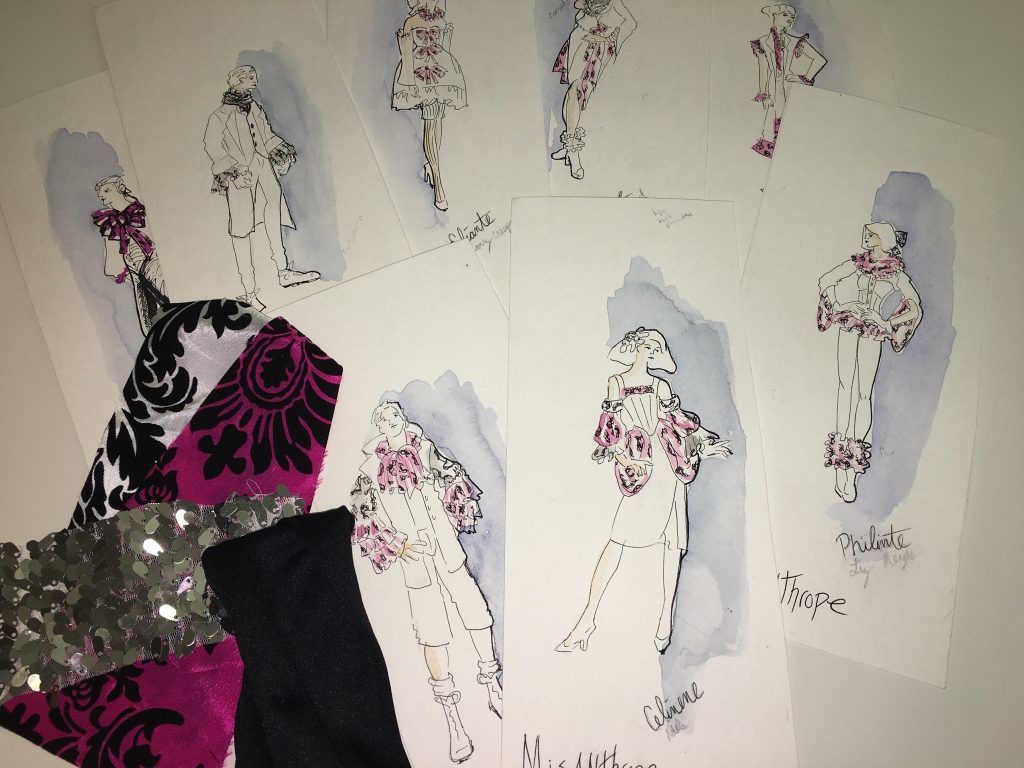 "The Misanthrope" is a classic world drama that has modern appeal. That helped translate the play as well as costumes into a contemporary setting. "Our version is set in a fashion-week kind of world where people are always jetting off to different places," Williams explained.
With a limited timeframe, and, even more limited, budget, Bree successfully conceptualized, produced, and styled eight stage costumes that brought an added flair to the already extravagant narrative by Moliere.
The result is a smart mix of sustainable solutions: the recycled, second hand clothes, paired with original costume additions designed by Bree and co-produced with fellow Costume Design students, Summer Hall and Connie Su, from the School of Fashion.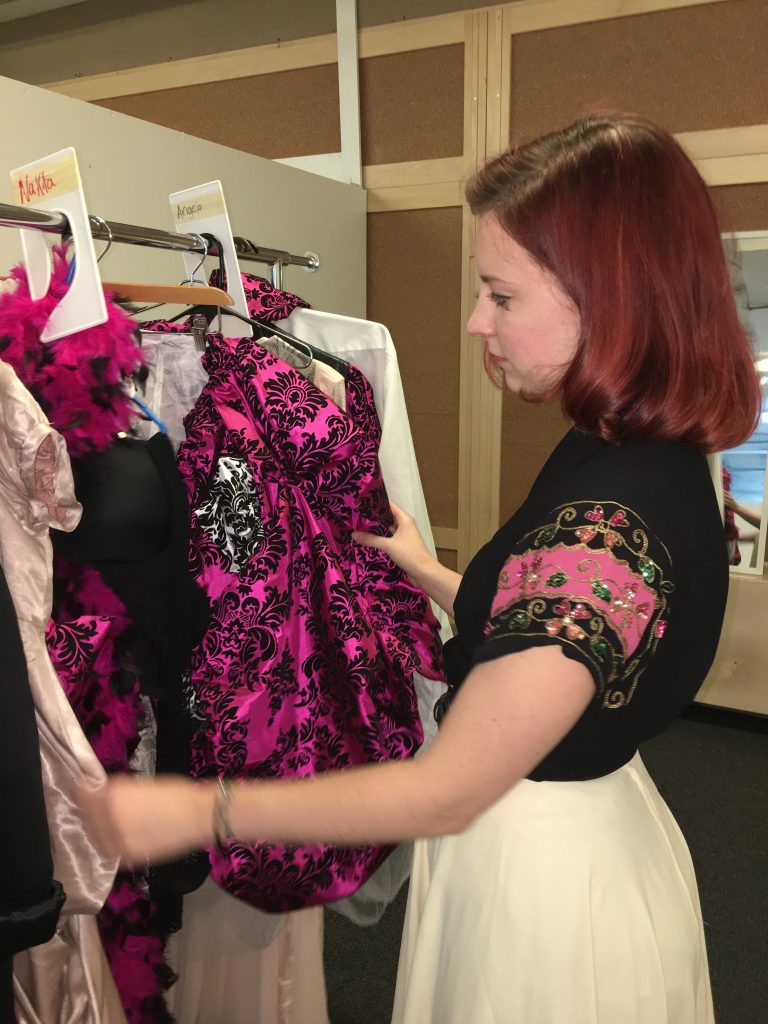 Producers felt impressed with how the students are rising to the challenge of tackling The Misanthrope. "I think they're doing extremely well," said Williams. "Everyone is just really stepping up and handling themselves in a professional way and having fun at the same time. I'm excited for them to perform the play for an audience."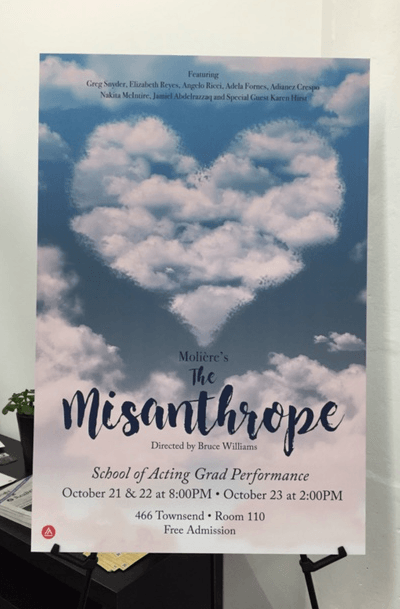 The actors and the crew will share the results of their hard work with audiences when they take to the stage at 466 Townsend Street, Room 110, to perform The Misanthrope tonight and tomorrow: Oct. 21 and 22. The shows begins at 8 p.m. and admission is free. There will also be a matinee at 2 p.m. on Oct. 23.
Text by Dorothy O'Donnell, Academy U Staff Reporter, with additional contribution by Stephan Rabimov.
Additional reporting by Elena Eberhard.