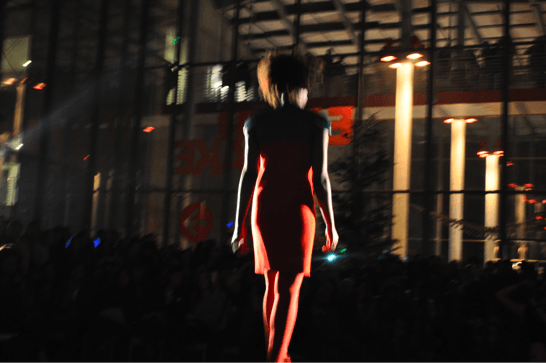 Science, culture and fashion merged under the same roof at Fall Fashion Nightlife, the California Academy of Sciences version of Fashion's Night Out.
The fashion show, styled and produced by Irene Hernandez-Feiks from local gallery/boutique Wonderland SF, was set at the Academy's open air piazza in the between the Planetarium and the rounded four-story Rainforest. It featured Fall 2012 collections from Wonderland SF designers Gia Gelareh, Daniel Chimowitz, Gio Adame, and Academy of Art University's Donghyuk Dan Kim. School of Fashion alumna Jill Giordano of Gr.dano, showed garments with her signature blend of sharp tailoring and draping in urban grey tones, and instructor Camelia Skikos' collection of architectural representation in wools and accents of leather was showcased as well. "The Academy of Sciences is the perfect venue, because there's only one in the world," said textile designer Daniel Chimowitz.
Follow the jump to read more!
Parallel to the fashion show, the Academy brought a compilation of fashion's past, present, and future within the same gallery. The African Hall – where the penguins live – showcased examples of fashion's past, present and future. Haight's vintage store Mistery Mister brought garments from the 30s, 40s and 50s, while contemporary, but retro-inspired retailer Modcloth exhibited examples of their latest crowd sourcing projects "Make the Cut" and "Be the Buyer," where visitors actually gave their opinions on whether a green silk and a zigzag printed dresses should go into production.
As promised, there were arts & crafts by Haute Gloo, in the form of bug-shaped pins made of metallic paper embellished with buttons, while the future of fashion was represented in the form of Harajuku dolls by h. NAOTO. The street fashion brand from Japan opened its first US flagship on 1746 Post Street last October. Visitors strolled around girls and still mannequins in über-layered gothic, punk outfits with a touch of romanticism. Just as manager Iris Chunk put it "Here you have everything you love from thrift, all in one place."
[imagebrowser id=40]
Written by Laura Acosta.