Over the past 3 years I have noticed the growing trend in online zines being created by and for marginalized folks. Zines like The Coalition Mag and Shade Zine that aim to share and celebrate women/folx of color, are some of the many zines out there making space for people who normally would not receive any kind of acknowledgement. Taking part in this movement, La Liga Zine is an online platform created to showcase all latinx people and how they explore their diverse identities through different channels of self-expression. I was able to talk to Mari, who is part of the Editorial Board on La Liga to get her views on the zine, creators of color, and latinidad.

Mocosas: Please introduce yourself and give us a bit of your background.
Mari: I'm a 21 year old senior in college. I was born and raised in Peru but came to this country a bit over 6 years ago.
Mocosas: How was the idea of La Liga Zine conceptualized?
Mari: Initially it started as a random idea I posted on Tumblr about creating a street style blog showcasing latinxs. But now the project has sort of taken a life of its own and we've expanded the concept to include all types of self expression.
Mocosas: Was there a particular reason La Liga Zine was chosen to be an online zine as opposed to a print one?
Mari: The option of making a printed magazine did cross our minds at first but it is a financial risk we are not able to take at the moment. Also, the advantage of having an online zine is that it allows you to share a wider range of media. Having said that, one of our goals for the future is to have a printed version compiling our interviews, photographic series and written pieces.
Mocosas: Overall what do you hope to achieve with La Liga Zine?
Mari: To provide a safe space for latinxs to share their creative work and experiences so that they can garner the recognition they deserve. I wish for La Liga to become a place of shared knowledge and something that inspires people, including myself, to act beyond the stage of raising one's awareness about different issues.
Mocosas: When you look for subjects or individuals to feature what are some things you look for?
Mari: This might sound vague and broad but my criteria so far has been looking for people that have something to bring to the discussion table and are willing to share their own ideas about issues they are passionate about.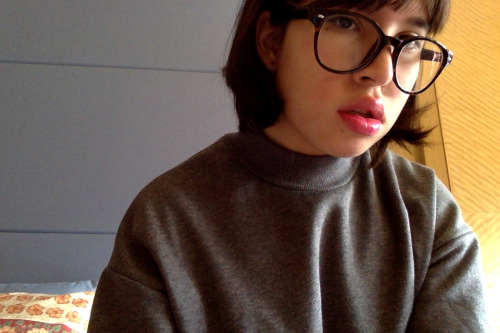 Mocosas: How do you define your latinidad?
Mari: I define my latinidad as an intrinsic part of my being but at the same time as something that does not define me as a person. Everything we do is informed by our personal experiences so everything I do will have that mark of peruvianness to it but there's more to me than just that. My being and my work are mine and not an exposition of my culture.
Mocosas: Do you think that currently there is more space for latinx creators, and to be more specific latinas/latinx of color creators, in the art and design world?
Mari: I'm not really well versed in the world of arts as a sociology student so I'm just going to speak based on other people's experiences. A lot of the artists of color whom I've talked to tell me that, as one would expect, it's hard navigating the art world as a non cis hetero white person not only because it's exclusivist but also because the type of art these white artistic circles are making does not resonate with them at all. Thankfully, I also do get the feeling that there are a lot of latinx and chicanx art collectives springing up, which I think is great.
Mocosas: As diverse as latinx are, do you feel like there is one thing that diasporic latinx share in their work?
Mari: On a surface level of course there are lots of cultural overlaps that unify us as a community due to our shared colonial past (and present in some cases). I think that there is also a kind of trauma that seeps out of diasporic latinxs' work, a melancholy imbued within their creation that is born from the mere fact of existing under an oppressive anglo white supremacist society. But, personally, I prefer to focus more on highlighting differences. This same oppressive society is the one always trying to standardize us in order to make us easier to process for the white audience. It even created this label that ties us all under an ethnic category despite us coming from vastly different cultural and ethnic backgrounds. And I don't do it to prove our "diversity" to a white anglo audience, I just think it is important to remind this to ourselves, to prevent us from believing this myth of "sameness" imposed upon us that permeates everything we breath. Of course it is fun and good for everyone to bond over our similarities but it is also important for people to recognize our differences in terms of class, race/ethnicity, gender, sexuality, etc, in order to understand why issues such as working class oppression, colorism, anti-blackness, misogyny, transphobia, anti-queer sentiments, and other acts of violence, are such vital problems that we have to battle against. Our oppressions are not all the same. To denote our differences first and foremost is an honest way to provide a real foundation upon which we can build true solidarity within our community and beyond it.
Mocosas: Who are the latinx or W.O.C. artists who are inspiring you at the moment?
Mari: One that comes to mind is Cecile Emeke. I've been particularly struck by her online documentary series 'strolling' because that is the type of work I would love to do in the future. I also love the visual work of Itzel Alejandra Martinez, who's part of Colectiva Cosmica. Fabiola Ching, writer and editor of the Coalition Zine, is a constant source of inspiration for me because of everything she has achieved at such a young age.
Mocosas: Where do you see La Liga Zine in a year?
Mari: Alive and thriving! A lot of things can happen in a year but my wish is for the team that makes up La Liga right now to continue channeling their energy into this project.
If you are interested in learning more about La Liga Zine make sure to follow them here on Tumblr and check out their latest story.
Written by, Mocosas