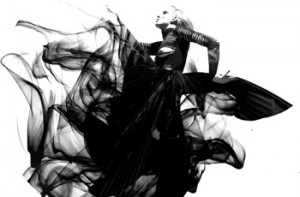 Designer Rick Owens presided over A Shaded View on Fashion Film awards ceremony on the last day of Paris Fashion Week. The festival "shakes up the old rules of fashion by putting the focus on the moving image, in an industry long dominated by the 'still' photographic medium" – hence the name of the festival. Think of it as fashion on a cinematic scale.
Held at the Centre Pompidou in Paris, Owens juried the competition with a landslide of fancy people including photographer Nan Goldin, actress and director Maria de Medeiros, curator and journalist Eric Troncy, journalist Laurent Goumarre, ad man Eric Tong Cuong and producer Hélène Ségol.
The accolades were awarded to the following films:
– "Reflection" section (fashion films made independently from a brand/designer) : Fiction Noir by Steven Klein.
– "Communication" section (fashion films made in collaboration with a brand/designer) 2 films ex-aequo:
Gareth Pugh AW09 by Ruth Hogben for Gareth Pugh and Matthew Williamson by Johan Renck for H&M.
Samsung also awarded its 3000 Euros young talent in fashion film award to US director Georgie Greville for I Wanna Be Your Dog which takes a humorous look at castings.
The Public Prize was awarded to Swedish director Mattias Montero for Rodebjer for his film Herr Rodebjer Part I.
Other honorees included the winner of the ASVOFF – DailyMotion contest, AW 2509BC by Jason Bradbury & Claire Kurylowski for recent Hyères winner Harald Lunde Helgesen as well as Dusk by Erwin Olaf, Undercover's GILApple animated film, Inez Van Laamsweerde & Vinoodh Matadin's Untitled film for Yves Saint Laurent starring Michael Pitt, and the premiere of Antoine Asseraf & Diane Pernet's Dangerous, a film about the always fancy Roísín Murphy.
Check out some of the excerpts from the winners here:
That was fun, wasn't it?
For more about ASVOFF, visit their website.