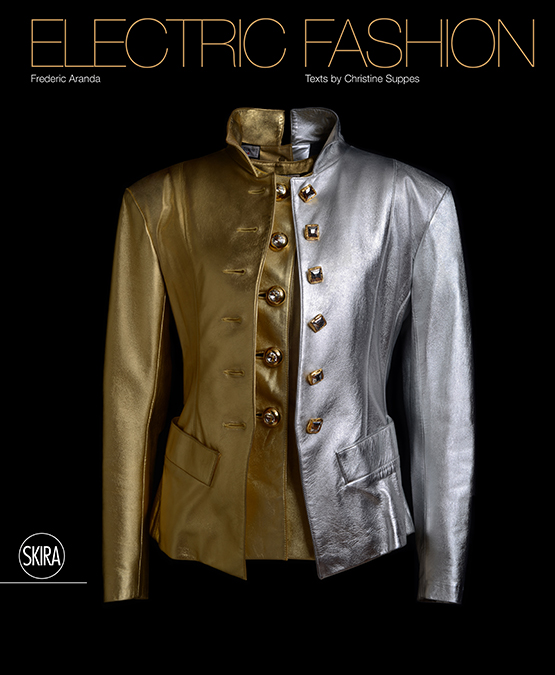 On Friday, November 6, 2015 at 7:15 PM in the Koret Auditorium at the de Young Museum, Christine Suppes and Frederic Aranda, authors of Electric Fashion, will be talking with Jill D'Alessandro, curator of costume and textile arts at the Fine Arts Museums of San Francisco. A book signing will immediately follow the lecture. Books will be available for purchase at the museum store.
Electric Fashion is a must have book and anyone with an interest in fashion (especially School of Fashion students) should to attend the lecture at the de Young Museum and buy a copy to be signed by Christine and Frederic.
Throughout the years, Christine, Frederic and Jill D'Alessandro have been great supporters of the School of Fashion's students and alumni. They attend our events, give lectures and visit classes. Christine has even commissioned collections from the Graduation Fashion Show runways. A few years back, Fashion School Daily interviewed Frederic Aranda. You can read it here.
In June of this year, the Alexander McQueen boutique hosted a book signing with an exhibition of Alexander McQueen pieces from Christine's private collection.  Our own Simon Unlgess, Executive Director of the School of Fashion, was invited to introduce Christine to the guests and as they are close friends, they regaled the audience with fun stories. You can read more about it here.
The book has garnered attention from Women's Wear Daily, W Magazine, The Telegraph, San Francisco Chronicle, C – Social Front, Harper's Bazaar Brazil, The New York Times Style Magazine, L'Officiel Italia, Elle Hong Kong, as well as one of our favorite San Francisco blogs fafafoom.
From the press release: Electric Fashion is the outcome of a five year collaboration between photographer Frederic Aranda of London, who contributes to magazines such as Vanity Fair and Vogue and is perhaps best known for shooting the only group portrait of all the international Vogue editors; and Christine Suppes, a native Californian based in Silicon Valley, who has dedicated her life to promoting the fashion industry as a writer, editor, collector and supporter of young designers.
Electric Fashion's rigorous documentation of three decades of fashion boasts a double vantage point: on the one hand, each garment is photographed in a studio setting to enhance critical academic understanding, while on the other it is shown worn by the collector herself to depict the garments as they were originally intended to be worn. The combination of these two approaches make Electric Fashion a unique experience, bringing the collection to life while aiming to give a thorough understanding of the thought processes and motivations behind collecting.
Consider the collection's scope: covering both haute couture and custom-made ready-to-wear, from simple, poignant pieces to extravagant and abstract works of art, the collection includes established and upand-coming artists in equal measure: Alexander McQueen, Vivienne Westwood, Geofrey Beene, John Galliano, YSL, Christian Lacroix, Christian Dior, Balenciaga, Chanel, Jean Paul Gaultier, Gianni Schicchi, Comme des Garcons, Ralph Lauren, Chloe, Yohji Yamamoto, Oscar de la Renta, L'Wren Scott, Dries Van Noten, Undercover, James Galanos, Prada, By Walid, On Aura Tout Vu and Rodarte to name but a few.
But why is it electric? It is the story of how the Collector, Christine Suppes, blazed an indelible trail into online fashion editorial just as the internet anchored itself into popular culture while simultaneously developing a unique collection in the heart of Silicon Valley. Electric Fashion is essential viewing, punctuated with academic perspective, comprehensive technical references, and archival text from the collection's accompanying website, fashionlines.com. Te fnished product is a 360 degree view of fashion, telling the story of these clothes through photography and texts, from historical, cultural, and practical standpoints.