If you're feeling visual – and experimental –  the definitive Bruce Conner retrospective is well worth a visit to the San Francisco Museum of Modern Art. You can fight off Election Day anxiety at a free event South of Market Tuesday.  Check out the Neo-Dada centennial event at the San Francisco Public Library. And for the fashionable set, there's a Welcome Stranger Fall '16 menswear collection party on Thursday and a Flight of a Woman collaborative pop-up shop featuring work by 16 female designers on Sunday. Enjoy!
Monday
SFMOMA Time: 10:00am- 5:00pm Cost: $19-$25 An artist in every sense of the word, Bruce Conner's career spanned over five decades. In that time, he created art of every kind, from experimental film to paintings, photograms to performances. Conner is described as a "Realist, Surrealist, Hippie, Punk," a pioneer in his field, and constantly striving to break new ground. See iconic Conner pieces in this exhibition as well as lesser known paintings from the 1950s and photos of the 1970s Bay Area punk scene. And while you're there, check out the new exhibitions by the Los Angeles photographer Anthony Hernandez and a comprehensive show of "Japanese Photography from Postwar to Now.''
Tuesday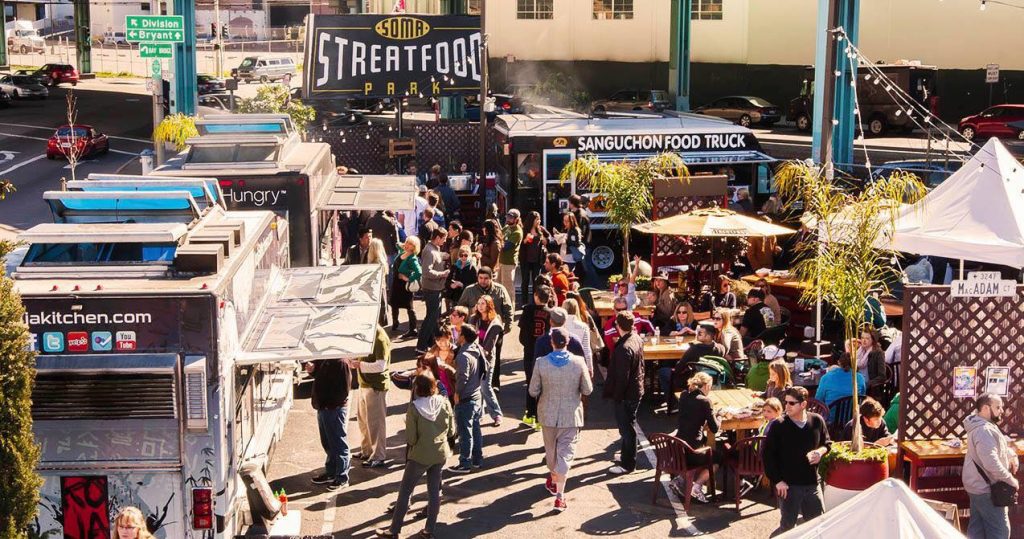 2016 Election Day Watch Party Time: 12:00pm – 10:00pm Cost: Free Finish the election season strong with the final Election Event at SoMa StrEat Food Park. Surround yourself with your closest (and most trusted) friends as you prepare for the results with Happy Hour from 4:00-7:00pm. Then either celebrate with a second Happy Hour, or lament with Awful Hour, once the verdict is announced. Enjoy democracy at its finest with Lady Saigon, Nucha Empanadas or even a No No Burger. Win or lose, we offer cheers to you, America.
Wednesday
Ganggang II: Alejandro Guzman Time: 12:00pm – 5:00pm Cost: Free Post-Election Day may have you feeling grateful enough for a beautiful bike or ferry ride. Or it may have you down in the dumps and needing a little inspiration. Either way, enjoy a stunning bike ride or relaxing ferry right to the Headlands Center for the Arts to experience two new exhibitions. Oakland-based Chris Duncan's These Are Not Fall Colors gives homage to the sun and its strength in "paintings" created by sun exposure. Alejandro Guzman uses his contemporary Stonehenge sculptures and performers to create a sense of fellowship and commonality.
Thursday
Welcome Stranger Fall'16 Collection Party Time: 7:00pm – 8:30pm Cost: Free Timeless. Local. Chic. The Welcome Stranger menswear brand is holding their Fall '16 Collection party at their S.F. location- 460 Gough Street. True to all things man style, there will music by Light in the Attic and whiskey tasting with 7stills Distillery. RSVP to see the California inspired looks.
Friday
Dada World Fair Time: 12pm – 5:00pm Cost: Free True to Dada, many events make up this one Fair – from the "Dadmatic Mail Art" exhibition to "The Most Dada Thing: Neo-Dada in S.F." On the 6th floor of the San Francisco Public Library, the Skylight Gallery will host both of these exhibitions by the History Center's S.F. Punk Archive.  "Dadmatic Mail Art" features Irene Dogmatic's collection, including stamp art, rare zines, photograph, post cards and many other mediums. "The Most Dada Thing" features artifacts left behind by Bay Area Dadaists. Tristan Tzara would approve. For more information on these events and other exhibitions taking place during the Dada World Fair, visit their site.
Saturday
Flight of a Woman | VOA Woman Collaboration Time:11am – 7:00pm Cost: Free Flight of a Woman is a pop-up shop by VOA Woman, a collaboration of 16 women designers, all lovers of beautiful, handmade trinkets, who are launching their new collections. You can expect to see everything from handmade pieces of clothing and accessories to travel needs at this women empowering night. Join the party and celebrate with local women fashion designers and their exclusive creations. Can you say #WomanBoss?
Sunday
Sunday Streets S.F | Embarcadero Time: 11am – 4:00pm Cost: Free You'll have serious #FOMO if you miss out on the Sunday Streets S.F.- Embarcadero style. A stretch of more than two miles of the Embarcadero will offer a wide amount of free activities led by the community. The route begins near Sansome St. and runs to 3rd St, between Pier 27 and ATT Park. Check the website closer to the event date for a detailed list of free activities offered at the Finale of Sunday Streets SF!
Text by Emily Higginbotham.