Creative visions come to life for the 2018 Graduation Fashion Show in inspirational, sustainable collections.
Utopia and dystopia, light and dark, old and new—the 2018 Graduation Fashion Show was an exploration of contrasts. The large warehouse at 2225 Jerrold, which usually hosts the entire Academy of Art University Spring Show, was transformed and filled to capacity. Fashion industry insiders, socialites, influencers, local and international press were treated to the unexpected sight of a long, elevated runway constructed from a combination of metal scaffolding and recycled wood beams.
"All are welcome"—a key phrase that Academy President Dr. Elisa Stephens proudly spoke echoed throughout the Graduation Fashion Show. "Since 1929, our doors have been open to students from many different backgrounds," Dr. Stephens said to a cascading round of applause.
This year, three leaders of the fashion industry—Alexander Fury of T Magazine and AnOther Magazine, Paris-based designer Lutz Huelle, and New York-based designer Andre Walker—were presented Honorary Doctorate degrees from the Academy for their ongoing contributions to the world of art and design.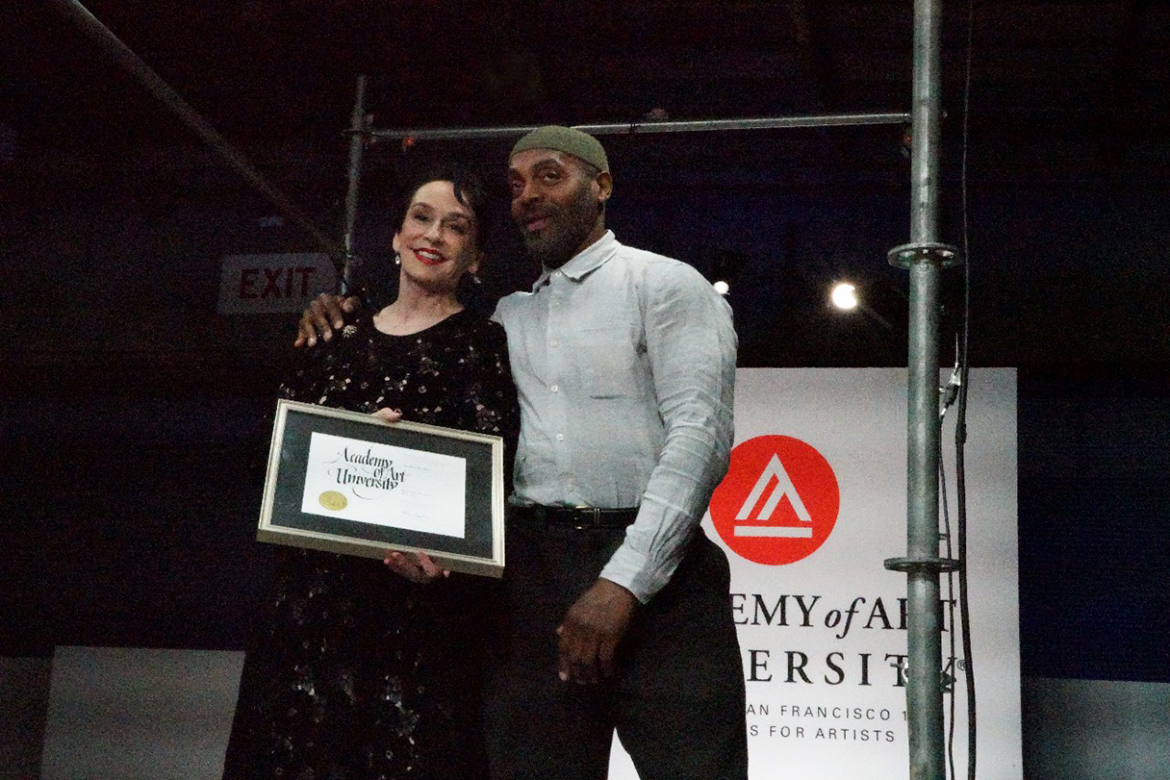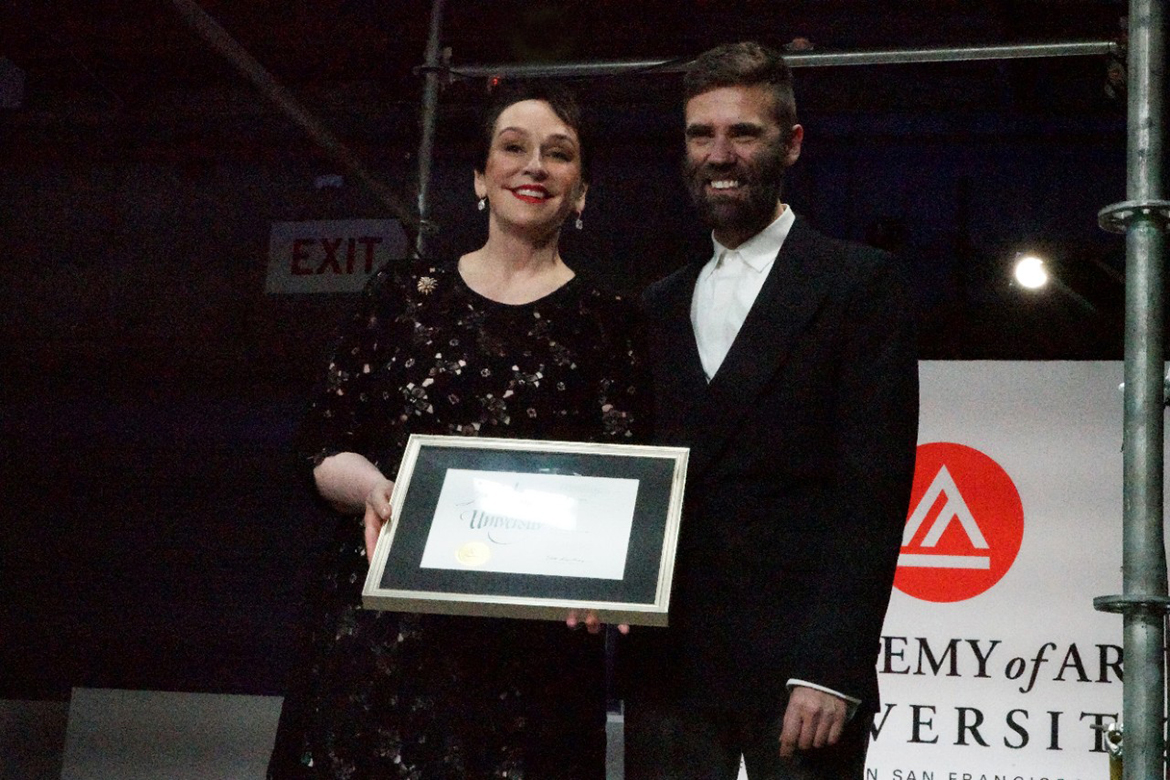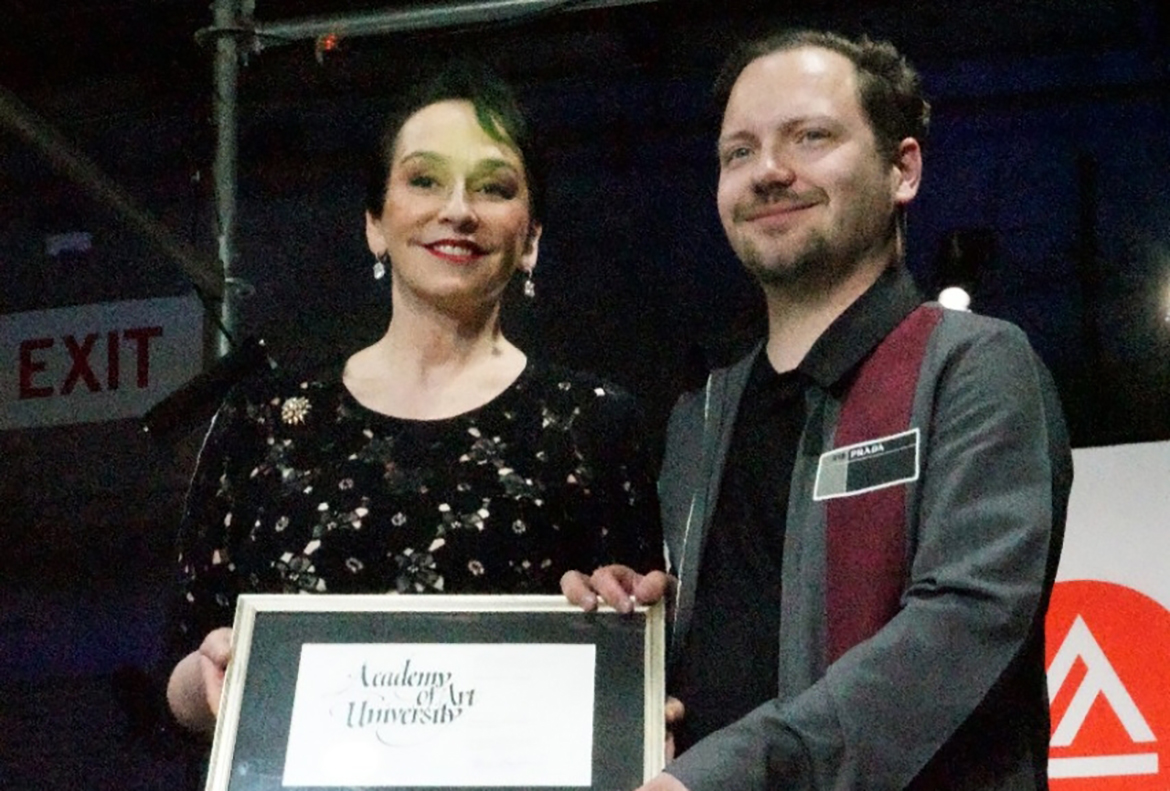 Then, as the lights dimmed and music cued, each of this year's collections made their way to the runway to take their turn in the limelight.
In search of unique inspiration, the graduating designers surveyed the world-at-large and the world within themselves. Referencing their own cultures, influences, dreams and emotions, the designers built on the legacy of the past and present to create a vision for the future. And that future is sustainable, as the designers experimented with upcycled materials and learned from each other, as they transformed seemingly ordinary materials into memorable fashion collections.
The Digital Print and Design Collaborative Collection
The Digital Print and Design Collaborative Collection was created by a group of fashion design students who used digitally printed fabrics designed by B.F.A. textile design student Mario Chinchilla. Chinchilla combined two things that he loves in his prints: Cinematography and the city of San Francisco. Originally from Honduras, he found the San Francisco culture intriguing. To capture the daily life of his friends in the city, Chinchilla applied filters on the pictures and matched his hand drawings on the fabrics to the photography. "I want the person who sees the garment to feel like they are going on an adventure—finding the truth of their life, exploring anywhere in the city and embracing the culture," he said. Chinchilla's cinematographic digital prints were transformed into a womenswear collection by M.F.A. fashion design students: Diane Dickey, Danni Huang, Shamonica Jones, Qiaochu Li, Xiaomo Liu, Muhammad Ahsan Nazir, Chenqi Xie and Meijun Lu.
Julie Eunju Kim (B.F.A. knitwear design)
For knitwear designer Julie Eunju Kim (B.F.A. knitwear design), growing up in Korea, where the weather means everyone has knitwear in their wardrobe, influenced her career path. Her collection is inspired by her favorite abstraction artist, Paul Klee, and his play with shapes and colors. The entire collection was created using mohair yarn, to which Kim applied her experimentation, as well as weaving methods and traditional knitting, to create distinctive dripping and cascading silhouettes. "I tried to make some different texture with mohair, like putting them over mesh fabrics and mixing angora with wool to give some accents. It is soft, fuzzy, blend-able and goes along with the delicate watercolor inspiration," Kim said.
Brianna Toomer (B.F.A. fashion design)
Brianna Toomer (B.F.A. fashion design) was born and raised in Anchorage, Alaska. Inspired by the strength of women during WWII, her graduate collection, Nobody's Housewife, examines the balance between masculinity and femininity through soft, sporty tailoring. It juxtaposes the silhouettes of women and men from that era and introduces an athletic twist with zippers replacing seam lines and exposed side seams with multi-layer bias binding.
Susan Zienty (B.F.A. fashion design)
Susan Zienty (B.F.A. fashion design) described her collection as "provocative, form-flattering and unexpected." Her source of inspiration comes from 1950s guidebooks for women on how to properly strip for their husbands. Her collection is meant to challenge the etiquette and standard of dressing for oneself, without regard for others, which is described as "anti-dress." "I think the challenge was speaking to the defiance and those stigmas placed on women on how to properly get undressed. It's been a challenge to convert that type of conflict through fabric in relation to being female," Zienty explained. She features locally sourced fabrics, such as washed silk, silk charmeuse, and viscose from small businesses in her collection to bring harmony and form to the female body.
Sam Shan (B.F.A. fashion design) + Marisa Chentakul (B.F.A. textile design)
Sam Shan (B.F.A. fashion design) grew up in a small farming village in the Shan Province of Burma. He lived with his grandmother who was a seamstress and taught him how to make patterns and sew. Shan's childrenswear collection was inspired by the playful colors and whimsical shapes found in the work of artist Paul Klee. He incorporated sustainable practices through the use of 100 percent natural fibers and eco-friendly dyes. To make each piece both functional and fun, he created the buttons and collars in geometric shapes with multiple pockets and whimsical patches.
Marisa Chentakul (B.F.A. textile design) was born and raised in Bangkok, Thailand. She has experience working in textiles for brands such as Teaspoon Studio, Sarin Tgamol Textile Designs and for Academy alumna Maria Korovilas. Growing up, Marisa would go with her mom, who had a fashion boutique, to fabric markets and see a lot of colors. For the childrenswear collection by Sam Shan, she designed refined, unique repeats and engineered prints with children's ink stamping, playful images and collages of daring colors and textures inspired by a Thai building block. "I feel the same way about clothes as I do about ice cream—I want everything," Chentakul said about her style.
Stefanie Jessica (B.F.A. fashion design)
Stefanie Jessica (B.F.A. fashion design) used anxiety as her source of inspiration. Her design used asymmetrical shapes and tailoring along with wool, cotton, organza and, unconventionally, bubble wrap. Her choice of offbeat materials comes from a need to find activities that relax the nerves, such as popping the bubbles in bubble wrap. "We're always seeking comfort and things that relax us," Jessica said. Originally from Yogyakarta, Indonesia, Jessica's design work has been featured in the Indonesian editions of Harper's Bazaar, Nylon and Elle. In 2017, she participated in the Levi's x ArtsThread worldwide competition, in which she was one of 20 students shortlisted out of 500 entries from more than 80 design schools.
Zixuan (Stella) Quan (B.F.A. fashion design) + Lulu Hui-Ju Tsai (B.F.A. knitwear design)
It was strength in numbers for Zixuan (Stella) Quan (B.F.A. fashion design) in her collaborative collection with Lulu Hui-Ju Tsai (B.F.A. knitwear design). Quan is from the city of Xi'an in China. Her inspiration is drawn from the historical importance of her city as the starting point of the Silk Road, and home of the ancient Terracotta Warriors. She aimed to capture the spirit of the creators of the Terracotta Warriors, as well as the detailing of their garments.  She looked to create a collection that combined classic, historical armor with modern fashion, using a combination of materials: Textured composite polyester, fleece, boll denim, double-sided knit, waterproof cotton and neoprene.
Tsai was born in YunNan, China and grew up in Taipei, Taiwan. Tsai found inspiration from the "concrete jungle" of the financial district in New York City. "When I walk down the street, I am obsessing over the pattern[s] that I see on windows or hallways in a building. Then I started to think about how to translate this into knitwear," she said. Tsai created an innovation that combined knitwear with woven fabric in the same piece. She did embroideries with knitted cords on woven mesh fabrics to make them look like classic knitwear. She focused on creating new textures using the same 100 percent wool yarns with different stitches and techniques. "I try to keep the shape as simple as I can and stay with the monochrome color palette to enhance the intricate stitches and complicated textures," Tsai added.
Luis Guillen G. (B.F.A. fashion design, menswear)
Luis Guillen G. (B.F.A. fashion design, menswear) was born in Puruándiro, Michoacán Mexico and grew up in Santa Cruz, California. Guillen sought out to create a collection to empower men and their feminine side. He was inspired by a gay subculture of pups (cub is to bear as pup is to wolf) and the 18th century romantic period which created a shift in the style of men's clothing. The collection featured embroidered flowers with flossed and latex fringe, high neck collars and shirt dresses for men. He used wools from Lanificio Zignone, custom jacquard from Brunello, and lamb leather custom dyed in Italy.
Uchechi Anigbogu (B.F.A. fashion design) + Jie Ren (B.F.A. textile design)
Uchechi Anigbogu (B.F.A. fashion design) crafted her collection with a concept that was years in the making. Born in Lagos, Nigeria, and raised in San Diego, California, Anigbogu's collection intertwined color, family and culture. "For a class, we had to figure out a collection to do over the summer," said Anigbogu, whose grandmother had passed away 10 years ago. "I wanted to do a tribute." Her vision evolved throughout her last semesters. She combined vibrant Ankara print fabrics that her grandmother once wore along with the feminine silhouette of the New Look by Dior in the 1950s to connect personal and impersonal elements. "Deep down, I'm very feminine too, so I wanted to put the two together and see how they work," Anigbogu said.
Jie Ren (B.F.A. textile design) is from China and grew up in Bejing before moving to San Francisco to study at the Academy. In addition to fashion, Ren's educational background includes graphic design and interior design. His textile collaboration with Uchechi Anigbogu drew inspiration from an 'East meets West' cultural fusion and focused on provocative shapes.
Minghan Xue (B.F.A. fashion design)
Born in Urumqi, Xinjiang, China, Minghan Xue (B.F.A. fashion design) was inspired by the "Made in China" manufacturing label and the country's booming industry. Xue's collection is set to shake the stereotype and change people's perception of the production of Chinese design. Xue collaborated with Mojtaba Katiraei (B.F.A. textile design) to create different trims, knots and embroidery. "I wanted my collection to look more detailed, delicate and luxurious," Xue explained. Combining the colorful culture of China and its natural world, she created and experimented with different textures and fabrics to create an homage to her country.
Denise Ramos (B.F.A. fashion design) +  Jorge Iglesias (B.F.A. textile design)
Denise Ramos (B.F.A. fashion design) described her collection as "confident, strong and dark." She pulled inspiration from traditional men's tailoring on Saville Row in London and the medieval architecture of Game of Thrones scenes in Girona, Spain. The Hayward, California native created a collection that captured the beautiful decay of the ancient world. "It's pretty masculine but more with being in touch with the feminine side," Ramos said. By collaborating with textile design student Jorge Iglesias, Ramos was able to illustrate the harmony between the new and the old.
Just like his art idol Picasso, Jorge Iglesias (B.F.A. textile design) never sticks to one medium and experimented with new techniques and unorthodox objects. He is known for his craft in doing fabric manipulations. Iglesias pushed the limits and practiced different methods, including printing glues with foils, recycling threads and applying metallic spray paint on top of fabrics. "One of the main challenges is to make my art wearable. I had to re-do the first swatches and made them lighter and softer in term[s] of weight and touch," Iglesias said. The resulting fabric is shiny with a medieval feeling, with a strong approach of feminine and masculine combined.
Justin Ho (B.F.A. fashion design)
Justin Ho (B.F.A. fashion design) created a collection that took inspiration from intense texture and the utilitarianism of World War II military gear. "Many details, such as the pockets, were included because one of my inspirations comes from vintage military-wear; I needed to incorporate functionality," Ho said. The Ohio-born and Taiwan-raised designer used images and textures of wasted wires and the cracked paint from Gerhard Richter artworks to create a collection that Ho described as using elements of "minimalism, contemporary design and streetwear."
Jeannifer Tirtamarta (B.F.A. fashion design)
Jeannifer Tirtamarta's (B.F.A. fashion design) collection used the gritty, bare look of construction in the city of San Francisco as inspiration. Using the lines of construction frames and the bones of a building, Tirtamarta's silhouettes and seam lines are geometric and precise. To fully grasp the feeling of the city while relying on sustainability, Tirtamarta used recycled billboard tarp as her main material alongside cotton canvas and denim. The Jakarta, Indonesia native attributed her influence of modern architecture to her urban hometown. "My collection is really modern, and I feel like living in the capital city makes you think faster and keep up with the style," Tirtamarta said.
Hanh (Susan) Nguyen (B.F.A. fashion design) + Emily McCarty's (B.F.A. textile design)
Hanh (Susan) Nguyen (B.F.A. fashion design), who was born and raised in Vietnam, married seemingly contradicting themes to create her abstract collection, describing it as "sculptural, playful and colorful." Combining the maximalism of Trudy Benson's artwork and the minimalism of the artist Paul Kremer, Nguyen found balance between the two differing, lively forces of artistry. In her womenswear collection, she used organic cotton in canvas, twill and organdy, paired with the beautifully messy textile designs of her collaborator, Emily McCarty (B.F.A. textile design).
Emily McCarty's (B.F.A. textile design) conversation with the designer began around colors and up-and-coming modern artists. "It's closer to Rothko because of the color, proportion and juxtaposition," McCarty explained. While listening to The Ooz by King Krule (her favorite album), she created the fresh color palette that reminds her of a sunny spring day in her hometown of Los Angeles. The pattern projected a transition between minimalism and maximalism, using peach and teal as the most important colors, with accents of yellow and red. McCarty created blown-out paper stencil cutouts and drew a lot of the textures from what she called "destruction." She was inspired by her photographs of Santa Rosa fire remains and spilled paints at a table in the textile lab. "These things are a mess, and it needs to be cleaned, but I find them beautiful and intriguing, so I have to make them into something," she said. McCarty used both hand-printing techniques and digital technology in this collection. "For me, I like to do things by hand first, because you get all of those happy accidents that you won't get digitally. From those I would go into Photoshop, take all those accidental drops and make them into a purposeful, controlled pattern," she said.
Jerry Lee (B.F.A. fashion design)
Born and raised in Seoul, South Korea, Jerry Lee (B.F.A. fashion design) used his collection to reflect on his life in his home-country. After finishing his military service, Lee moved to the United States and has since been featured in the Exhibition of Visual Design at Seoul Design Olympiad Media Art Exhibition in 2009. He has a history in luxury retail, after having worked at Louis Vuitton and as a design intern at Elie Tahari. In the architectural silhouettes and the necklines, each bit of his collection translated the fondness and longing he feels for the relationships he left in Korea. Lee uses a traditional Korean style of clothing, the city's natural and industrial color palette and his own family photographs to draw inspiration for his collection. "I feel that this collection can be [taken] anywhere, and it makes me feel at home," Lee said. "It's a piece of home."
McKaela Christenson (B.F.A. knitwear design)
The inspiration for the 3-D knits collection by McKaela Christenson (B.F.A. knitwear design) is derived from gestures, body movement and the fluidity of the human form, as well as the organic shapes of hand-formed pottery by dancer and artist Paulus Berensohn. "Having the environment around me all the time makes me more drawn toward natural color and finding inspirations from the earth," said Christenson, who grew up in Baraboo, Wisconsin. "I also find sustainability in fashion important." She appreciates the sustainability of knitwear, and how garments are created through the shape of her design, which is a zero-waste process.
Felix Ryan (B.F.A. fashion design)
Felix Ryan's (B.F.A. fashion design) nightmares come to life in his graduation collection. Drawing inspiration from his own dream experiences, Ryan focused on the experience of sleep paralysis and hallucination. His haunting conception combines wool, cotton and silk organza to illustrate both the structure and fluidity of dreams. The digital prints he uses mirror the body movements made while we are asleep and unconscious. During his time at the Academy, Ryan interned for designer Cristina Ruales and Nicopanda. In 2017, he participated in Joe's Blackbook Competition and placed in the top 10 in Levi's x ArtsThread worldwide competition. He was also a winner of Old Navy's design competition.
Zhouyi Li (B.F.A. fashion design)
When describing her collection, Zhouyi Li (B.F.A. fashion design) used the words "sculptural and strong." Inspired by the sculptures of Richard Serra, Li used wool and cotton fabrics in gradient rust colors to mirror the same feeling of Serra's art. The colors were enhanced using digital printing on the wool fabric. She first saw his art in a book, detailing his entire life's work. From this vision, Li built clean 3-D shapes that give the impression of dividing the body.
The 2018 School of Fashion Graduation Fashion Show, fueled by the spirit of collaboration, once again demonstrated that when students are given an opportunity to pursue their vision, nothing is impossible.
By School of Fashion Editorial Team
Additional contributions by Isabella Urbina, BA Fashion Journalism, and Marisa Tania, BA Fashion Journalism
All runway photos by Randy Brooke