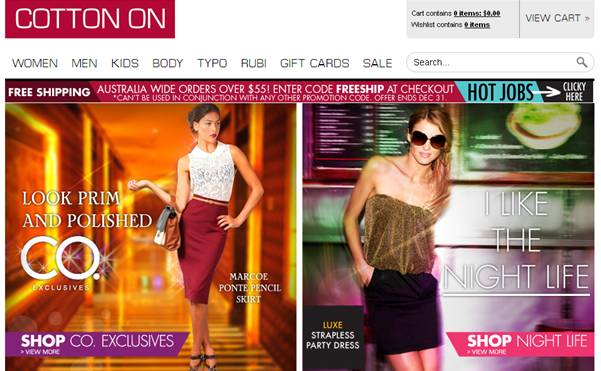 Cotton On is looking for Visual Merchandisers!
Job Type: Freelance or Temp
Major: Fashion (Any)
Job Title: Visual Field Merchandiser
Job Description: Field Visual Merchandiser – Tri-State Cotton On MegaStore, Cotton On, Cotton On Body, Rubi Shoes Cotton On Group is a young and vibrant retail giant that is rocking the local and international scene! With over 500 stores in Australia, New Zealand, Singapore, Hong Kong and Malaysia and plans for massive growth, we are well on the way to achieving our mission; "To be the dominant value fashion brand globally". We are currently seeking experienced Field Visual Merchandisers to join the Cotton On VM Team. Reporting to the Field VM Manager, you will develop and prepare the visual story that reflects the style of each season and maximizes retail sales opportunities. Combining experience, individuality and creative passion, you play the key part in contributing towards the success of your brand.
Follow the jump for more info!
Duties and Responsibilities Include, but are not Limited to: • Demonstrated expertise in Visual Merchandising • Creative talent and vision to capture the eye of the retail buyer • Degree in Visual Merchandising or fashion preferable • Ability to implement and advise retail staff on visual concepts that reflect the vision of Cotton On. • Knowledge of current fashion trends and styles • Ensures that visual merchandising is in compliance with Company directives • Understand and interpret visual presentation direction • Prioritize and deliver projects in a fast paced environment • Organize and prioritize multiple tasks in a demanding and continuously evolving environment • Ability to assemble displays • Awareness of Store sales performance, productivity, results and accountability • Analyzes sales and merchandise to identify business opportunities and concerns • Flexibility in work schedule and hours including; weekends, holidays and peak selling periods • Willingness and ability to travel regularly by air and/or car, with overnight stays, as business dictates • The employment contract is for a 3 month term with the possibility of permanent employment at that time (contingent upon performance).
Job Qualifications: MUST BE AT LEAST 18 YEARS OF AGE OR OLDER TO APPLY
Pay Range: Depends on Experience
How To Apply: Company Website
Location of Job: New Jersey/New York (Paramus, Wayne, Long Island)
Length of Position: Seasonal Contract/Full-Time hours/Possibility of permanent employment
Contact Information
Contact Name: Amanda Pulley
Phone: 310-819-1400
Email: amandap@cottonon.com
Company Profile: The Cotton On Group houses 7 brands with over 800 stores, in 9 countries, and we're still growing by the day! Our success is based on a great product offering, and most importantly the development of our teams in a fun and exciting, fast paced environment. So if you love retail like we do, we want to talk to you. If you're looking for a career with opportunity around every corner, amazing growth potential, an exceptional global team culture, great company benefits and a supported work/life balance, then we'd love to work with you, and we know you'll love working with us!