A collection that explores the transformation of women, as they define their strengths and embrace their weaknesses, is brought to life by the collaboration between MFA Fashion Design student Yue Shen and BFA Knitwear Design student Mingyang Zhang. It's courageous to be fragile and it's powerful to show vulnerability. The ultimate goal of pain, struggle, and endurance is to create braveness, toughness, and flexibility. The process in which these opposing forces collide and give birth to a new soul in the shape of a woman is exquisite and inspirational for both; Yue was attracted to the juxtaposition between beauty and struggle, while Mingyang was intrigued by the softness hidden inside the strong armor projected to the outside world.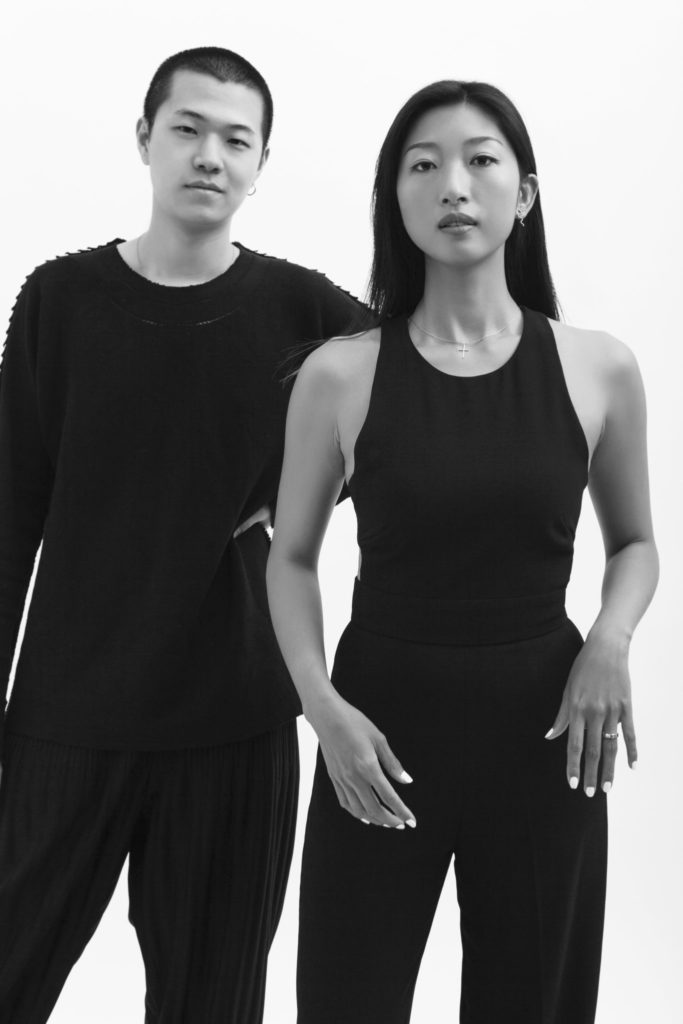 Yue's inspiration holds influence from the abstract expressionist style of John Chamberlain's sculptures and organic shapes of Alexander Archipenko's paintings. The refined version of these shapes, merged with irregular fabric manipulations to produce 3D structures, meant to emphasize the process of transition through exaggerated, oversized and feminine silhouettes. Hardness is transmitted through elements of deconstructions from tailored menswear, combined with the stiffness of thick wool fabrics. Moreover, the sense of repression is molded into softness and elegance through the use of ribbing knit.
Mood board for the collection by Yue Shen, MFA Fashion Design, and Mingyang Zhang, BFA Knitwear Design. Photography by Danielle Rueda

Design by Yue Shen, MFA Fashion Design, and Mingyang Zhang, BFA Knitwear Design. Photography by Danielle Rueda
The illusion of heavy armor is challenged by the delicate handmade texture of fine merino wool. The idea of women understanding what it means to feel unprotected while being fragile underneath is challenged as a self-imposed 'façade. ' Both designers visualize a woman who can overthrow the darkness, stand up and find the strength within themselves while embracing imperfection and vulnerability. This alludes through a ribbing knit structure that references her spirit. Rigidity vs. delicacy is shown through the use of heavy, yet fine knit of 7-gauge ribbing paired with heavy woven wool fabric. Placing one of the garments under the coat and only exposing the hem and neckline hides and reveals, telling the story of a human living beneath a fortress. The end result is a collaboration that conquers its own demons and pressures to thrive beyond expectations. The struggle is there; just because it's not visible it doesn't mean doesn't exist.
Words by Camila Encomendero, BA Fashion Journalism