Sustainability is a growing trend in the fashion industry, and Yaryna Zhuk, MFA Fashion Design, is no stranger to it. Her graduate collection is an exploration of how to make the design and creation of clothing as eco-friendly as possible. With this issue at the collection's core, the stylistic inspiration came, nevertheless, from a shadowy walk through the streets of San Francisco.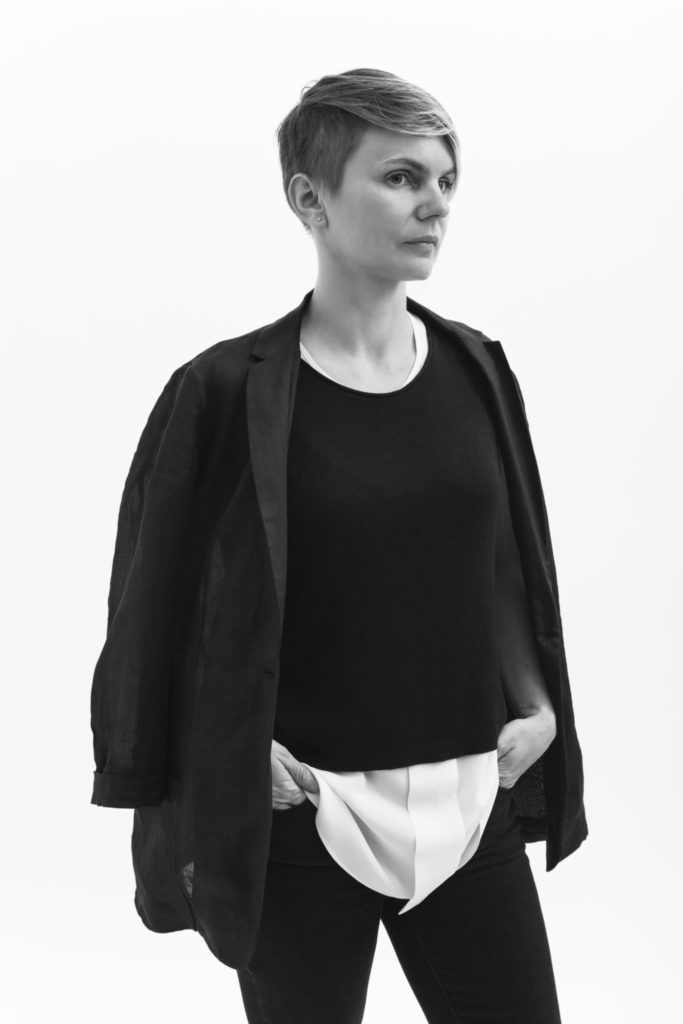 Back in Ukraine, Zhuk's home country, the legend says that if you find a fern flower, which only blooms once a year at night, you will gain eternal happiness. But fern flowers don't exist, so no one has ever proved the myth correct. Zhuk believes that the imaginary flower is black, making it even harder to find in the dark of night. The legend came to Zhuk's mind on a rare sunny day in San Francisco, as she was walking through the Italian neighborhood of North Beach. She began noticing the sharp contrast of the shadows on the sidewalk, particularly the different shadows a flag made while blowing in the wind. The movement and shapes created by the shadows of the flag reminded her of flowers, and the coloring of the shadows made her think of the myth of the fern.
Moodboard for the collection by Yaryna Zhuk, MFA Fashion Design. Phography by Danielle Rueda

Design by Yaryna Zhuk, MFA Fashion Design. Phography by Danielle Rueda
The flower motif is evident in her collection in the swirling ruffles hanging from the garments and the different curls and drapes of the fabrics. A shadow of a windy flag was developed into textile applique of overlapping transparent organza netting and opaque brocade. Zhuk created her own textiles for this collection, combining scraps of fabric and hand sewing the appliques. With a background in both embroidery and sustainability, she was able to construct detailed textiles with minimal waste. This waste consciousness requires enormous engineering and tailoring skills which Zhuk demonstrates when viewing the garments. They are embedded in her design.  The fern flower might be a myth, but the future of the earth is reality.
Words by Christianne Philippone, BA Fashion Journalism