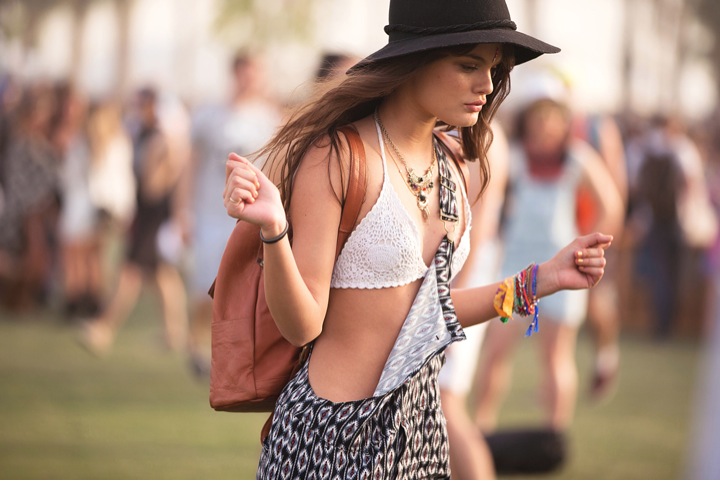 As a fourth year Coachella veteran, I felt fully prepared for what was to come at this years desert music celebration. What was once a hippie folk-rock camping festival has in recent years turned into an all-out neon, celebrity fashion frenzy (Kardashians included) that takes place over two weekends. It's wise not to expect to show up in anything tye-dye or assume to live off of pizza and beer, the festival now respresents sporting designer duds and grazing on gluten free-vegan tacos and organic smoothies. This year's lineup was packed with female singers (Ellie Goulding, BANKS, and Lana Del Rey) and girl bands (Chvrches, Dum Dum Girls, and Warpaint) which complemented the fashion show that took place.
For us San Franciscans who attend, it's always exciting to kick off our cold-weather layers and spend four full days in in the sun (temperatures reached 100 degrees). At Coachella camping is a must! This allows for extra activities like late night dance parties, indulging in fresh produce from the farmers market and easy festival access to and fro.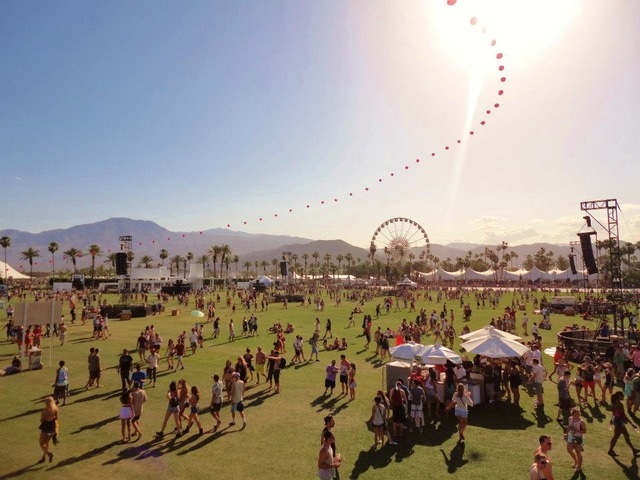 Once entering the festival grounds, concert goers are fully immersed among thousands and thousands of bohemian fashionistas, (including the coveted boho-queens Vanessa Hudgens, Kate Bosworth, and Sienna Miller) ample amounts of larger-than-life artistic structures and heavy musical beats. Attendees spend their time running from stage to stage, perusing the beer gardens for celebrities (Katy Perry and both of the Hilton sisters made appearances) and style bloggers, posing for photographers and taking a multitude of selfies to show-off on Instagram. Because Coachella fashion has become such an important annual style highpoint, we're bringing you the best festival fashions as well as some incredible concert get-ups from the top female performances of weekend one.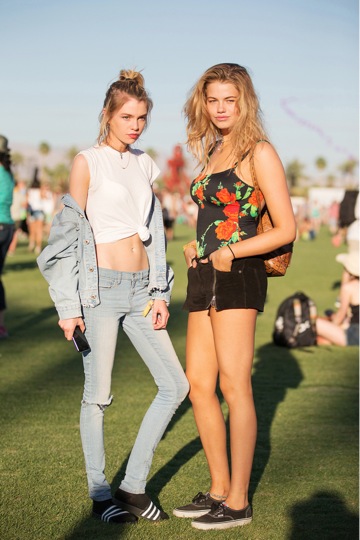 For those who didn't camp, looking fresh was still an option. To say that these two babes (via Refinery29 style snaps) channeled 90′s fashion would be an understatement. On the left – she's sporting distressed denim on denim, and (flashback) Adidas slip-ons. Remember those?
One of the major highlights from Friday (day one) was the rock band Haim's performance on the main stage. The three sisters kept things simple: Danielle wore a mesh white tee with black cut-off denim shorts; the youngest, Alana, sported a low-cut long sleeved black blouse and Este combined a black crop-top with a black miniskirt and a pop of red lipstick.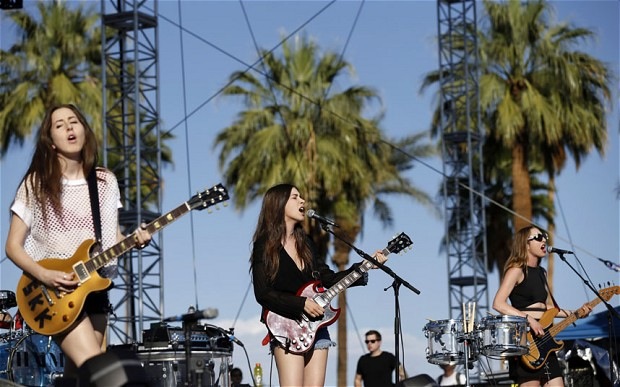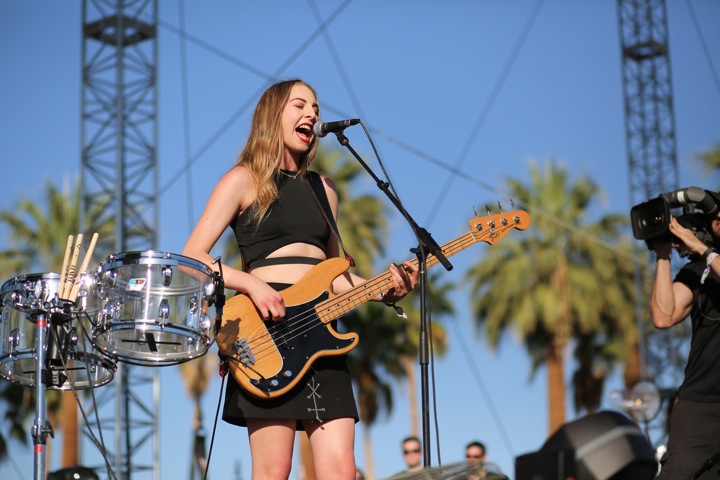 Popular recurring fashions included floral head-wreaths, braided hairdo's, high-waisted denim cutoffs in every color and pattern, chunky combat boots, suede booties, fedoras and floppy hats.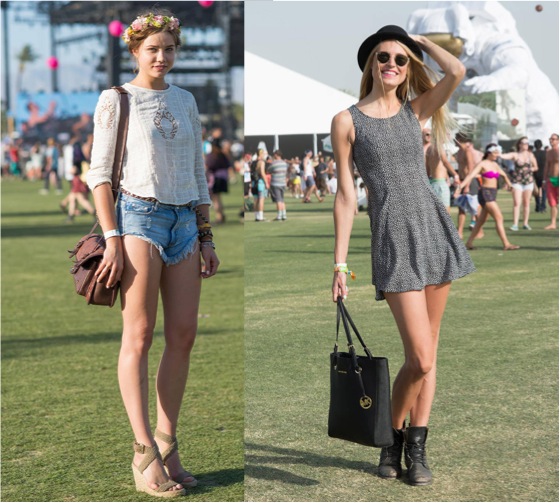 Best-dressed performer (hands down) goes to seventeen-year-old singer, Lorde, who braved Saturday nights windstorm in a metallic gold kimono that swept above the audience like floating gold paint.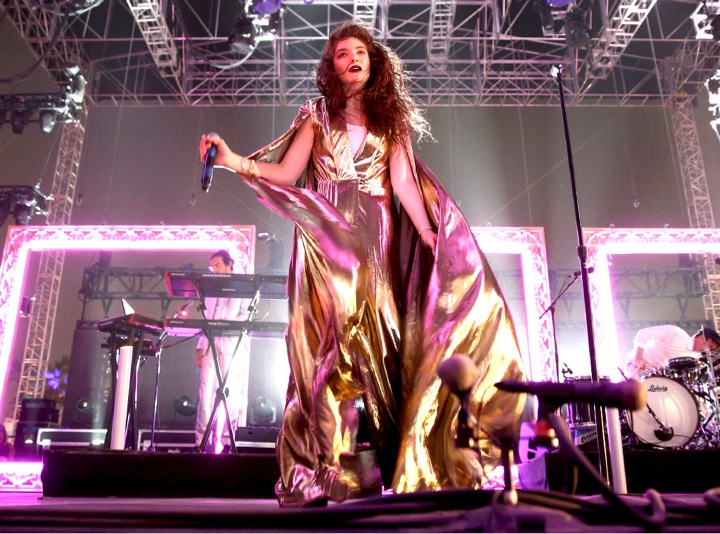 This year the usual Coachella uniform consisting of crop-tops, cut-off denim shorts and combat boots was combined with body chains, tribal jewelry, temporary Flash tattoos and (John Lennon inspired) round gold sunnies. Other new trend additions were printed cotton bell-bottom pants and overall-jumpers.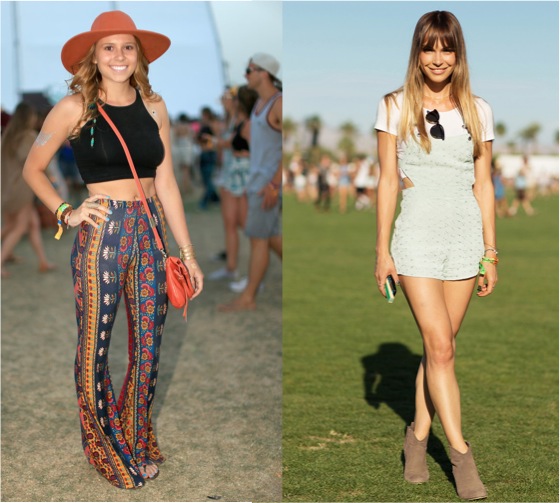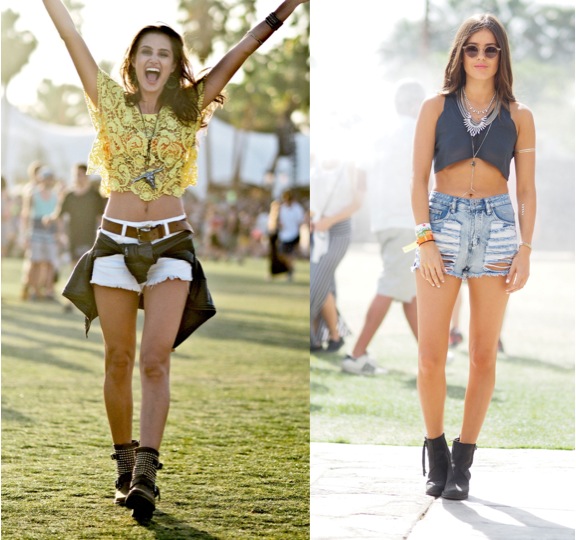 A shocking (but not so shocking) surprise took place when Beyoncé joined her sister Solange on stage for a fashionably chic performance. Both of the Knowles sisters donned wild curly manes and showed off their toned legs in short frocks. Beyoncé topped her floral print shift dress with a suede hat and Solange danced carefree in a bright orange jumper.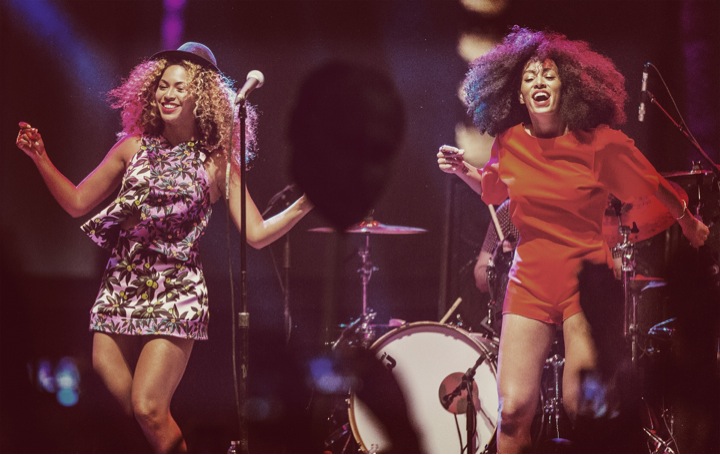 The weekend commenced with an epic performance by Arcade Fire front woman, Regine Chassagne, sparkled in a shiny silver beaded dress was joined by a classically styled, Debbie Harry, (Blondie) for a girl power duet of the song "Heart of Glass."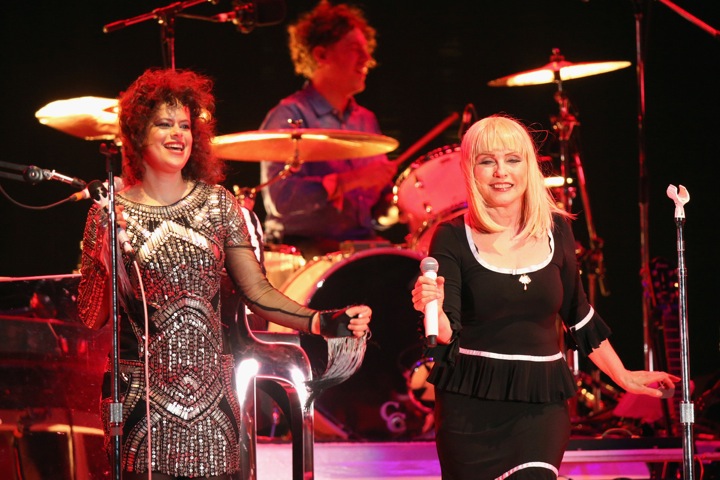 Written by Ashley Castanos