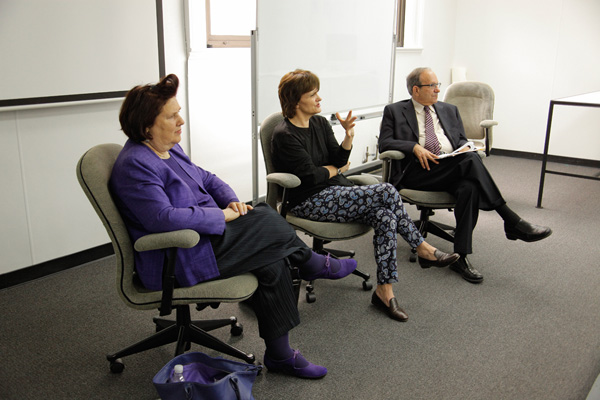 Suzy Menkes, Cathy Horyn, and Paul Wilner.
On Thursday May 3rd, The Academy of Art University had the pleasure of hosting a lecture by two of the fashion world's top journalists: Suzy Menkes, Fashion Editor of The International Herald Tribune and Cathy Horyn, Fashion Critic for The New York Times. Both women have well-established careers and are at the top of their field. School of Fashion Executive Director Gladys Perint Palmer introduced the pair, and Journalism Coordinator Paul Wilner moderated a panel discussion by the legendary journalists, who offered plenty of advice to a room full of fashion students.
Both women were very approachable, answered questions in an unpretentious manner, and provided insightful information about their successful careers. Menkes was instantly recognizable sporting her signature hairdo: one pin curl set at the top of her short brown hair. She brought a British charm, wearing minimal makeup and a few subtle pieces of jewelry. She donned a purple blazer and top, navy trousers, purple suede shoes that tied into a bow in front, and even matching purple socks.
Horyn had a laid-back look consisting of a black three-quarter-sleeved top, blue paisley printed pants and brown leather loafers. Her short brown hair was kept simple and she had minimal accessories; a small silver watch, and square gold and green ring.
Menkes spoke about her early aspirations to become a writer and how she handcrafted her first newspaper at the age of five. She always had an interest in fashion and studied dressmaking in Paris as a teenager. She worked on her school newspaper at Cambridge University and later landed a position at The Times, a daily British national newspaper.
Follow the jump to read more!
Horyn had similar experiences to share. Growing up in Ohio, she said she always knew she wanted to write and had her first real journalistic experience writing for her high school newspaper. She also worked on her college newspapers while an undergraduate at Barnard College in New York, before going on to get a graduate degree in journalism at Northwestern University.
She opened up to students about the difficulties of landing a job in the newspaper business; she applied to 80 different newspapers right out of graduate school and only had two replies. Ultimately, she landed a job at the Norfolk Virginia-Pilot before moving on to the Detroit News. It was a seven-year wait before she hit the big time, with a long-coveted job writing for the Style Section of The Washington Post.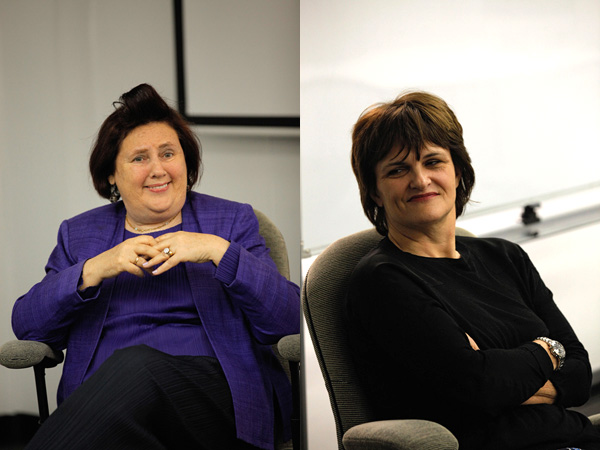 Both women emphasized the importance of maintaining their roots as reporters and not solely fashion critics. Horyn noted that it is extremely important to do your research as well as to understand your subject from all angles – rather than just rely on the images and first-impressions many contemporary bloggers use.
When a student asked if there are limitations for how critical a fashion journalist should be, Horyn, who has been banned from Armani and Gucci fashion shows and is known for her direct honesty, responded: "You have to write about the things that you want write about, but you have to back up everything…You have to do it without trying to be vicious, just honest." She said that's the only way to keep the respect of her readers, whether or not designers like a particular critique.
Menkes echoed the sentiment. She said she told Kanye West in person that she would not be attending his second fashion show and described his line as, "Made for Kim Kardashian on a bad day."
Her advice to would-be fashion writers "It's all about hitting a nerve. You can grab people with so little words. When you put real emotion into a piece you will get real responses." She passionately added: "It's the voice that counts!"
Horyn emphasized the tasks of writing as clearly as possible, to connect with readers in the age of limited attention span, and the need to write in a distinctive voice, citing New Journalism models like Tom Wolfe, Joan Didion and John Gregory Dunne as examples who had influenced her work, as well as film critics Manny Farber and Pauline Kael and the late feminist rock n' roll writer Ellen Willis.
She said she got an enormous response to a piece she did on Snooki of Jersey Shore fame, which mentioned the fact that she was "turnip-shaped,'' which did not seem to sit well with Snooki's admirers. But again, she emphasized that it was not intended to be negative, she was just trying to communicate Snooki's place in popular culture, at one point comparing her to Elizabeth Taylor in the '60s.
Inevitably, the talk turned to the changes in journalism since the advent of the Internet. Menkes said she hasn't even "bothered to try'' to change her style since she comes from an earlier era, and has enough to do keeping up with her deadlines for the multiple editions of the International Herald Tribune.
But she added that she was encouraged by the multiple opportunities for young journalists through social media, and websites that have been started by fashion brands, including NOWNESS, which is owned by LVMH and has featured videos of Horyn interviewing Guest of Honor Sarah Burton ("two exhausted women,'' Horyn joked) after the Paris collections.
She said the key is to be "adaptable.''
Horyn is also a frequent Twitter user and has been writing her New York Times blog, On The Runway for the past five years. Her blog is always evolving, and she has become less and less personal in her posts. (Earlier dispatches included recipes, and items about her dog). What went from a smaller community of loyal followers has turned into an international enterprise, in which anything she writes is seen by millions around the world – sometimes leading to simple statements being blown out of proportion.
She cited the counter-attack from Lady Gaga's coterie of followers; after tweeting a critical comment about the way Versace dressed Gaga for a musical video, she was spammed with thousands of critical comments, many of them abusive – and anonymous – and Gaga herself took the opportunity to criticize her in an article for V Magazine.
Menkes acknowledges the changes in the industry and doesn't find the amateur bloggers to be any threat. She did say that there are sometimes unintended consequences of the instant information out there on the Internet.
Despite the danger of misunderstanding in today's fast-paced fashion world, she believes there are tremendous opportunities out there for young fashion journalists: "There is a need for it,'' she said. "[Readers want] an honest, well-rounded writer."
The School of Fashion's journalism students at this session were honored by the opportunity to hear from two of the most respected, honest, and lively fashion writers of our time.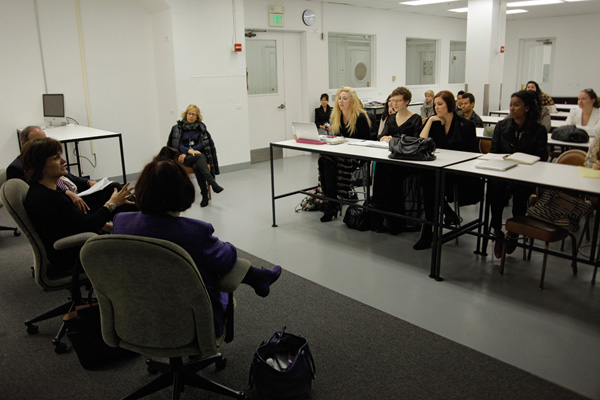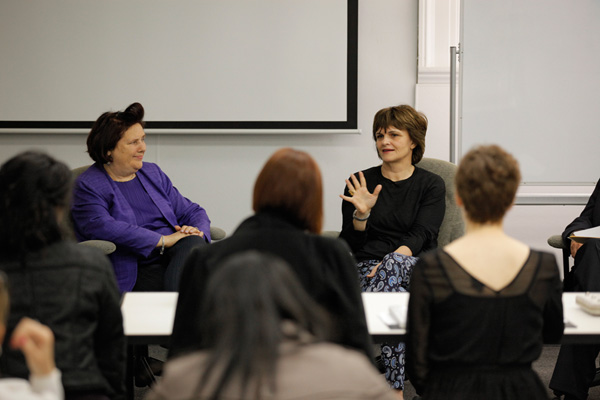 Written By: Ashley Castanos