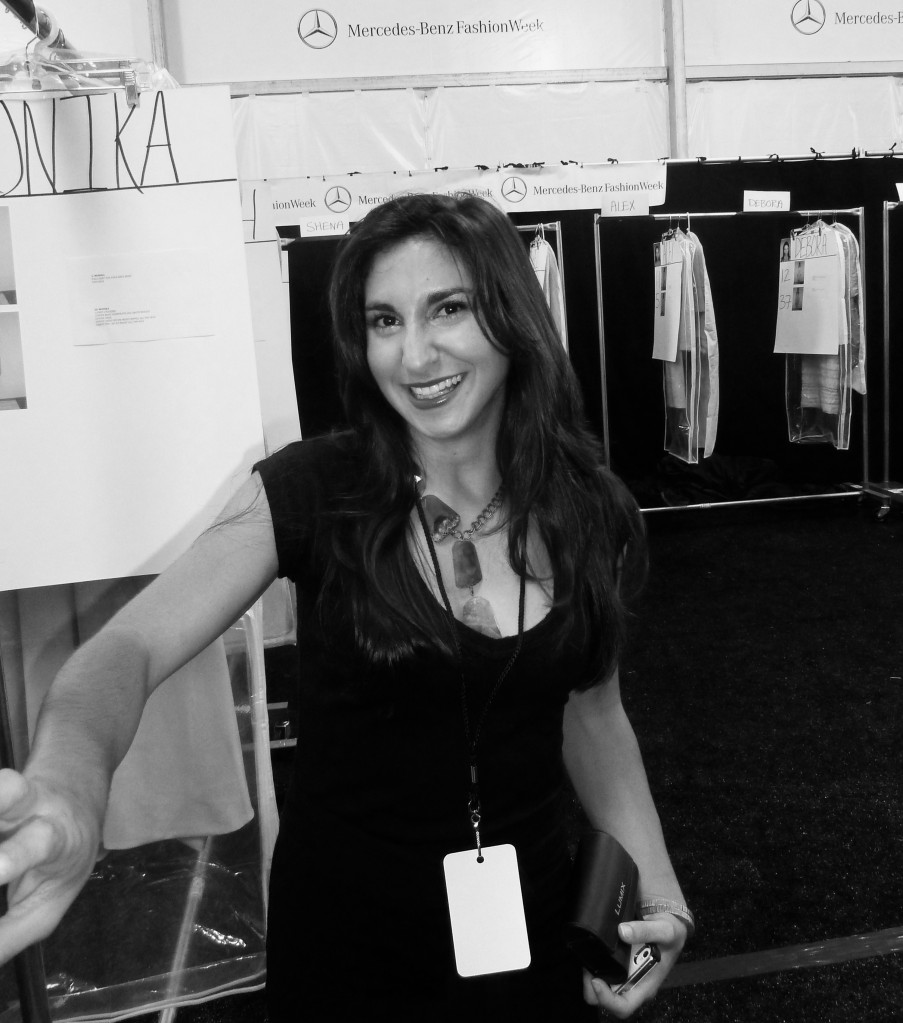 We recently caught up with M.F.A. Fashion Design student Ilana Siegelman, who's designs were shown at Mercedes-Benz Fashion Week as part of the Italian Trade Commission Collection. She recently landed an amazing job at The North Face and has been work, work, working as she finishes up her last semester. We chatted about her experience at Fashion Week and what it's been like to start designing for a global brand.

What was the experience at New York Fashion Week like for you?
New York was surreal. I spent the entire summer working with Rob and the other gals in the basement sewing lab of 180. 8-10hrs per day, 6 days a week working. Believe it or not, I loved that experience and I learned a ridiculous amount regarding construction and I was absolutely never bored. So much of NYC was about the preparation beforehand. It was rigorous and trying at times. Finally getting to NYC for the week of the show was really exciting. However, once there, even more work needed to be done, we were in close quarters and needed to alternate between the 2 available sewing machines. Not to mention being in an unfamiliar city and all the hassles that go with that. At one point during the week one of my looks got cut and I was a bit disappointed. Then, on Thursday afternoon, 1 day before the show, one of my pieces got thrown back into the mix but I had to completely take it apart for a redesign. I was so happy! I stayed up a lot of the night working on it. You've got to be flexible and prepared for anything. As cheesy as it sounds, it's so important to remain positive and just keep working away. There's no time for negativity, upset or sickness. You have to finish and you're only thinking about the task at hand. The actual show is incredible. Watching clothing we had all spent so much time working on walk it's way down a runway under bright lights and a packed audience is invigorating. I was nervous and afraid something would go wrong. Sean let the ITC designers watch the show, which never happens for designers. I was literally shaking with nerves when the show started and could barely believe what I was seeing. The show was beautiful and unforgettable. It felt so strange that we had spent so much time and work for that 20 minutes of display. It was definitely worth it and I'm so grateful to have been included.
How did you feel after the show?
Post show was kind of a blur. I was so happy to be done. And I really felt successful. It was a job well done for everyone who was involved. I'm serious though, there was this overwhelming sense of relief at accomplishing the task. And I felt like the show was a beautiful success. I remember also being excited about going out to eat a good meal and finally being able to get a good night's sleep.
Follow the jump to read more!
What was the interview process like for your job at The North Face?
I was fortunate enough to meet Daniela, a former BFA from the Academy of Art. She graduated about 5 years ago and she has been working for The North Face as an Outdoor Apparel Designer. Simon introduced us via email to find out if I could do a Directed Study with her so that I could learn more about the Outdoor industry. I worked with Daniela for 2 semesters and we worked very well together. She guided me in the building of my portfolio and mentioned that one of the designers would be going on maternity leave and that they may need someone to fill the spot for a bit… When my portfolio was complete, I submitted it to Daniela as my final project and she loved it. She immediately told her boss that he had to interview me and apparently they were in need. He agreed and met with me very quickly. I interviewed with him and 2 other senior designers. They asked me lots of industry questions, and spent quite a bit of time going through my portfolio. They took their time and wanted to know what inspired me to do outdoor. My portfolio featured projects I had produced in my classes along with photos of 3D samples all bound together in a book that I had constructed of recycled bike tubes, leather and climbing rope (see photo below). I specifically chose 4 projects so as not to overwhelm them with too much. I had 2 artistic projects and 2 that were on the highly technical side to show that I could do technical sketches. I also submitted my design philosophy, my resume, and photographs of any 3D work that I felt would showcase my talents. I interviewed on a Friday and I received an email on the following Tuesday asking when I could start. I was elated! I let them know I was attending fashion week and that I could start and work almost full-time upon my return. As of now I'm contracting with them because I have one last class to complete (professional practices). So hopefully when I graduate in December, they will take me on full-time.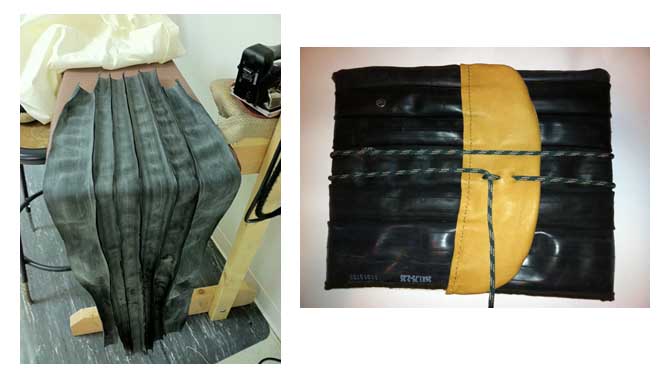 What have been your first few projects for the company?
My first week was spent assisting the designers in updating their Spring 2013 catalogues so as to prepare for the first round of prototypes, aka samples. I also prepared the notebooks for the fittings (that started today 10/10/11) and just all around helped them to feel more organized. In my second week I was thrust into designing men's and women's' outerwear for their Europe and Asia clients. I'm not going to lie, I was a bit nervous to be designing so quickly! I had to remind myself that I knew what I was doing or at least pretend I did… The designing I was doing required that I research past models of jackets, as there were some specific requests from the various clients. This was a challenge. Fortunately, The North Face has a very extensive clothing archive and Daniela helped me to locate specific pieces to use as references. When I finished the initial designs we then had to rush into preparation for final review of the Fall 2012 product line. My task became further updating catalogues until we could get the feedback from Europe and Asia on the designs I had done. When we got the feedback, I had to then update the designs and produce tech packs for the product developers so that they would fully understand what had been designed. The whole process involves many people and is very much a team effort. I feel lost much of the time, but completely supported. Someone is always available to answer questions, and more importantly, they are glad to do so. They do not expect me to know everything, but leave me to my tasks, and hoping that I will come to them with difficulties. Thus far, it has been an incredibly wonderful learning experience. Like any job, it has its monotonous moments, but there is also a lot of variety in what do. I believe in the product and I work in my chosen field. I am so fortunate and happy to be at The North Face.
You have a background in outdoor clothing companies, what inspired you to want to work in this field?
My entire life has been a mish-mash of outdoor activities: I bike (mountain and road), run, hike, alpine ski, x-country ski, and I recently started surfing and paddle-boarding. I grew up that way. Everyone in my family is active and so am I. I have also always had a love for fashion. It finally occurred to me that I could combine the two and live a happy, healthy lifestyle AND work at a job that I love. There is a kind of problem-solving that goes with design, especially outdoor apparel. You have to apply logic in regards to functionality, and still think about how to make the garment aesthetically pleasing.
What are you most looking forward to learning?
Everyday I am confronted with how little I know. I think that The Academy has given me so much knowledge, and definitely prepared me in so many ways. And yet, there is still so much to learn. It's a go, go, go sort of industry and I look forward to being able to experience the entire process of production from start to finish. There is a whole business behind the design scene that I am starting to actually see. For the first time I have to think about cost from the moment I start a design. I am given a parameter to work with and I only have a vague idea of how to make that work. Generally speaking, I am definitely interested in the whole business side of the industry because I feel like that is not something you can learn in a school environment, but only on the job.
We wish Ilana luck at The North Face and in the next steps of her career!