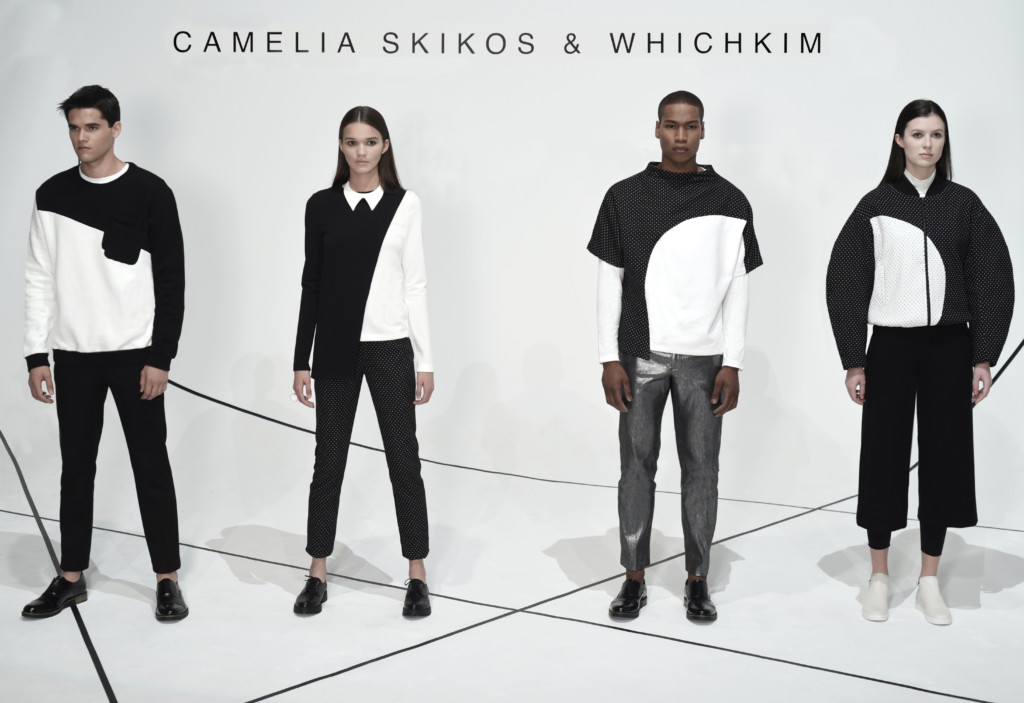 On Saturday, March 7, 2015 at 7:00 PM, Camelia Skikos, part time instructor in the School of Fashion, and Dahae Kim, 2009 B.F.A. Menswear Design Alumna, debuted their Fall/Winter 2015 collaborative collection at Concept Los Angeles Fashion Week. This was the first time these two San Francisco designers have collaborated. While staying true to their signature styles and tailoring while sharing the inspiration of the art of Victor Vasarely, they investigated ways of rendering the concept of duality, using techniques involving geometric shapes, contrasting fabrics like silk and wool, soft and hard, shiny and matte.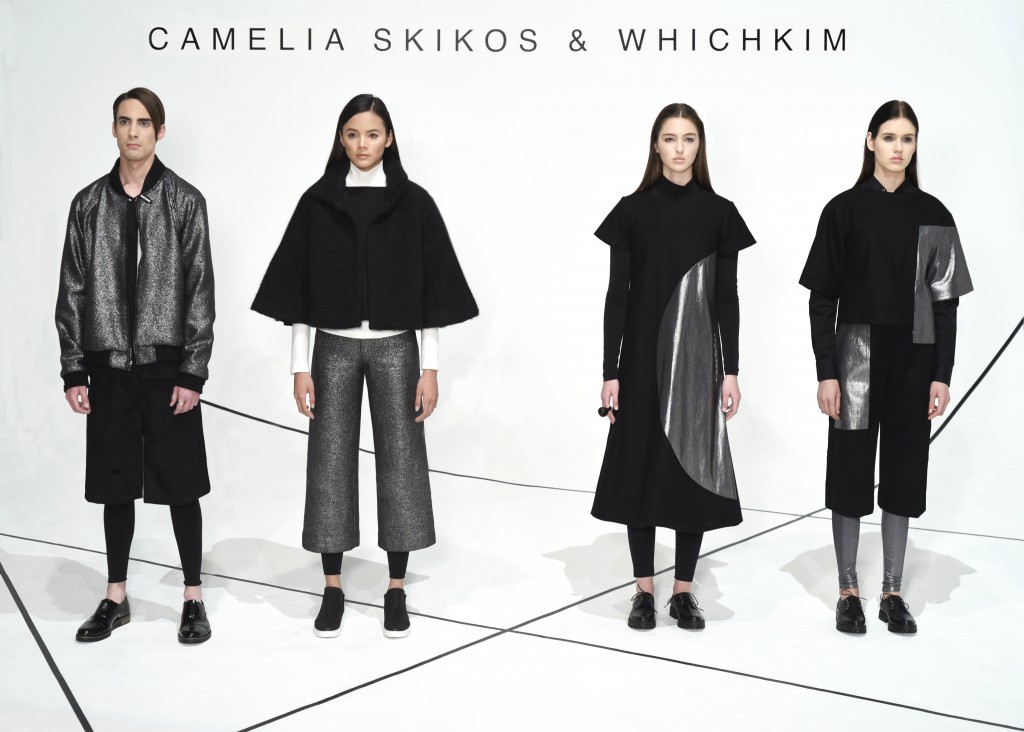 The show garnered attention from Women's Wear Daily, the Los Angels Times, SF Racked, and other publications.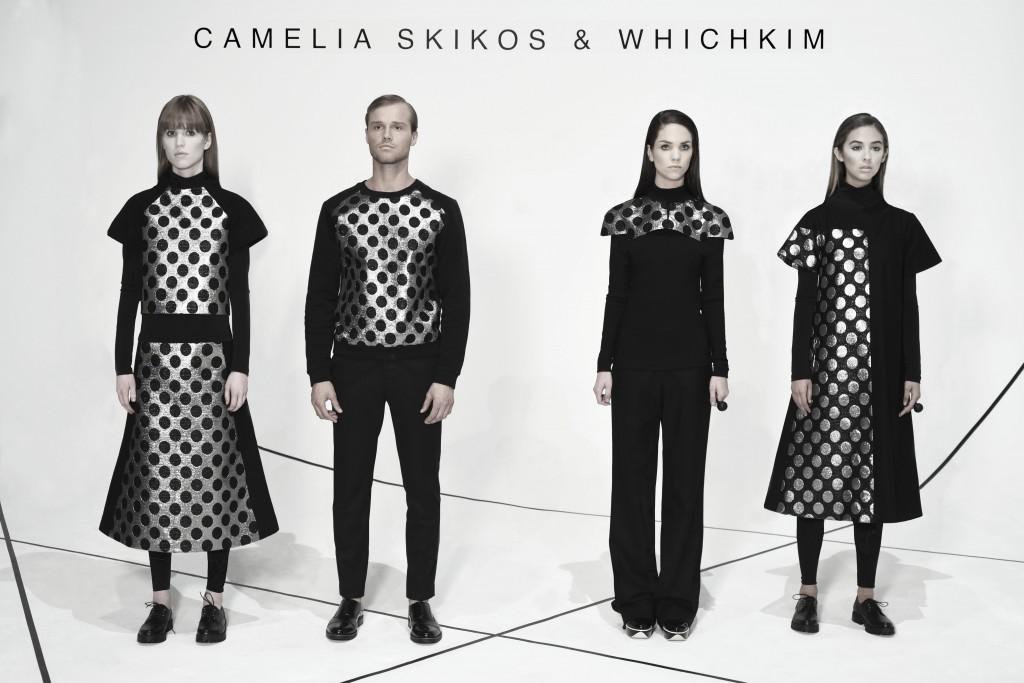 In 2003, Camelia Skikos moved to San Francisco where she accepted a position as a head designer at Levi Strauss. During that time, she also designed for GAP, and began teaching Fashion Design in the School of Fashion . She launched her eponymous label in 2010 and won the San Francisco Award for Best Women's Wear Designer in 2011.
Originally from South Korea, WHICHKIM's creator Dahae Kim received a B.F.A. in Menswear Design from the Academy of Art University in 2009. She received a scholarship from the CFDA for her work as a student, and in 2012 won the San Francisco Award for Best Emerging Menswear Designer of the Year. She has also taught fashion design at the Raffles International College in Kuala Lumpur, Malaysia.
In addition to your collaborative inspiration of the art of Victor Vasarely, what else inspired you for this collection?
Dahae Kim: This collection began with my inspiration of a trip to London, how I felt at that time, what I was going through, and how London healed me. I kept thinking about every spot I have been to, the smell of London, the clouds, and my feeling during the trip. 
London came to me as a strong, calm and determined city. And the layers of clouds were to me like layers of our thoughts and feelings. 
I wanted to translate that in a strong and sharp figure in calm attitude with layers of grey scale. I focused on the shape of lines, a strong contrast of black and white, and layers of details.
Camelia Skikos: Besides Victor Vasarely, I was inspired by Bridget Riley and the idea of duality in general. I interpreted my thoughts and views on this matter trough my choices of fabrics, shapes and colors. Using techniques involving geometric shapes, contrasting fabrics such as silk and wool, soft and hard, shiny and matte, I was trying to investigate possible ways of rendering the concept of duality. Besides contrasts like black/white, soft/hard, curvy/angular, I also wanted to add a little more dimension to my collection by adding the masculine/ feminine contrasting element. That is when I thought of including some menswear pieces and I started to collaborate with Dahae. She was my student a few years ago and I remembered that she always had very strong and similar esthetics as mine and she was very adaptable and fast.
Tell us about the collaboration process of Camelia Skikos + WHICHKIM.
Dahae Kim: When I spoke to Camelia, she had a black and white color story with contrast ideas as well so the collaboration was made easier. I designed my collection and she did as well, we showed each other our collections, got the ideas from our visions, and edited together. Camelia challenged me, which was great for me. Our design process was to share fabrication and design ideas to have a cohesive collection. Her understanding in my vision and my idea of tailoring was very appreciative. This is my first time collaborating with another designer, and especially with a womenswear designer. I must say it has more benefits than challenges when both designers have a similar style and an understanding of the other designer's aesthetic. No one tried to change the other designer's original ideas.  It was simply editing fabrication and shape of line down to emerge. Overall, WHICHKIM's vision and style was well expressed so I am happy.
Camelia Skikos: I wanted to work with a menswear designer that has a good understanding of the design process and who could also adapt to my design philosophy and be fast in the same time as I had a deadline to be at LAFW. I showed Dahae the inspiration images, my sketches of the designs I did for womenswear and we talked about the concept and the ideas for this collection. She was very responsive and came up with great ideas for menswear that would fit with my collection. We also worked on editing and making everything cohesive. Although she was in Korea at the time, we communicated very well via Skype and email, and in just a few weeks she had finished everything in time for the LAFW.
We also collaborated with FYUSE, a company that sponsored our participation in LAFW. I always like to collaborate with other designers or artists as it brings more dimension and something new to each collection.
In a past collection, I collaborated with another alumni from Academy of Art University, Milos Vlaski, who does photography. He designed the textile for my SS 2014 collection. He studied cinematography and he finished M.F.A. in 2008. He designed the fabrics for this collection and also made a cool video. I introduced him to the Fyuse team so he is now working with them doing all their videos, Fyuses and photography. He was also with us at LAFW to shoot our collection for Fyuse. Lastly, the styling of our collection was done by Liz Baca who is currently teaching styling at the Academy of Art University. She was styling our entire collection at the LAFW and also for our photo shoots.
Website: Camelia Skikos
Instagram: @cameliaskikos
Website: WHICHKIM
Instagram: @whichkim_official