How Technology Is Reshaping More Than Fashion Through The Lens of A Textile Design Student
By Camila Encomendero, BA Fashion Journalism
From fabric burnout to photographic screen printing to computer–assisted print designs, the BFA Textile Design degree program provides students with the necessary drawing and color skills to achieve their creative visions successfully. BFA Textile Design student Krithika Sengottaiyan was recently selected as one of the winners of the 2021 Nasdaq Competition, hosted by ARTS THREADS. This competition is championing a new era of inclusive prosperity and shared growth by looking to display artwork from students with different backgrounds from all around the world.
Sengottaiyan's winning art piece was based on the concept that "Technology should break down barriers," a theme she believes is deeply relevant to what is going on in the world right now. She feels technology helps us connect without boundaries, no matter where we are – a tool that allows us to stay present and connected to what's happening in the current landscape. "As an international student, technology has been a lifesaver, especially during this global pandemic," Sengottaiyan shares. "It's a scary time because we are also battling with so many different issues.  I think we're all coming together and holding in solidarity with the values of subjects like Black Lives Matter and Stop AAPI (Asian American Pacific Islander) Hate." Sengottaiyan didn't want to focus on one specific topic but rather make people empathize with what's happening worldwide.
When discussing the idea, she illustrated that it wasn't just about technology and fashion, but the crucial role digital media plays in our relationships and our life in general, how we stay aware and mindful. "When I read the brief, I knew I was going to have people connecting through screens as that's something I'm doing every day," she explains. "With the ongoing pandemic, I'm only able to stay fully connected with the people I love through technology." It goes beyond the fact that technology is personalizing and speeding up many aspects of fashion. In Sengottaiyan's eyes, it allows her to feel close to the ones she loves without being physically present and to be aware of what's happening around her.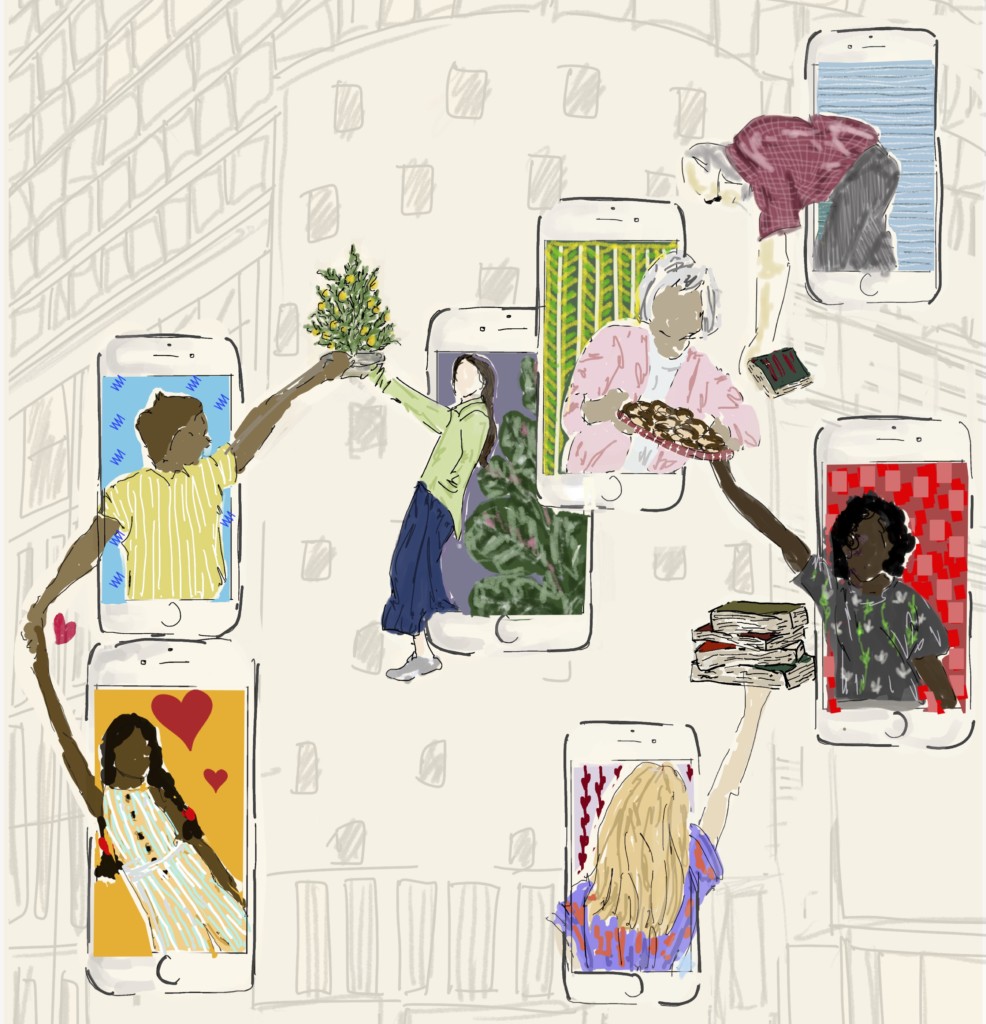 A journey that started with a passion for dressing up as a kid has opened up the opportunity to have her artwork displayed in the new Nasdaq headquarters in Times Square. One of the biggest challenges for Sengottaiyan since starting her degree as a textile designer has been the use of color when it came to the creative process. "I love colors, but I'm very comfortable with a specific set of colors, and that can play against you, so sometimes incorporating new ones or mixing different ones, it's quite the challenge," she explains. She wanted the artwork to show people coming out from their phones connecting closely. She went for a neutral background that represented the Nasdaq building but also incorporated pops of color to promote positivity, happiness, and a sense of hope. "I feel most of the time we feel trapped and like we are all on our own, but I feel it's getting better even though it's still scary," she shares.
Being one of the winners of this competition holds a special feeling for Sengottaiyan since it's an artwork that embodies values she strongly believes in. Associate Director Rhona MacKenzie saw this as a great opportunity for any artist or designer whatever their area of study or expertise. "Having her work presented on Nasdaq's 7-story tall digital billboard in the middle of Times Square is a huge deal," MacKenzie says. "One of the biggest forms of exposure anyone would be glad to get. A huge honor."
Sengottaiyan's message is clear: we cannot thrive without other people. A sense of community and connection is always present and needed no matter what we are going through. Sengottaiyan explains that good color, sketching, and attention to detail are key when developing her artwork. Additionally, mind mapping and tools such as Procreate have helped her express her thoughts visually.