Spring 2018 public relations intern Haley McDaniel is one of the few students who successfully made the most of her collegiate learning experience. Aside from being a full-time fashion student, Haley is also an assistant stylist at MGK style, a makeup artist and the president of Sigma Delta Sorority 2017.
McDaniel is graduating with a Bachelor of Fine Arts degree in fashion styling this semester. Throughout her years at the Academy of Art University, she managed to build a strong styling portfolio. Her works have been featured in publications including 180 Magazine, Shuba Magazine, Photo Vogue IT, Spotted Magazine and Defuze Magazine.
Right before her graduation, McDaniel rounded out her fashion skillset by completing a public relations internship at the Academy, which she believes will be relevant to any job in the future.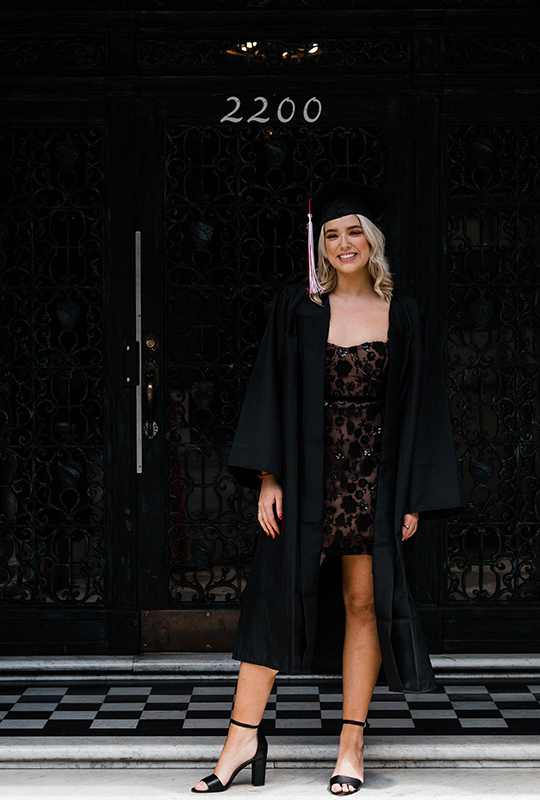 Fashion School Daily: What brought you to the Academy of Art University?
Haley McDaniel: I was going to come to the Academy to play volleyball, but I fell in love with the fashion department after I toured the school of fashion. I just had the feeling that I'd found the right major, since I've always had a passion for fashion photography.
FSD: How was your experience moving to San Francisco?
HM: I grew up in Sonoma wine country, and I went to a private school my whole life. Going to a big art school in the city was a big adjustment, but I think it put me right in the industry. Here, I was able to start freelancing as a stylist by my sophomore year.
FSD: That's pretty early on your degree path. How did you get your start in your styling career?
HM: I was eager to do a photoshoot when I first started. In the beginning, when other stylists and any photographer wanted to do a test shoot, I said "yes" to everything. That's how I got my publications after my freshman year in the Defuze Magazine. I was doing a menswear shoot with my friend Branton Alexander. Ever since then, I just started building my network. I am also a makeup artist, and that helps to expand my connections. Sometimes they don't need a stylist, but they need a makeup artist; either way, I am set. 
FSD: How would you describe your styling aesthetic in three words?
HM: Vintage, western and eclectic.
FSD: What was your most memorable shoot so far?
HM: It's an editorial for 180 Magazine's next September issue because I got to do something that I'm passionate about. The photoshoot was a tribute to the victims of the California fire, who were close friends and family to me in my hometown. I wanted to reflect the motion of the rebirth and how everyone came together through this shoot.  I got to work with the Academy's New York Fashion Week designers Jelly Shan and Eden Slezin in this editorial.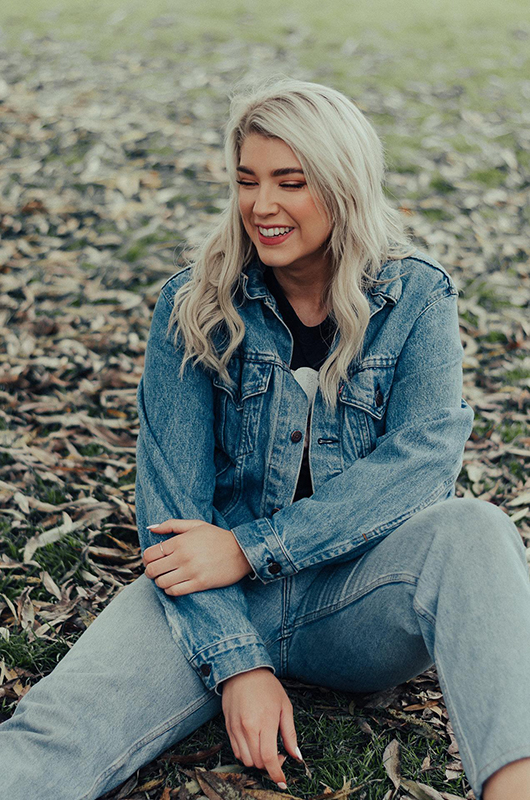 FSD: What brought you to the public relations internship?
HM: I thought it was an excellent way to round out my fashion skillset. Public relations are relevant to any job that you have in fashion. Being able to network, communicate and to be organized at the same time at the back of the house is just as important as the work that you put in your portfolio.
FSD: What skills did you learn from this internship that you find most useful?
HM: I learned the meticulous process of organizing a runway show from School of Fashion Public Relations and Special Events Manager Elena Eberhard. I think people don't realize the amount of work that goes into throwing a big production like the Graduation Fashion Show. We've been working on the event all semester. This internship pushed my skills in InDesign and also challenged my writing skills. Being able to write press releases is very beneficial. Getting to know the designers who showed their collections, hearing their inspirations and seeing their design process gave me good insight into the production aspect of the industry.
FSD: What's your plan after graduation?
HM: I am going full time at my current job as a styling assistant for celebrity stylist Mary Gonsalves Kinney. Then I am going to relocate to either Nashville or Texas at the end of the summer. I want to be a stylist in the music industry. Eventually, I also want to start a sustainable, vintage fashion store and do all aspects of the marketing and styling for it.
FSD: How did you become a styling assistant at MGK Style and what're your responsibilities?
HM: After my junior year at the Academy, I was looking for an internship on LinkedIn. I found a job application at MGK, and I shot a cover letter to the operations manager. I got one interview appointment, and I was working the next day.
MGK has a real niche market; we only work with luxury client houses, so everything we are doing is strictly designer clothing from the latest season. It's a perfect opportunity to see how an established celebrity stylist puts these designer looks together.
My team and I run the MGK office out of the San Francisco Bay Area and some Beverly Hills appointment as well.  We are in charge of pulling from designer boutiques, going to clients' homes for styling, doing returns and shipments, and doing social media for the press events.
FSD: What's one thing you'd never put a client in?
HM: Anything that's uncomfortable. With personal styling, you need to make sure that your clients feel comfortable and confident in what they are wearing. It doesn't matter if it's a cool Valentino dress, if the client can't walk straight in it then they won't feel (or look) comfortable.
FSD: You were also the president of Sigma Delta sorority last year; tell us a little bit about that.
HM: Being a part of a school organization brought me a lot of work-life balance. I was working two jobs, going to school full-time and doing the sorority at the same time, yet I wouldn't trade it for anything. I think that being in a community of women who are empowering each other is essential. To have a home and a network in a safe place in an art school like this is helpful since we are coming from different parts of the world and living here in the city by ourselves. We have fun activities, and we do philanthropy work. Just two weeks ago, we volunteered at the soup kitchen with GLIDE. We also collaborated with the Princess Project, which organized dress drives for high school girls who can't afford prom dresses.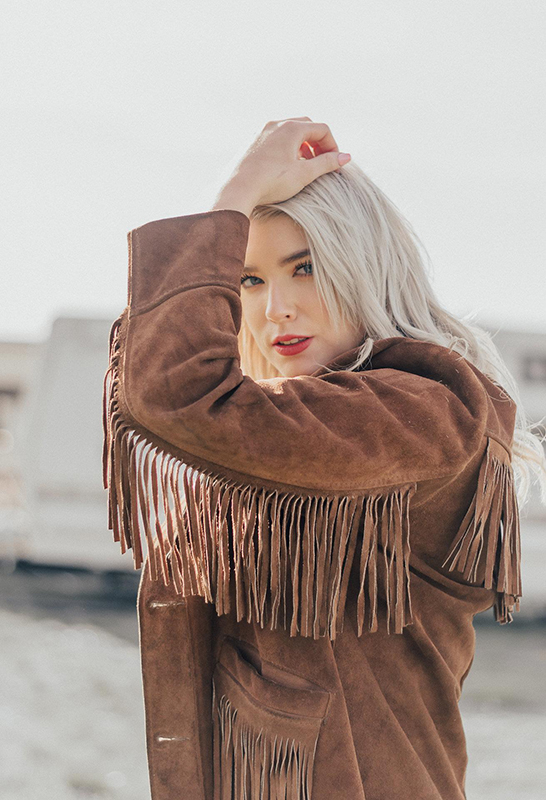 FSD: How do you manage to do so much and still graduate on time?
HM: I like this industry, and I love school, which make things a little bit easier. I always take liberal art classes that I enjoy like history classes, so it's easy for me to get through the push of it. Also having a good support system helps the best. My family supports what I do, and they believe in me.
FSD: What advice would you give an up-and-coming fashion stylist coming to this school?
HM: Say "yes" to everything that comes your way. Even when you don't want to work with a particular photographer or you don't want to be a dresser at a runway show, I say 'do it'. Always be as friendly as possible and as personal as possible, because the people you meet are the ones who are going to take you far in the industry. Trying everything and finding what you are good at is what sets you apart from other stylists. It doesn't matter if you end up working for The Gap, Vogue, or yourself, because at the end of the day you are your own brand.
FSD: Do you have any networking tips for students?
HM: "Just go knock on doors; you are a student, so now it's the time to do that," is what my styling teacher Theresa Merenda said, which resonated with me.
Go to meetups and be a part of networking pages on Facebook. Social media is the most significant tool for networking. When you see designer collections or a brand that you like, reach out to them. Be fearless and don't be afraid of the answer "no."
Text by Marisa Tania, BA Fashion Journalism and Contributing Editor to Social Media Center