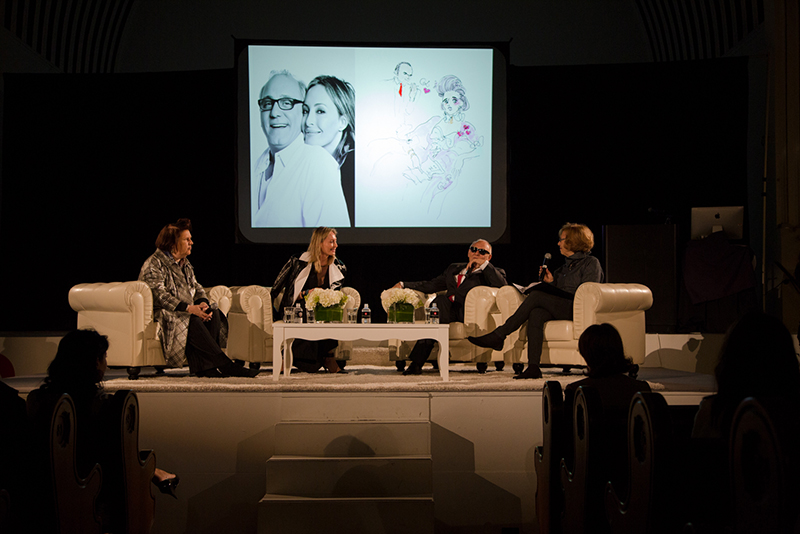 This year's annual School of Fashion Symposium welcomed 2013 Guests of Honor, Max and Lubov Azria, the creative forces behind global fashion house, BCBGMAXAZRIA, as well as esteemed journalist and style editor for the International Herald Tribune, Suzy Menkes. Thursday, May 9th at the Morgan Auditorium, the floor was open for discussion for our three prestigious guests and the Mistress of Ceremonies, Gladys Perint Palmer, Executive Director of the School of Fashion. The group discussed sustainability in the fashion industry, the beauty of Herve Leger and why the west coast is doing fashion better.
With a design team of over 500 employees, BCBGMAXAZRIA has established itself as one of the largest and most successful fashion houses in the industry. Max Azria, designer, founder, chairman and CEO is the consummate businessman, with none other than his wife/partner in crime, Lubov Azria, as the company's chief creative officer. At the symposium, the duo embodied the ultimate power couple, as they sat nestled between Gladys Perint Palmer and Suzy Menkes. Max wore a tailored black suit and tie, complete with dark-tinted sunnies, while Lubov wore a body-con dress, stilettos and her black bomber jacket effortlessly draped over her shoulders. Both Max and Lubov seemed equally invested in their hopes for expanding their company's market, as well as reengineering their focus on their acquired couture line, Herve Leger.
In both the publishing and fashion industries, Suzy Menkes is a "household name".  She is revered for her honest opinion and wise musings when it comes to all things fashion, and how it translates into the wider culture. She has worked for the most noted print publications, from the New York Times to Harper's Bazaar. For the Q&A discussion, Menkes was enthusiastic and responded thoughtfully in her British accent when the topic turned to the matter of "fast fashion" overtaking the market.
Menkes proved to be the perfect foil to the dynamic of the two head designers, as she addressed the fashion industry's much-needed involvement in sustainable practices. On the one hand, Menkes believed that "fast fashion", or the commercial mass marketing of inexpensive clothing in the United States, was indeed a hindrance to sustainable growth. She stated, "Everywhere there is a demand to bring the prices in fashion down. It's unreal and it's unsustainable. If you actually look at the prices of clothing now, you will find that it costs less to buy a swim suit currently than it did twenty years ago in spite of the fact that prices have gone up. (Namely the prices in [resources] and especially food.) However, [in terms of fashion]  'artificially', the prices are kept down."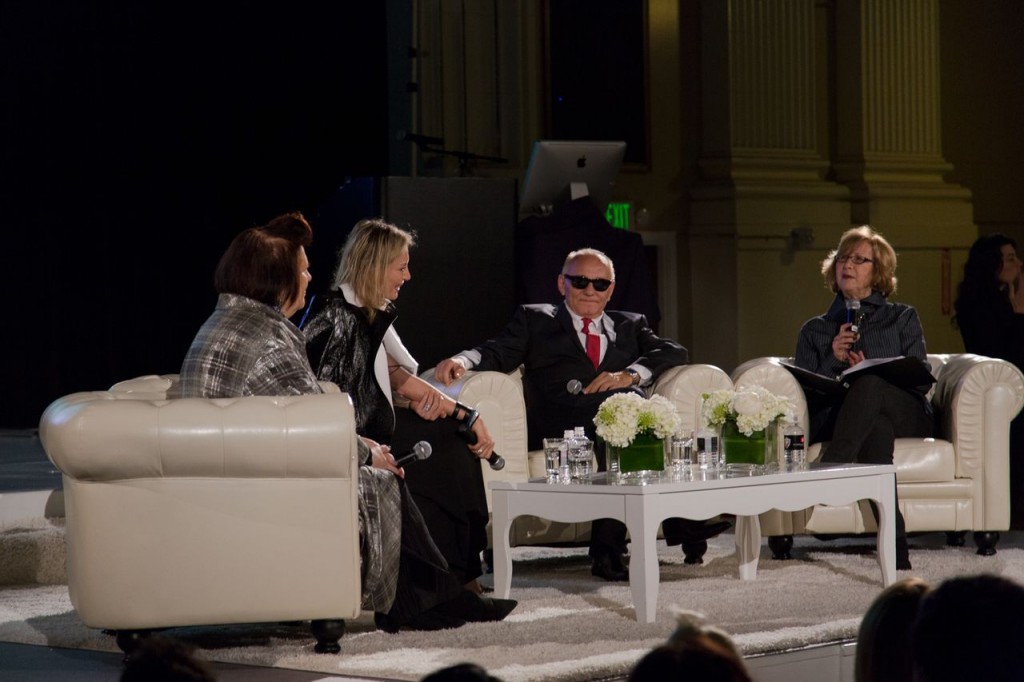 Yet, Menkes assured her audience she was not against the buying of clothes from the likes of an "H&M", but rather, the lack of forethought and awareness on the part of the consumer. "Even if one person in this room goes out and says to themselves, 'Yes, I like buying new clothes, but maybe this time I won't buy the cheapest of the cheap, made by the poorest of the poor, and [by those] who are going to die making these things for me.' I think if at least one person can say that, then this was all worth-while."
Lubov Azria agreed with Menkes saying, "I do think that awareness is so important, especially in fashion. When I go to the Gap even, I want to read about their product, so that I can buy into something that I believe in. I think that awareness in and of itself is a practice of sustainability, and that's how we are going to change the world." Pretty thoughtful stuff, especially coming from a spokeswoman of a design house where it's all too easy to fall into the commoditization that comes with branding a label. I was impressed with Lubov for holding her own when it came to her vast knowledge and memory, from minute clothing design details, to what pieces from which collections she planned on marketing to different countries around the world.
The conversation turned to Max and Lebov Azria's efforts in rejuvenating the Herve Leger brand, which the BCBGMAXAZRIA house took over in 1998. Lubov explained the iconic Herve bandage dress, and how it truly molds to a woman's shape due to its single stretch bandage fabric, pinned and hand-sewn onto a dress form, as opposed to being made with a cut and sew technique. Herve Leger by Max Azria has definitely pioneered the bandage dress look, garnering celebrity favorites, from Rachel Zoe to Kim Kardashian.
Max also presented as very involved in every aspect of his enormous company. He explained the differences in the design turn around from the U.S. to Europe. He thought the fast-paced American designer was cutting edge and organized, with his ability to produce several collections a year, while the European based designers favor  bi or triannual collection releases.
[justified_image_grid row_height=350 height_deviation=50 ids="23898,23890″]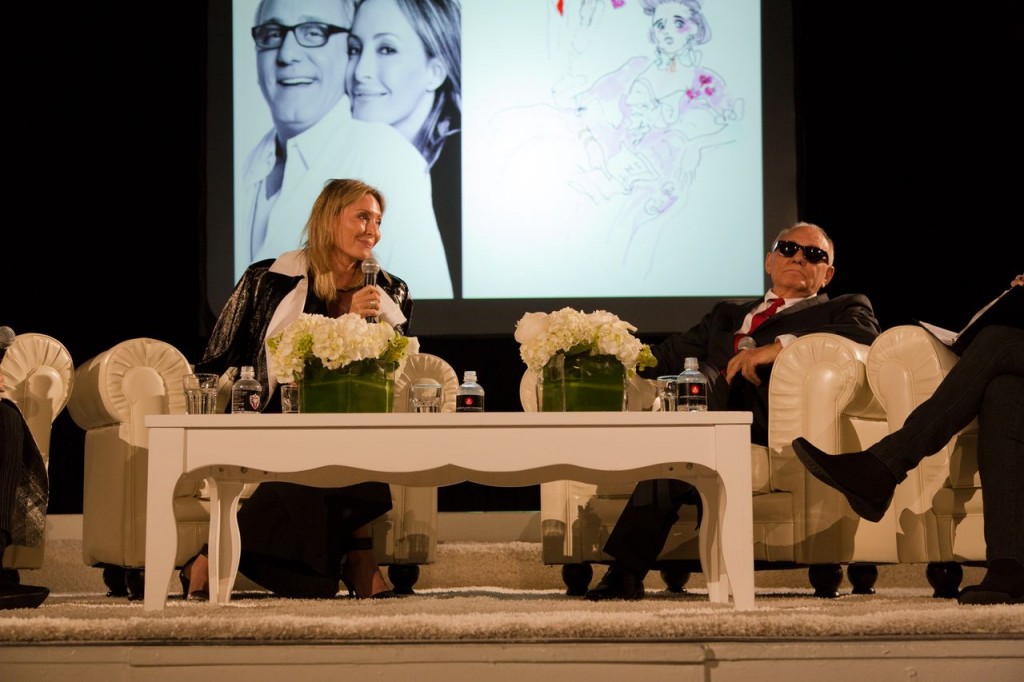 Max concluded the discussion, paying the  School of Fashion a major compliment."When I first came into this school, I was absolutely shocked," he exclaimed, "This school is amazing….I don't even have to see the fashion show today, I am already sure of the talent here."
The event was a brief, yet exciting discussion of the fashion industry today, provided by the leading players in fashion design and journalism. The event closed with an open student Q&A with Menkes and the Azria duo, concluding a very successful School of Fashion Symposium.
written by Alex Suarez, photographs courtesy of Aldo Carrera