"I thought Ashton Kutcher was going to jump out of my closet and tell me I got PUNK'D," said Laynie Rouch when she received a phone call that she has been chosen to be the VFILES Runway 7 Stylist Winner. Coincidently, VFILES called her on her birthday.

The social networking platform VFILES is known for finding what's next in the design and art world.  For the past six years, VFILES picked a team of winning designers, photographers, models, hair and makeup artists, and stylists – who submitted their works through vfiles.com – to be a part of its bi-annual runway show at the New York Fashion Week. Rouch is the chosen burgeoning stylist this year.
Rouch just completed her bachelor's degree in Fashion Styling from the Academy of Art University in May of this year. Her editorials have been featured in several publications including Lone Wolf Magazine, Bob Cut Magazine, Institute Magazine, and Sicky Mag. She also curated contents for fashion brands like Azalea Boutique, Gypsy Junkie, Rand + Statler, and Leslie Francesca Design.

When it comes to fashion style, Rouch is a cut above the rest. For her, fashion is not just about mixing pretty dresses and heels. Rouch likes to experiment each time she comes up with a concept for a photo shoot. Her editorial story for the Lone Wolf Magazine is a real life doll wearing nude bodysuits with black velvet embroidery, laying upside down on a large brown paper wrapper. Since graduating, the 25-year-old is now working as a styling intern for fashion editor Joanne Blades.
During a phone interview, Rouch opened up about her journey: from a small town girl in Rochester, a styling student in San Francisco, to a young stylist who is trying to make her way in New York City. Here are some excerpts from the conversation.

Fashion School Daily: Tell us about your story growing up.
Laynie Rouch: I grew up in a tiny farm town, but I always knew I was supposed to be a city girl. I honestly think it was boring. I mean a cornfield was my back yard growing up. We would go hang out in the parking lot of the local Walmart looking for something to do. You had to drive for an hour to go to any mall. It's a town where everybody knows everybody.
But, I am really proud to be from my hometown. I grew up with good morals that have shaped who I am today.
FSD: Have you always been interested in fashion?
 LR:  I always saw my grandma sewing her own clothes and became absorbed by it. My little sister and I would cut up magazines and glue our favorite outfits into our notebooks.
My dad would always tell me that it didn't matter what I was wearing, whether I was going to the grocery store or someplace like a gas station, but I could never just go in sweatpants. "Please, this is not a fashion show," he would say. I was just so excited about what I was wearing and I love to dress up. I care about how I look on a daily basis.
FSD: Why did you move to San Francisco?
LR: I knew a girl from a couple towns away who went to the Academy of Art University, Going to California has always a dream of mine. I applied and I never looked back.
The first couple years I studied under the Fashion Design program. When the Academy opened the Fashion Styling program, I took my first styling class and immediately switched my major.

FSD: What made you decided to move to the Fashion Styling Program?
LR: Fashion design was very tedious for me; I couldn't envision my finish piece. Fashion styling was a brand new major, and they were offering a styling class as an elective, where you could play with clothes on mannequins. I ended up taking the class, and it was like that light bulb moment. I was so passionate about it, and I was looking forward to class every week. So it was just one of those things that I knew I was supposed to be doing.
In styling, the classroom environment feels like a little community. When you are working together for projects, you can pick each other outfits, or shop together when you are prepping for a shoot. When you have your final photo shoot, you can see everything come together.
FSD: How would you describe your personal fashion style?
LR: My wardrobe is very diverse. I feel like I am twelve different people all thrown into one. I like muted, neutral colors and oversized silhouettes. There is a little bit of tomboy in me.

FSD: What are your inspiration and influence?
 LR: I find a lot of my inspiration on the street, and I think that's why I like the city life so much because you encounter so many types of people.
I admire Patti Smith and her strong voice. I can relate to her book where she talks about the struggle of moving to New York and being an artist.
But I am not good at naming favorite designers. I believe that everybody brings a little something different to the table. As a stylist, that's kind of the beauty of what I do because I can pick and choose from designers. If I am looking for something bold and floral, I can go to Dolce & Gabbana; something classic and structured, I can go to Saint Laurent. The beautiful thing about styling is you pick somebody's art and make people see it in a different art form.
FSD: How would you describe your styling aesthetic?
LR: I like to think outside of the box, just imagine anything from DAZE, Interview, and Fucking Young, grimy and dark. I don't like a pretty image. When I create something that stopped somebody for a second, to me, it means I am doing something right. I want my pieces to evoke questions: "What is that, what is going on, what's she wearing?"
FSD: What was the highlight of your study?
 LR: Being able to work with the School of Fashion's 180 Magazine. I was able to pitch my work to the Executive Director of the School of Fashion, Simon Ungless and Assistant Director of Fashion Styling Flore Morton. To have my work displayed magazine that is being showcased all over the world made me feel like all of my hard work paid off.
It was the most emotional experience too. I remember being on-set the morning of the photo shoot and seeing one image that the photographer took on screen, Flore just kind of looked at me and I started crying. That picture showed what I envisioned, and the whole team made it come to life.
The magazine is not out yet, so I am very impatiently waiting to see my work printed in the tangible form.
FSD: What was the most important thing that you learned at the Academy of Art University?
LR: The production aspect of the shoot. I had to hire crews, contact hair and makeup artists, model agencies, photographers, then picked a location, take a photo of everything, and put it on my sketchbook. I was trained to be very organized and on top of my game.
The school pushed me to think differently and allowed me to open up my creative thinking.
FSD: Congratulations on becoming the VFILES Runway 7 Stylist. How did you get chosen to be the VFILES winner?
LR: VFILES.com is a big creative online platform that allows you to upload your work and collaborate with other people. At first, I just wanted to go to he VFILES' after party. My photographer roommate told me that I needed a VFILES profile to get in, so that's why I signed up.  I was sitting on my bed with a glass of wine, uploading my work, and making a little profile. I saw a little tab that said "enter to win" and I pushed it; the rest is history.
Honestly, I'd never won anything in my life, so I think that's why I completely forgot about the competition. I didn't try to win and I was in such shock when I actually did win. For once, my work showed for itself.

FSD: Can you walk us through the whole experience?
LR: It was four days of work. The first day we had a meet and greet with the entire VFILES team. I thought everyone who won was from New York and I was super shocked since VFILES flew in people from all over the world. It was such a great networking.
Then the five designers started hanging their collections. It was my first time seeing them, so I had to go through everything, touching the fabric. Remember the first project on the Styling 1 class when you had to do like 20 different ways of something? It seemed so silly yet very useful. I could throw a jacket upside down, unzip, or I could use it as pants. The designers have this outfit in mind, but the stylist had the liberty to suggest many ways in wearing a garment – definitely a lot of experimenting.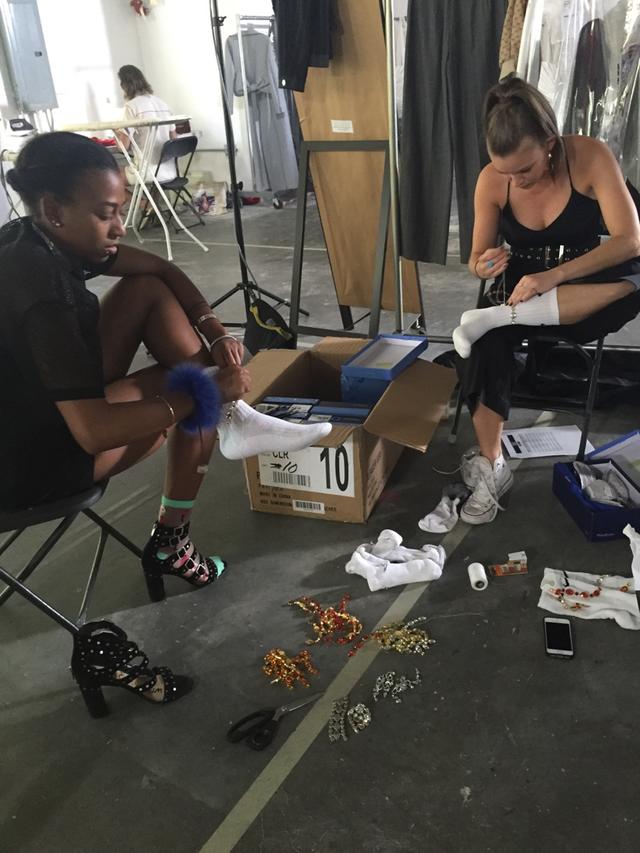 The second day was the model casting. I'd never done that before. The entire model would come in and we were trying every look. And then you took photos of the final outfit and put them on a big white board. Each designer had anywhere from nine till sixteen looks.
The third day was probably the most hectic day. We had to try on the same look but on six different models to confirm what look you wanted on what model. It's amazing how a look could be so different on somebody.
It was an early morning that we finished setting everything up. Everyone was working until the last minute. We were doing final touches right before every model walked on the runway. Then the show went on.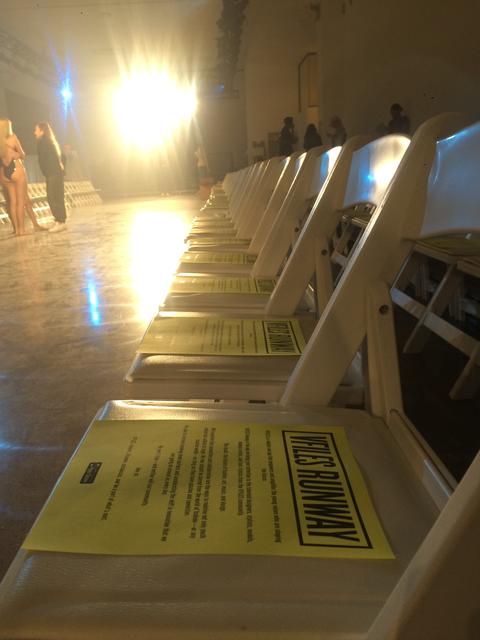 FSD: Tell me about the most memorable moment during the fashion show?
LR: One designer, Song Seoyoon, had this vest that was really long, and we were short two of the vests. We had to rip the garment out of one of the models right when they came in from the runway and put it on the next one right before the model walked out.
FSD: What was the most rewarding moment?
LR: At the end of the show when the models did the finale, everybody got so excited. It was such a good energy. I think my face hurt from smiling so much. When Playboi Carti closed the show with a live performance, we were all in the back hugging and dancing. It was a team effort, and we couldn't have accomplished it without each other.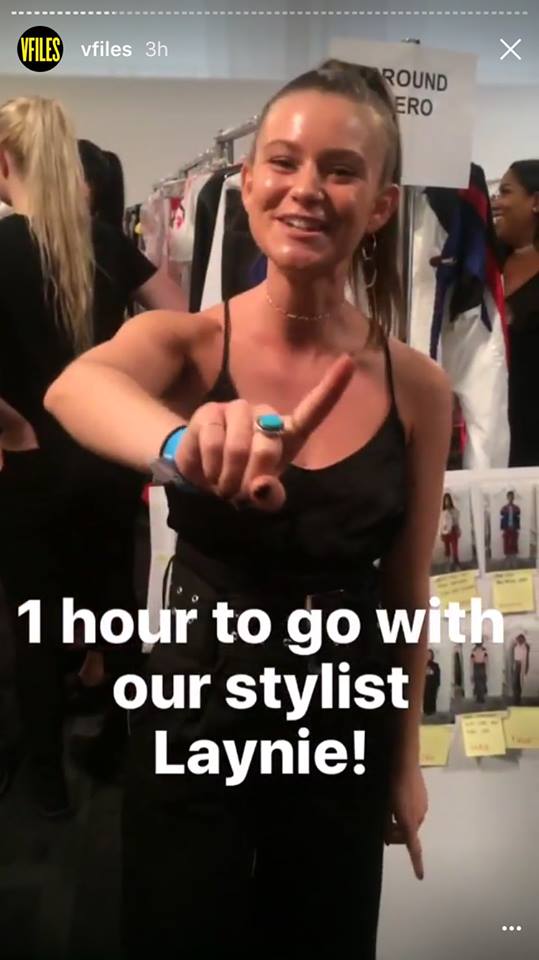 FSD: What was the most challenging part?
LR: The long hours were the hardest. I was the first one there and the last one to leave every single day. I wouldn't leave until I made sure that everybody had what they needed. I felt like there was definitely a lot of weight on my shoulder. Especially since it was the first time I had ever styled a runway show.
As a stylist, I was there to help the designers. They put hours and hours into those garments. I wanted to make sure that their collections walk on the runway were just like what they'd envisioned.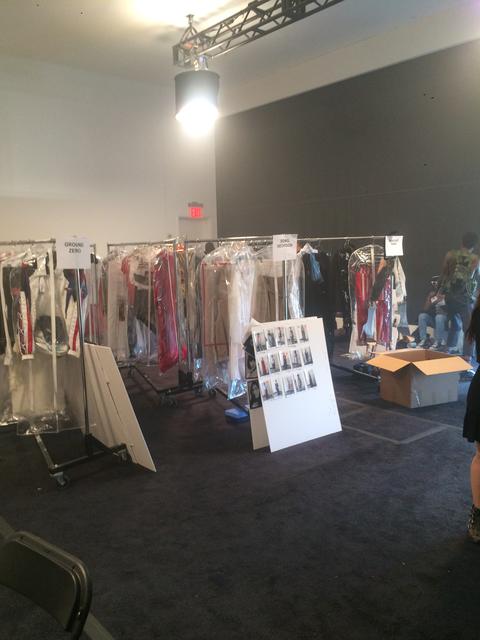 FSD: Sounds like a once in a lifetime experience!
LR: Yes, I feel blessed. Ah, I forgot to mention that VFILES also had mentors for us. I got to meet incredibly cool people: supermodel Naomi Campbell, rapper Young Thug, makeup artist Pat McGrath, Fear of God designer Jerry Lorenzo, and celebrity stylist Mel Ottenberg (Rihanna's stylist). I was five feet away from Naomi, and I wanted to touch her just to make sure that she was real.
FSD: What did you learn from the experience?
LR: Just learning from A to Z, the first to the last step of producing a fashion show, working with a big team of brilliant people, and learning about how much work goes into one show.
FSD: Why did you move the NY?
LR: I lived in SF for six years. I wouldn't say that it was boring, but I just needed that extra challenge to push me further. I am a student for life and I don't want to stay stagnant.
Back then I thought that I had a degree in styling and already knew what I was doing. Then I got New York, and it really put things in a perspective. I am still learning, always still learning since there is so much to know.
FSD: What are you busy with these days?
LR: I am interning for the art department of Joanne Blade, an agency here in New York. Here, I am getting to see how everything really works. You always need to work a month in advance. The magazine is not going to come out right away tomorrow, so you have to keep up. Nobody wants to be now; everybody wants to be what's next.
A couple of months ago, I was on set with her shooting for the Zoom Magazine's September issue's cover and a big spread inside.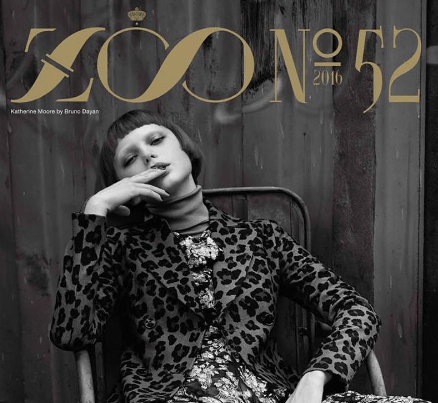 The scale here is massive. You are working with thirty other people on set. Everybody has their own assistants and interns, you have the production agencies that are on set for you, there are trailers for the models and hair and makeup, and even the amount of wardrobe that you have to pull.
When I was doing shoot at school, you needed maybe eight looks; here you are doing double. So it's overwhelming at first, but I am learning to take everything I've learned and then doubling it.
Even though I was just an intern assistant, just getting to be there and made me see that bigger picture that I have to put my time in.
FSD: So you are getting the taste of the real world.
LR: Yes, my toes are wet, and I want to come in the pool. I am so close, you know. So, it's good knowing that I am on the right track.
FSD: What do you hope to be in a year from now?
LR: I hope to be a styling assistant in a year. I am also freelancing and not closing the door to other opportunities. My ultimate goal in the future is to be a creative director.
FSD: Any words of wisdom for our styling students?
LR: Take your project seriously, even for those little school assignments that you just want to get done. Make everything your baby, put your heart and soul into every project. That way you will make something that can go into your portfolio because it should be.
FSD: What are three outfits everyone should have in their closet?
LR: I am staring at my closet right now, thinking. Hmm, a black leather jacket, a good pair of sneakers, and a good white t-shirt. You can always dress them up or down.
Now it's your turn! VFILES Runway 8 submission is still open until December 20, 2016. Submit your work through vfiles.com.
Text by Marisa Tania, BA Fashion Journalism student