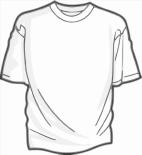 Beyond The Front Row is looking for some creative minds to submit ideas for our club T Shirt!
I know it's midterm time, but when you have a break (or when you are done with midterms) draw up a creative concept for a Beyond the Front Row T Shirt!
All submissions bust be turned in by 4 p.m. March 31 to 180 New Montgomery, Room 802 to Hersha Steinbock. But remember – you must sign up for Beyond The Front Row, in order to enter the contest. The image will be screen printed on the front panel of the shirt, in a maximum two-color print. The winning designer will have his or her name on the hand tag.
Now go out there and impress us!
P.S. Don't forget to attend our Spring Social Mixer and Fashion Show at Ruby Skye on Thursday! Click here to get your tickets!
Written by: Bridget Jolie Reed