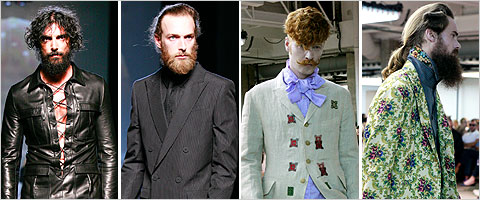 Photographs by Valerio Mezzanotti for The New York Times (Left photos: Jean Paul Gaultier; right photos: Yohji Yamamoto)
New York Times reporter Cathy Horyn recently wrote up a savvy blog post that was recently repurposed for their Sunday print edition. The topic? Beards.
Here's a little excerpt from her post:
We're so used to seeing smooth, chiseled baby faces on the runway — the Paris spring men's shows have just started — that we immediately wonder if there's a trend or a facial hair subculture that those clever designers are bringing to our attention.
There seem to be a lot of beards out there in the world today — it's kind of a "beard-geist."
Even so, as one reader pointed out, people in Brooklyn and San Francisco have been sporting lumberjack facial hair for some time now. In fact, many would say it is a hipster staple (visit the Mission if you need proof). We can even go as far to say that our friend Walter Van Beirendonck was ahead of the times. If we even go further back into time, Santa Claus or Karl Marx (as Horyn mentions) could be purveyors of this style.
So what do you think of this beard trend? Do you like it? Do guys need to start shaving again? Or do you think Horyn is a little late to jump on this bandwagon?