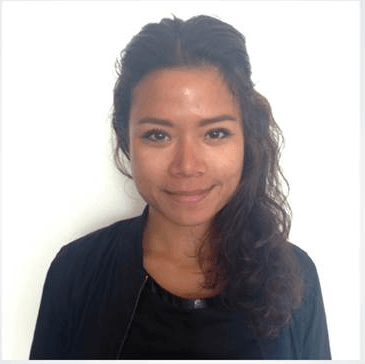 Oom Terdpravat, who will graduate this Fall with an MFA in Fashion Design, was recently nominated for the title of Super Intern at BCBG. She received the nod for her outstanding work at BCBG, where she is working in the textile design/color/trim department. Oom earned the respect of her colleagues by having a positive attitude and always taking initiative. Her nominator and supervisor, Yeng Thao, describes her as a person who is always willing to help and goes above and beyond to help other team members. Her proactive approach to projects and her ability to communicate about her progress has made her a valuable asset to the BCBG team and a worthy recipient of the title of "Super Intern".
Oom answers a few questions about what it is like interning at BCBG, her future, how her internship has impacted her and what she loves most about it.
What projects/tasks are you currently working on?
It really depends, one day it can be Mainline, the next Herve Leger or Runway. I help the team oversee deliveries and organize the textile library. It is a balance between organizing work and creative work. I really like it.
What do you love most about your internship?
The creative work, right now I am helping my supervisor with the sequined embroidery for the runway show. It changes every week and I help with all the developments.
What do you hope to gain from this internship?
I hope to grow personally and in my future career. Also, the experience is something that I cannot get in school, it's real industry experience.
What's the best piece of advice you've received or lesson that you've learned at BCBG?
Besides getting daily tasks and projects done, I've learned how to deal with people and solve problems. BCBG is a very fast-paced work environment. It is important for me to handle the pressure and solve problems efficiently.
What career aspirations do you hold for your future?
Textile design or apparel prints for fashion. I would like to do swimwear.
What motivates/inspires you?
When I succeed with a job and get really good feedback from my supervisor. That keeps me motivated and I think that defines success.
What BCBG piece are you dying to own right now?
The Amber Cascade strapless dress, it's so pretty!
Looking back, what advice would you give yourself on your first day of interning?
Expected the unexpected. I was given a 'testing" task to recreate a layout of the BCBG's no. 1 selling floral print. The layout was approved to be developed further since they really liked it. Unexpected task might be given at anytime to see if an intern can handle the work and show good initiative.
What does it take to be a Super Intern? What advice can you give to fellow interns?
Work hard; keep yourself busy, there's always something to do. There are so many people in the department that need help, you just have to go and ask them what you can do to help them with. I keep myself occupied. My advice is to take this internship opportunity to the fullest and learn from your peers and supervisors. Communication is key.

By Tess Collins