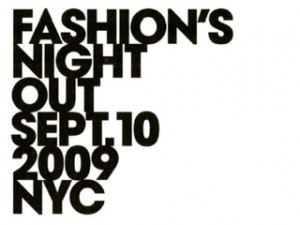 The world is having a fashion pep rally and it's called Fashion's Night Out!
The people at American Vogue has linked arms with NYC & Company, the City of New York, and the Council of Fashion Designers to help boost the retail morale and to celebrate (if not, restore) consumer confidence. The event includes is reaching all corners of the globe: New York City, United Kingdom, Taiwan, Italy, France, Brazil, Greece, India, Spain, and, of course, San Francisco.
The evening will coincide with other festivities happening in other countries – and the School of Fashion is working with Neiman Marcus to contribute to the celebratory event. So mark your calendars because it is definitely going to be an evening of couture camaraderie:
WHAT: Fashion's Night Out – a global celebration of fashion.
WHEN: 6 to 9 p.m. Thursday, September 10.
WHERE: Neiman Marcus, 150 Stockton St., San Francisco
WHO: In addition to a heightened Neiman Marcus shopping experience, graduates and current students are teaming up with the luxe store for beading, textile and knitting demonstrations. The School of Fashion's Executive Director and illustrator extraordinaire, Gladys Perint Palmer will also showcase her latest couture illustrations from Paris Fashion Week (check out her website for a taste of what you will see).
More details to come so STAY TUNED!
For more info on the global fashion extravaganza, visit the Fashion's Night Out website.