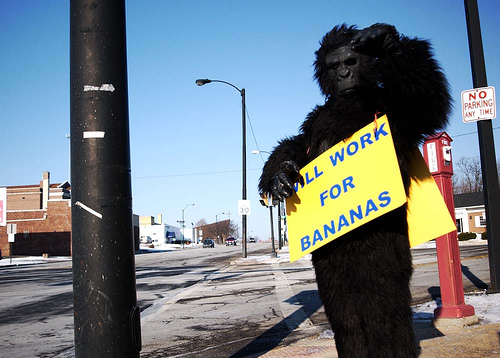 Lookin' for a job? Well you're in luck! We have two that may suit you!
Factory PR is looking to hire for a NEW POSITION in the Progressive Designer/Contemporary Women's Division:
ACCOUNT EXECUTIVE – To report to the Women's Account Supervisor, Saba Ebrahimi. The ideal candidate will have:
·Three to four years experience in Fashion PR – New York-based Fashion PR Agency (NECESSARY)
·Strong communication skills
·Exemplary media contacts with Market Editors and Features Editors
·Proven feature pitching abilities
·Solid contacts for celebrity dressing
·Experience running events
·A proactive, positive and energetic approach
·An innate interest in fashion media and pop culture
Factory PR is a Fashion PR Agency incorporating Women's and Men's Fashion and Accessories Divisions that has been operational for eight years. Based in Soho New York, we cater to International and American Contemporary Sportswear, Progressive Designer and Retail brands.
Please send an email resume to: angela@factorypr.com
NO PHONE CALLS PLEASE.
www.factorypr.com
Follow the jump to view the second job posting.
—————————————————————————
BPCM a fashion, beauty and luxury goods PR company with offices in NY, LA, London and Paris is looking for a account executive to start ASAP. The person needs to have at least 3-4 years solid account experience in the industry, be well connected with fashion and accessories editors and have taken care of their own accounts as well as manage a team beneath them. Candidate will work on 3-4- accounts with support staff.
Responsibilities include:
· Account strategizing and drafting of press materials- PR plans, press releases, media alerts, bios, etc.
· Client Pitching- long and short lead print features and editorial, as well as broadcast, internet and social media
· Maintain aggressive account activity, results oriented
· Existing editor, producer, and blogger relationships and proven track record of strong media placements
· Excellent writing skills
· Experience working on fashion shows and special events
Please send resume, along with editor references and writing samples to: Mary@bpcm.com
Salary is based on experience
Full benefit package
NO PHONE CALLS PLEASE.
For more information visit: www.bpcm.com