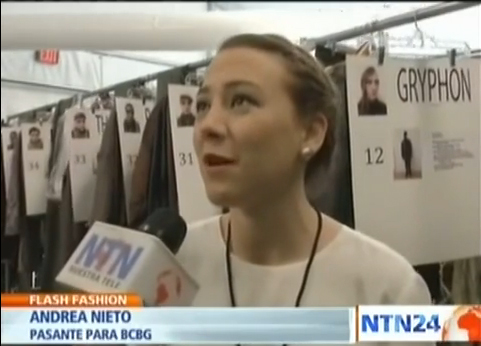 Before the Academy of Art University Mercedes-Benz Fashion Week show, B.F.A. Textile Design student Andrea Nieto was interviewed by Alfonso Diaz, the U.S.A. Entertainment Correspondent of Nuestra Tele Noticias 24 Horas (NTN24).  Nuestra Tele Noticias 24 Horas is an International News Channel owned by RCN Networks Colombia that airs in the U.S., Latin America, and the Caribbean.  The programming is diverse, including shows with focus in news, Economics, Politics, Culture, and Entertainment for Spanish speaking audiences.
Watch the interview beginning at 4:13:
A giant thank you to Alfonso Diaz for taking the time to come backstage and interview Andrea before the show!