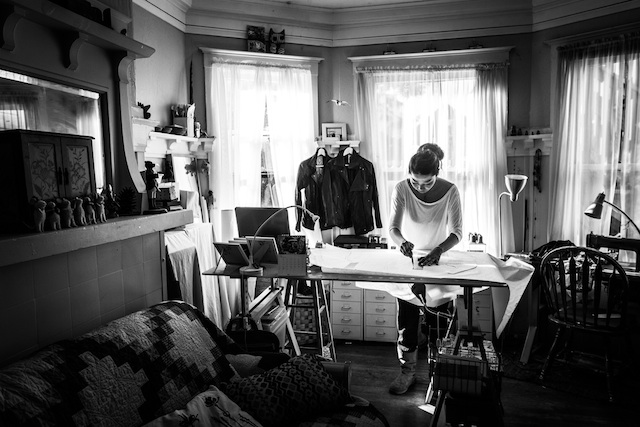 2007 MFA Fashion Design alum, Yoshimi Fukazawa-House, in her studio.
When 2007 MFA Fashion Design alum Yoshimi Fukazawa (now Yoshimi Fukazawa-House) was not selected to show her collection for New York Fashion Week because of her sewing skills, the designer devoted herself to perfecting her craft and was ultimately hired as a design assistant for Bacca da Silva upon graduating. In 2011, she started her own line of leather jackets, Snack-u,and sat down with Fashion School Daily to share with us how designing "within the lines" has helped launch her own in the right direction.
What was your first "fashion" purchase? That one item you had to have?
A pair of Levi's when I was 14. A crew neck T-shirt, jeans and a leather jacket has always been my all time favorite look, but I recently realized what a real "fashion" purchase is. It's scotch tape! I use a lot of scotch tape to create patterns. A lot of fixing to get closer to my design idea!
Describe your experience at the School of Fashion. Best memory? Biggest surprise? 
I was 32 years old when I came to the US to study fashion design. Until then, I was working in a completely different industry. Just a few years later, I found myself designing, pattern making and sewing a whole collection. It was amazing!  My family still can't believe I am actually making the patterns for my own designs, even now!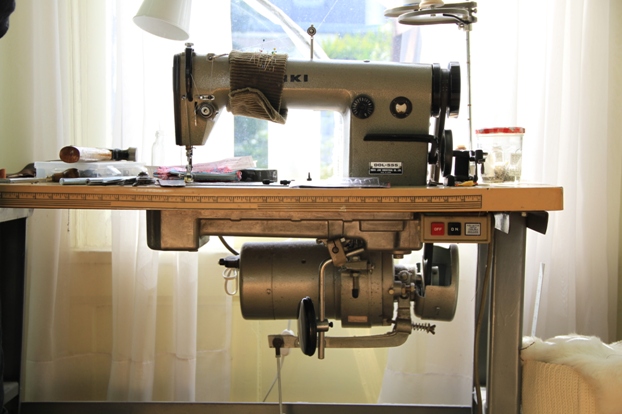 The JUKI 555 sewing machine Yoshimi has sewn her designs with for seven years.
You mentioned your sewing skills kept you from showing in New York. How did you overcome that setback as a student? What were the most important lessons you learned?
(laughs) I still have nightmares of the day I wasn't selected for the New York show! In my final thesis review, the teachers explained to me that my collection's design was cool and the pattern making was good, it was just the sewing! Then my husband, who is a chef, said to me "As a chef, what they are saying sounds like 'You could be a chef. You know spices and ingredients, and have a cool idea of how to mix them, but you can't actually cook!"
Understanding my instructor's feedback in those terms, made me start pushing myself to refine my sewing skills. As a designer, especially if you can't afford seamstresses, you have to sew samples accurately by yourself if you want to have a successful launch.
What prompted you to launch your own line?
I know it sounds tacky, but I had to follow my own passion to express ideas in my head.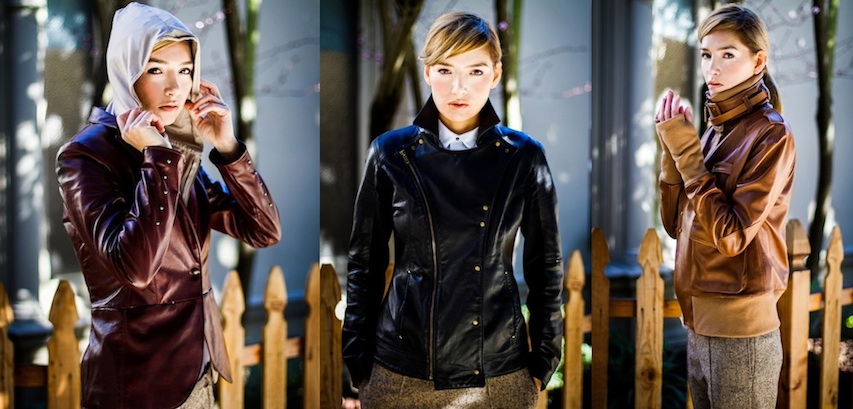 Looks from Yoshimi's line of leather jackets, Snack-u.
Why leather?
For me, leather is like the "5-7-5" rule of Haiku. Haiku poets have to express their thoughts in a rhythm of 5-7-5. I need restrictions to guide my design ideas. It sounds weird, but sometimes the simplicity and guidelines that restriction offers enables you to create a great result. Just like Haiku!
I went to Vancouver several years ago with a friend. She and I looked around native Canadian museums, and were totally fascinated by the totem pole art exhibited. I was especially impressed that so many talented young artists on display had followed their ancestors' footsteps. They had taken the traditional totem style, and transferred it into totally a new look. The work was modern, almost like digital art, but the intensity and the feeling which the artists' ancestors drew upon was still there.
Your favorite piece in the collection?
My long coat with zip-out, detachable, sleeves.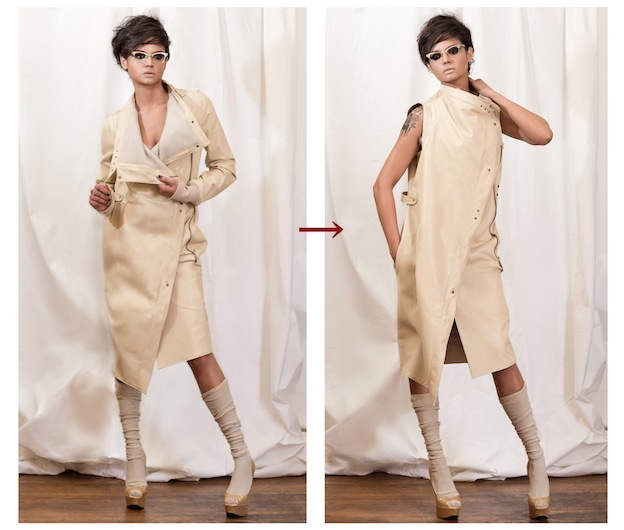 Image courtesy of www.snacku-sf.com.
What are you currently inspired by? 
I visited Japan last year, and met so many people who have dedicated their lives to the leather industry and preserving traditional processes in the leather dying and sewing factories. I was very impressed by how complicated the process was, and how beautiful the leathers come out. These tiny, older factories produce pieces ranging from traditional to edgy, modern leathers. I was told that their business is getting reduced because of the bad economy and globalization. I realized it must be part of a fashion designer's job to preserve this great tradition of craftsmanship. If I designed a collection exclusively made in Tokyo, the craftsmanship would, hopefully, be celebrated in the US, and might lead other designers to order leather from them. Fast fashion is more the standard now, but I am doing my best to resist the mainstream and preserve tradition.
See more of Yoshimi's designs at www.snacku-sf.com. For more Alumni Updates, click here.