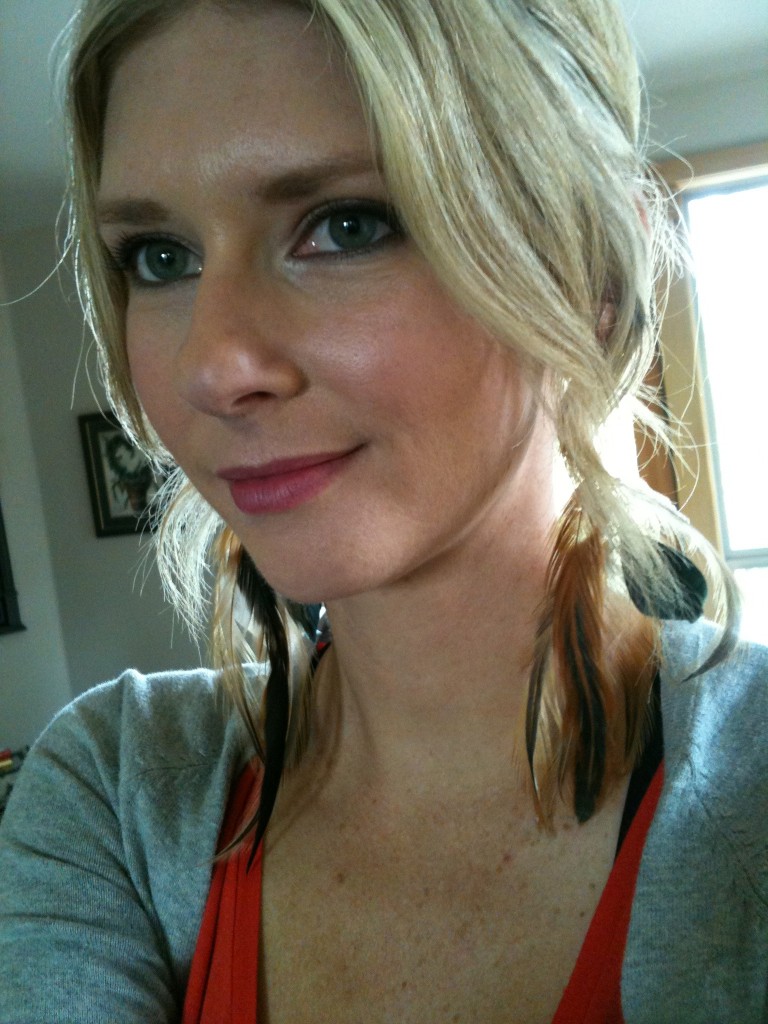 Today's Alumni Updateis with Stephanie Hoffmann, a 2010 B.F.A. Knitwear Design graduate. She was awarded an internship with Diane von Furstenberg at the May 2010 Graduation Fashion Show and is now back in San Francisco working on a line of accessories – you can check them out at San Francisco boutique Circle & Square! Read on to learn more about her experience in NYC and what she's working on next!
After graduating, you were awarded an internship with Diane von Furstenberg. What was that experience like?
It was such a interesting learning experience. Even though I was hired to help with the knitwear department, I was able to help a little bit with all the departments there, including embellishments, accessories, and their famous print department. I even had a few of my prints put into production.
What was the most valuable thing you learned?
I guess just the way a major fashion line is produced was the most interesting part. I was lucky enough to work on the DVF Spring 2011 collection pretty much from start to finish, and just to see it take shape from the first inspiration boards to the final pieces was such cool thing to be part of. The evolution of the collection was pretty astounding.
What did you enjoy most about your internship and living in New York?
The other interns while I was there at DVF were all so awesome, and all so talented in their own ways. They were from all different corners of the world too, from Paris to England, to Israel and Sweden. I loved the multicultural environment. Just living in New York too was such a culture shock, and a learning experience in and of itself. I'm from a very small town in Northern CA, and even though I've been living in San Francisco for the past 6 years, living in Manhattan was a whole other beast. Part of me loved it–there was always something cool to see or do, and the art and culture there is amazing. But part of me also hated it; just the darkness and loneliness of it at times. San Francisco is my home, it's equal parts cosmopolitan and beautiful, and it has its own sense of humor about it–pretty much no one in San Francisco takes themselves too seriously, which I like.
Follow the jump to read more!
What prompted you to combine knitwear with jewelry?
I've always made my own jewelry, even before going to school for my knitwear design degree. I love handcrafting pieces in general, and knitwear is VERY time consuming for me, because I love to do very unique and intricate things with it. Making jewelry isn't quite as time consuming, but it still is very handcrafted and intricate. I still love to make knitwear, but jewelry has always been a passion of mine.
What are your favorite pieces to make and why?
I love my bead weaving pieces because they involve techniques used in knitwear and weaving, so it's a good way to combine my different skills. They are so colorful and fun, and it's something I haven't seen a lot of people doing.
What is your goal for your line in the future?
Right now I've been doing mostly knitted accessories and my jewelry line, and I would love to eventually add a clothing line into the mix, maybe even start my own boutique. I love what I did in my senior collection at the Academy, and I'd like to add a few more ready-to-wear pieces inspired by that combination of jewelry and knitwear that I think is sort of my signature.
What are some of your favorite spots in SF?
I love Haight Street, just for the people watching aspect alone. Wasteland on Haight is a favorite place of mine to go and just browse the racks. They have a great combo of new and interesting lines and vintage pieces. I also like popping into Loved to Death and checking out all the taxidermy. It's so twisted and weird, but I'm slightly fascinated and horrified by it at the same time. The Mission is a great place to find a combination of things, from great food (papusas are amazing!) and cheap vintage, to interesting boutiques with unique looks. Dema on Valencia is a favorite, not only because they carry my line, but because they have a little bit of everything and the owner is super nice. She even makes some of the pieces in the store. Overall, I love getting outdoors, so Golden Gate Park and the Land's End Trail are my favorite places in the city. It's great to just go and relax up at Stow Lake or out on a cliff overlooking the ocean and the Golden Gate Bridge.
For more Alumni Updates, click here.