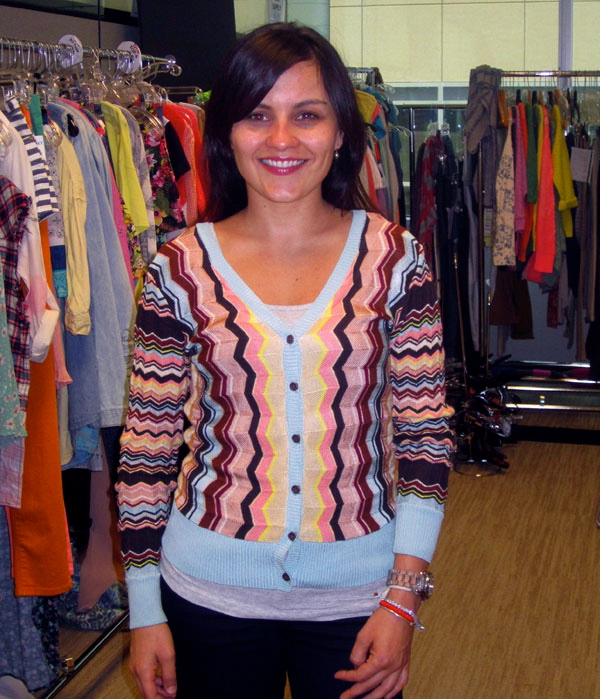 Today's Alumni Update features Olga Mashkova, a 2006 B.F.A. Knitwear Design alumna who is now a Senior Designer for Target. Olga was awarded the CFDA/Target Design Initiative upon her graduation, and has worked her way up through the company's ranks. While working at Target she has had the opportunity to work in many different areas of design, and was even asked to head up the Missoni for Target design team – pretty amazing. Read on to learn more about Olga's career path and her advice to students and aspiring designers!
What is your title now at Target and what do you do?
I am a Senior Designer and I oversee/design women's Outerwear and Swim.
Tell us about your pathway growing at a company that you have worked at since graduation.
I started at Target in July 2006 as a CFDA Apprentice (assistant), basically an assistant designer who got paid for getting a master's degree. It was one of my best experiences: I rotated each month to a new team and helped teams design their products. I had very challenging assignments and I was pushed harder than other assistants. In one year I got to work in Infant/Toddler design, Men's sweaters, Intimate Apparel and Ready-to-wear. After that I was promoted to Associate Designer and kept rotating through teams helping them with special projects. I finally got placed on the RTW team designing sweaters, my passion. I was asked to travel to Hong Kong and work on sweater development, closely collaborating with our overseas partners. While on that team I took the lead on some special high profile projects, which helped me reach the Designer level position.
After that I worked on designing Liz Lange maternity, which I absolutely loved. I oversaw multiple categories, and our team built some very unique collections. Around this time Target started asking me to travel more, and I did fashion research in Los Angeles, NY and Chicago on a regular basis as well as, Paris and London.
While designing Liz Lange I was invited to lead the Missoni for Target Collection, which was a tremendous opportunity. I went to Milan, Italy and met with the Missoni family and worked closely with Angela and Margherita Missoni. My leadership role on the Missoni project resulted in a wonderful promotion to Senior Designer.
Follow the jump to read more!
In April 2011, I had the chance to move to women's Outerwear and Swim. It's a challenging position because I'm working on completely different products and calendars. But it's rewarding and I travel more than ever—something I love! Now I'm routinely doing research in NY, LA, SF, Miami, Canada, Hawaii and Australia.
So far I've been very successful at Target. I feel lucky to have worked with the most amazing people who helped me grow and continue to help me grow each day. I never thought I would stay at Target more than 2 years, but I fell in love with their culture, people, creative environment and most amazing opportunities. I truly have the job of my dreams!
You were the lead designer in the "Missoni for Target" collection and worked closely with Angela and Margherita Missoni, can you tell us about that experience?
It was definitely the most amazing experience of my entire career. I had the opportunity to lead a team of more than 20 designers, come up with creative solutions of how we could execute Missoni's high quality products for low prices, I picked all the yarns and stitches and presented our ideas to the Missoni family in Milan, together with my design director and our VP of Design. Angela and Margherita were so wonderful to work with, they understood the complexity of mass production and were actually very surprised by our factories' capabilities and impressed with the quality. They are so talented and so creative, they have a very clear vision of what their brand is about and working with them and being in their office helped me learn so much of who they are and what my role was in making sure we represented Missoni in the best way possible.
I also traveled to Hong Kong to oversee the superior execution and production of the line, as well as the launch of the collection in NYC where multiple celebrities attended.
How did you feel about the amazing success of the "Missoni for Target" collection?
I was so overwhelmed, I cried and wished my mother were alive to share this with me. I couldn't believe it and my heart was bursting with happiness.
What are you working on now?
At the moment we are designing spring swim collections as well as prepping for the busy outerwear fall season by researching trends, watching runways and developing fabrics and artwork.
What is your favorite part of your job?
People I work with and that I get to design cool clothes every day. I also love that my job is constantly changing, evolving and it's never stale and boring.
What advice would you give current students in the School of Fashion?
As cliché as it sounds, I would say follow your dreams, no matter what other people think of you and your designs. Listen to your heart, figure out what your passions are, and stick to them. I had so many friends, family and teachers doubt my talents and me – but I continued to work hard and am very happy with where I am now.
Do you have a favorite memory from your time as a student?
Definitely. Knitting in the lab late at night with my friends, listening to music and making each other laugh.
Where would you like to see yourself in the future?
One day I see myself leading a big team of creative designers and inspiring people to be passionate for what they do.
For more Alumni Updates, click here.