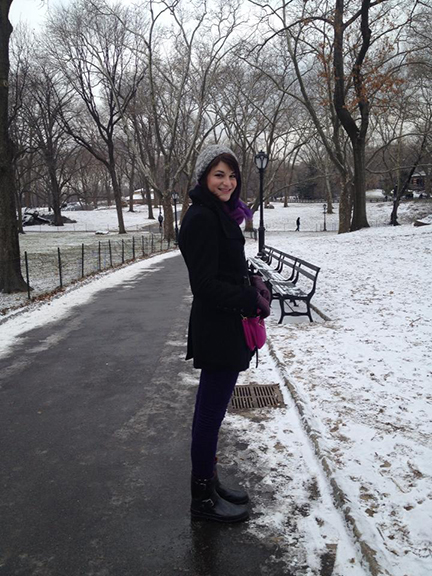 Photo courtesy of Melissa Calamia.
Fashion School Daily recently caught up with 2012 BFA Fashion Design alumna, Melissa Calamia, who has managed to land her her dream job in Manhattan only a year out of school! A current design assistant with Zinke Intimates, read on to learn more about Melissa's post grad aventures in the Big Apple, creating gorgeous under garments and living on top of the world.
When did you first become interested in fashion?
I've had an interest in fashion for as long as I can remember. My mom taught me to sew when I was pretty young. I can just barely remember sitting on her lap so I could help guide the fabric under the foot while she regulated the speed. My grandma taught me to hand sew, knit, and crochet new clothes for my Barbies. I even had a little Barbie dress form that my dad bought me from a craft store. (I still have it actually!) My godmother was a dressmaker and lingerie designer, so she was always encouraging and teaching me as well. There was no discovery or epiphany [for me], [fashion] was always there.
Tell me about your experience at the School of Fashion. What were your favorite classes? One of the biggest surprises in what you learned here? 
My favorite classes were always the more specialized ones. I loved The Classical Tutu and Corsetry & Underpinnings with Jean Lamprell. At the time I thought I was going to lose my mind with all of the couture techniques, but it really improved my hand sewing and taught me so much about different approaches to construction. Of course, taking classes with Rob Curry were amazing (sometimes terrifying, always stressful, but amazing!) And Mikel Rosen's life lessons in Design 6 were so encouraging and insightful.
As far as surprises go…I was always surprised by my ability to function without sleep! My best memories are almost all from my first and last semesters. You're just so excited to start everything and then you feel so accomplished at the end of it all. All of my final critiques were very inspiring.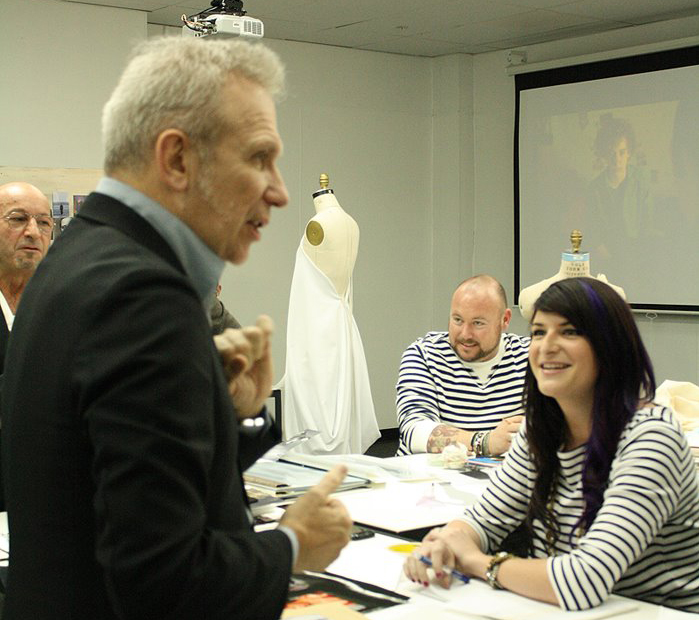 Melissa Calamia with Jean Paul Gaultier during his 2012 visit to the School of Fashion. Photo courtesy of Melissa Calamia.
What was it like meeting Jean Paul Gaultier?
It was such an honor. I was so excited just to have him visit our school, much less our classroom, and then was ecstatic when he actually turned to me and started speaking. It was surreal!
It's funny because I get asked at least once a day about my purple hair, and it was so unexpected to hear one of my idols ask the same question that I get from the ladies at the grocery store. He was so normal and humble. He came to the school to give this big inspirational lecture, and we wound up having a brief chat about hair dye and muses! It was really refreshing to get that kind of perspective on someone you admire so much.
You recently moved to New York? How are you liking life in the big city?
I love it! There is so much to do and see all the time, but I really don't feel the hustle and bustle that everyone warns you about. I never feel overwhelmed by it all. It helps that my boyfriend and I live in Brooklyn, which is an amazing place in its own right, but I work in Manhattan so I get my fair share of exposure.
The city is just growing and growing and growing, and has been for years, but there are still so many opportunities! You'd think it would be so over saturated, but in my experience it [doesn't feel that way]. I don't understand how that's even possible, but I love it. The city is so historic, but everything about it is fresh and new and full of possibility.
[justified_image_grid row_height=300 height_deviation=50 ids="24914,24915,24917,24916″]
Scenes from Melissa's day to day life in NYC. Photos courtesy of Melissa Calamia.
What is a typical day like at Zinke Intimates? Of the brand's lingerie, swimwear and loungewear, which is your favorite to work on?
My day changes based on where we are in the process of the collection. I could spend the day searching for images, expanding the inspiration, playing with fabrics, creating a sketchbook. You'll usually find me sketching, sewing, or a combination of both. I love that I still get to sew. I couldn't imagine not having a hand in construction, it's where I get some of my best ideas. I also spend a good amount of time talking with our technical designer, taking notes on meetings, making cut tickets, or running errands in the garment district. It's a small company, so we all do a little bit of everything.
I've always identified myself as a lingerie designer first and foremost, so that's obviously my favorite category. It's just fun to have the freedom that you get with lingerie design. You can favor aesthetic over function more often, and that can get really creative. I like swimwear a lot, but you definitely have to play by the rules (i.e. What happens when it gets wet? Is it really going to stay up? What are those tan lines going to look like? Are you sure it's going to stay up?) It's a lot to think about when you're trying to be inventive. Loungewear is really relaxing to design. I basically just get a feel for the fabrics, imagine the most comfortable, casual thing I could possibly make out of them, and voila! Stretchy pants and a crop top!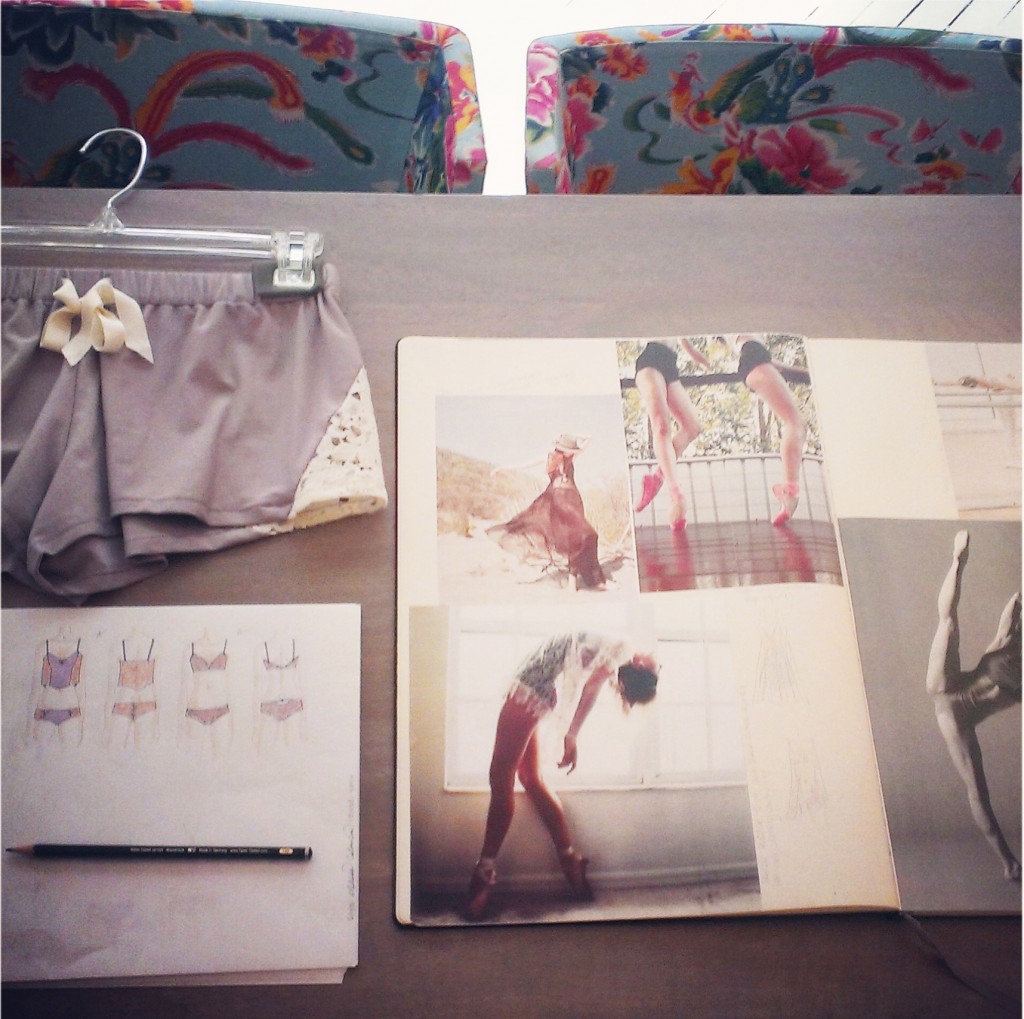 Inspiration for Melissa's latest projects with Zinke Intimates. Photo courtesy of Melissa Calamia.
For ladies looking to build their lingerie collection, what are some stylish staples to get them started?
I really think a basic bralet is a good place to start. They're so versatile and work especially well with the current trends. They're perfect for layering, as opposed to a cami, and don't look quite as risque as a traditional bra when it's peeking out of a shirt or under something sheer. I really like the stretch silk bralets that Zinke has because they actually have a decent amount of support, as opposed to a knit. Also, go for multiple pieces from the same collection because they are usually meant to be mixed and matched. You can create several combinations with just a few items.
What are you totally obsessed with? 
My dog, gluten free cooking (and eating), gardening (or attempting to), barbecuing, and interior decorating. I'm infatuated with the fact that my apartment is just my apartment. It doesn't have to double as an office or a design studio! I don't have to worry about making room for a dress form, or whether or not I can use that as a cutting table. It's changed my life!
For more "Alumni Updates", click here.