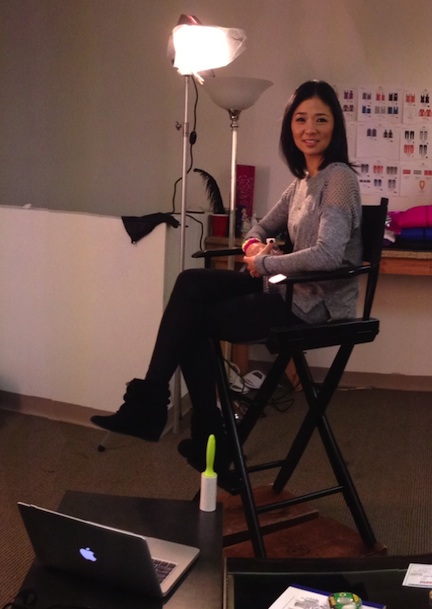 2006 MFA Fashion Design alumna, Mari Tibbetts (formerly Mari Matsumoto).
Though Mari Tibbetts may have a new name (the now married 2006 MFA Fashion Design alum was formerly Mari Matsumoto), but her MFA Collection is impossible to mistake. Inspired by an unexpected tragedy during the designer's last year of school, Mari's collection went on to appear in Women's Wear Daily and Mari was listed by Forbes.com as one of the site's "Designers to Watch" the year her collection debuted at New York Fashion Week. Now living in Orange County, and a Senior Designer at women's activewear line, Ellie, Mari caught up with Fashion School Daily to talk new life after "Collection", and how she keeps fashion fun!
What is your favorite memory from being a student at the Academy of Art University?
I studied under so many talented instructors. One became my mentor, and a few became very close and important friends in my life. I love the fact that we all shared the same passion and interests. We had honest and deep critiques there, which I learned to appreciate in time.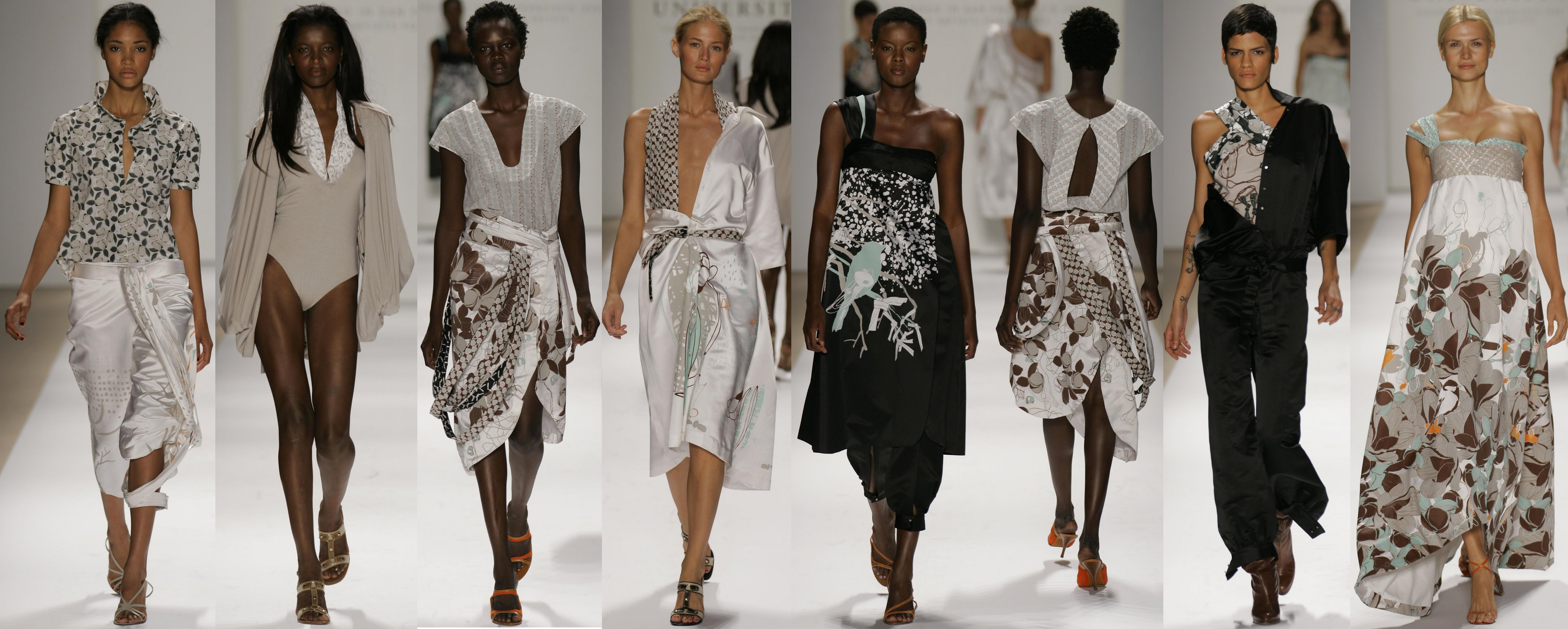 Mari's Spring 2007 Collection, designed in collaboration with Korean textile design alum Kyung Min Kim, at New York Fashion Week. Images courtesy of Randy Brooke.
Your experience designing your MFA Collection is one of the most poignant stories we've ever heard here at the School of Fashion. Do you mind telling us about your inspiration?
Right when I was starting to prepare for the MFA collection, I lost my beloved mother in a car accident. She was here and then gone all of a sudden! She was my muse in everything I designed, so I couldn't imagine continuing to design beyond that point. With support from friends at AAU, I returned and dedicated my MFA collection to my mother. I expressed my journey in each garment. Every piece was very emotional and expressive, but each garment's story is part of who I am now.
With your new role at Ellie, how does your design approach differ from high fashion to fitness?
The women's fitness industry has changed dramatically in recent seasons. Activewear has become the every day wardrobe for many women. They aren't looking for just an ordinary t-shirt and leggings to wear to the gym anymore. Women want fashionable, unique and quality activewear. So, my design approach has remained exactly the same. I try to bring in current trends, inspiration and colors to the line, as well as make sure that the quality is durable for these pieces to endure high performance activities.
[justified_image_grid row_height=350 height_deviation=50 ids="27155,27156″]

Moodboards and scenes from Mari's design studio at Ellie. Images courtesy of Ellie.
Explain Ellie's monthly subscription plan. How does that uniquely appeal to your customers?
It's an unique apparel subscription where you get the most benefit by signing up with Ellie's "Fit Fashionista Club". You take a 'Style Quiz' indicating your preference in colors, styles, fit etc. Once enrolled (cost is $49.95/month, plus shipping & handling) you get one top and bottom of your choice, sent to your door every month! If you don't want to choose, then Ellie picks the styles for you, based on the results of your quiz, and ships them to you. It's appealing because it feels like you have a personal stylist, and it encourages you to work out in style!
[justified_image_grid row_height=350 height_deviation=50 ids="27149,27150″]

Images courtesy of Ellie.
Do you have a favorite collection that you've worked on?
"Rise and Shine" (December 2013) is by far my favorite!

Check out Mari in the above video for Ellie's Holiday 2013 "Rise and Shine" collection! Video courtesy of Ellie.
What does a typical day look like for you as part of Ellie?
I was getting very tired and discouraged by the typical fashion industry lifestyle at the office. It really can be a brutal industry. So, when I became part of Ellie, I wanted to make sure that each day was inspiring, refreshing, fun and healthy. It might sound cheesy, but my typical day at Ellie is very busy and full of laughs. It's a lot of fun!
Headed to the gym, to class, or wherever, which Ellie items should our students never be without?
Black leggings, our 'Go To Legging' is a must have! With quilting detail at side of the leg, you can work out in it or go out to a nice dinner. It's a very versatile piece.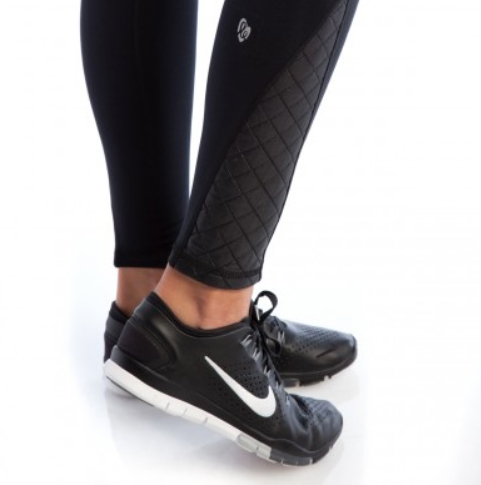 Ellie's "Go To Legging". Image courtesy of Ellie.
Mari's designs are available at www.Ellie.com. For more "Alumni Updates", click here.