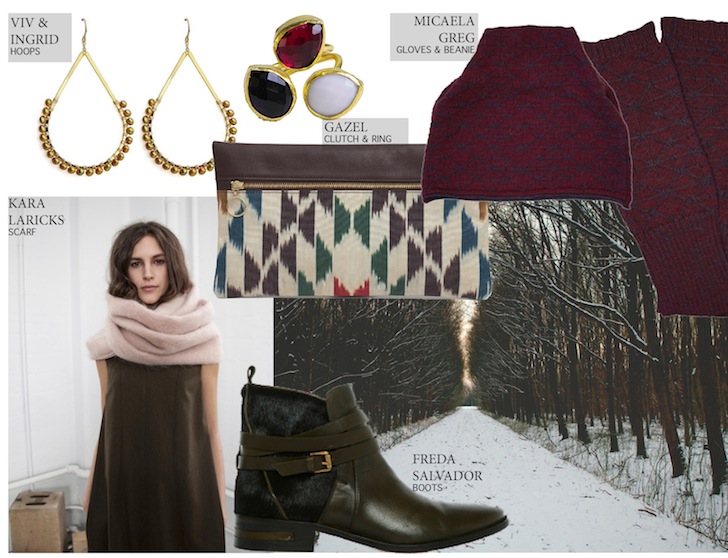 Accessories fashion board courtesy of Brittany Caldwell.
It's that time of year, fashion students! The holidays are upon us and Fashion School Daily has something for everyone on your list. All December we'll be bringing you FSD's holiday must haves from our favorite designers (and Academy of Art University alums!)
Today, we kick off our Gift Guides with our top picks for accessories. Like what you see? Shop the below links!
1. Ingrid Chen, 1999 MFA Fashion Merchandising Alumna – Viv & Ingrid Crescent Hoops, $146, available at www.viv&ingrid.com
2. Pinar Badur, 2007 MFA Fashion Merchandising Alumna – Gazel Modern Geo Silk Leather Designer Clutch, $145, and 3 Piece Granat Onyx White Stone Ring, $42, available at www.gazel.com

3. Marie Potesta, 2008 MFA Fashion and Knitwear Design Alumna – Micaela Greg Burgundy Fragment Hat and Fingerless Gloves, each $88, available at www.micaelagreg.com
4. Kara Laricks, 2008 MFA Fashion Design Alumna – Kara Laricks Full Circle Scarf, $96, available at www.karalaricks.com
5. Cristina Palomo Nelson, 2010 MFA Fashion Merchandising –  FRĒDA SALVADOR Dream // Loden + Black Boots, $550, available at www.fredasalvador.com