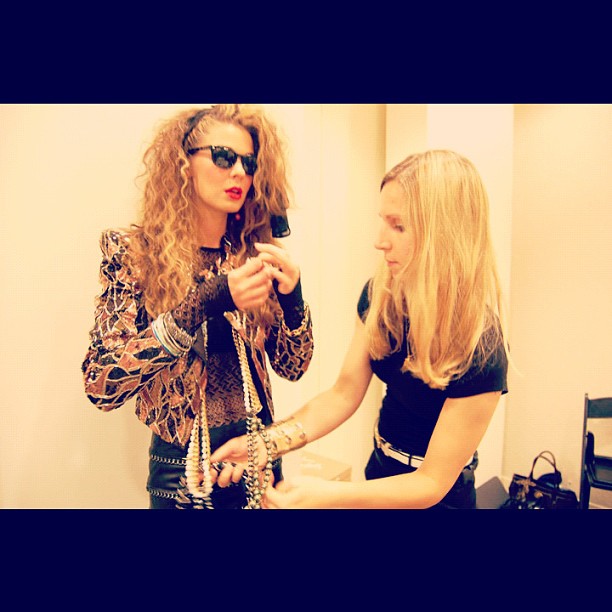 In today's Alumni Update, we spoke with Ksenia Avdulova, a 2010 M.F.A. Fashion Merchandising alumna who now works in Social Media at Gilt Groupe. She centered her senior thesis on the e-commerce retailer, worked her way up, and eventually landed her dream job! She was also one of the panelists at the online student workshop in New York. Read on for Ksenia's insights into the growing role of social media in fashion – and for some awesome NYC recommendations!
You recently started working as the Community Manager at Gilt Groupe. What does your job entail?
Being a social media manager has many different aspects to it, but if I had to break it down to three main fields that I work on daily, they would be:
1. Ensuring that Gilt Groupe's vision and voice is consistently represented across the social media channels, mainly by creating content for Facebook and Twitter. The company has several businesses; all of them have social media presence, and I am responsible for managing and growing the largest one – the Women's Wear Business.
2. Listening, analyzing, and implementing. I can't stress how valuable social media is in terms of listening to customers (present and potential). It's not just about knowing what interactions are taking place on our Facebook and Twitter pages, but much more so about using that information to cater to our followers and provide them with content that they want to engage with. A big part of that is working closely with the Social Customer Support team, which does an absolutely amazing job of answering customers' questions and resolving their issues via our Facebook and Twitter pages.
3. Project managing social partnerships with external partners. Besides being very social, interactive, and fun, the Community Manager job involves a good amount of project management. For example, currently we're running a Sweepstakes in partnership with Milly. It was my job to act as a liaison between various teams within Gilt, Milly, and the app developer to ensure a smooth launch and running of the campaign.
Being a community manager is a very exciting and fast-paced role, especially at a company that is known to be a trend-setter in its field. There's never a dull moment: there's always a new online conversation to monitor, a new trend to watch, and a new idea for a Facebook post. The most rewarding part about the job is the communication that happens with followers of the company, as well as being a part Gilt's creative, driven and dynamic team.
Follow the jump to read more!
What was the interview/hiring process like?
I had dreamed of working for Gilt Groupe since I did research on the company for my Master's thesis at Academy of Art University. I had the drive and the passion to do online marketing for the company, but not enough experience to back it up. The moment I presented my thesis and wrapped up my finals, I moved to New York. While I was working for other companies (I've been lucky to work for a couple of great companies with wonderful teams) and building up my resume, I still hoped to work for Gilt Groupe one day. They noticed my profile on LinkedIn and reached out to me. That was followed by several interviews by different team members and a few written tests. And then, after a few weeks of anticipation… Voilà, I got the job!
What do you do during an average day at work?
I usually start the day by monitoring the social activity that happened during the night and going through emails. I respond to our followers and make sure that I have posts for the day. Then I work on strategy, campaigns and reporting. I also dedicate a part of day to read social media, e-Commerce and fashion news.
You have a lot of experience in social media – what do you think are the most important thing to keep in mind when using social media for business?
The most important thing is to remember that in the end, there's always a person sitting behind the screen. The goal of company communication through social media is not to imply, but to educate, engage, and interact. Before posting anything on our social media platforms, I always try to look at it from the perspective of our follower who is casually browsing her Facebook or Twitter. What would catch her attention? That's the question that I ask myself every day.
Besides that, I'm a firm believer that you can only be successful in social media marketing if you really believe in the company and its product.
What is your favorite thing about living in New York City?
There's always something happening! Having grown up in Moscow, I thought I'd be ready for the very quick tempo of this city – but it's even more busy and exciting than I could've imagined.
I love art and I'm a foodie, and NYC has a lot to offer when it comes to both. When I say art, I mean not only all the great museums, galleries and performances (Metropolitan Opera is fascinating) but also street and subway art and music. A walk in Central Park on a sunny Sunday, with all of the street musicians and performers, will give you a better feel of New York than any tourist spot. That's my favorite thing about living in New York City – the unstoppable energy! Side note: Café Orlin has the best brunch in the city, and Cafe Gitane – the best lunch.
What was the last book you read?
I'm a big fan of classic literature, and the last book that I read was "The Razor's Edge" by Somerset Maugham.
What advice would you give someone looking to go into your field?
Be proactive, follow the news and attend industry-specific events, make contacts, ask questions and make yourself an expert in the field. Build your own social media profile to represent your interests and aspirations. And remember: Even though social media is a very online-based field, offline interactions count just as much.
Thank you Ksenia!
For more Alumni Updates, click here.