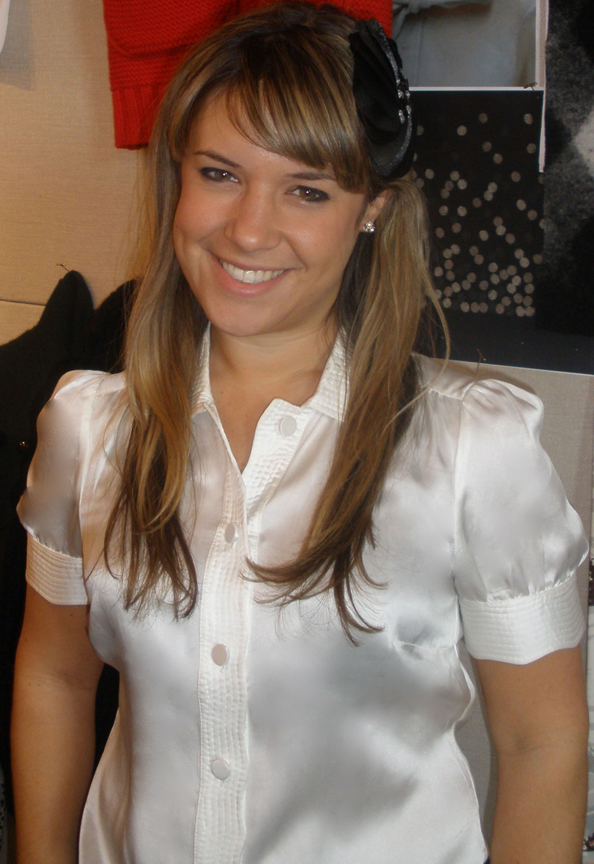 Jamie Mihlrad, 2005 MFA Fashion and Knitwear graduate, was selected by 2005 Guest of Honor Carla Sozzani for an internship in Milan that grew into Jamie becoming the sole designer responsible for the signature 10 Corso Como line of apparel and products, including collaborative projects with MAC, Converse, Diesel Jeans and Mackintosh of London. For a year, she designed the private label line as well as the signature cashmere sweaters, trench coats, handbags and various other apparel and products under the direction of Signora Sozzani. Jamie's collaborative senior collection with textile design student Kia Faulkenberry-Lewis was shown at the first Academy of Art University Fashion Show during New York Fashion Week. A year later she later returned to New York to become an associate wovens and knitwear designer for L.A.M.B collection under the creative direction of Gwen Stefani and Zaldy Goco. She later became the designer for Ready to Wear and Soft Goods for Kate Spade, a Senior Designer at Milly New York, and is now the Design Director at Shoshanna.
What did you do when you interned for Carla Sozzani?
I moved to Milan for an internship really having no idea what was in store for me but thrilled for the opportunity to work for one of the most important women in the fashion industry. Kia and I were the first interns at 10 Corso Como so we had to pave our own way in the beginning. The boutique is a 13,000-square-foot complex, which includes the Galleria Carla Sozzani (a photography and design gallery), a bookstore (design books from all over the world), a boutique for men's and women's designer clothing and accessories, hard-to-find imports, and must-have luxury goods. In our office, I noticed there was a wealth of vintage bags and t-shirts, sweaters, and small accessories that Carla had accumulated over the years. Also, 10 Corso Como has a very signature logo designed by Carla's boyfriend, the American artist Kris Ruhs. Carla gave me access to his archive of original Corso Como logo artwork, and I set to work using the vintage silhouettes as a starting point for the basic shapes of signature bags, t-shirts, and small goods, working in bits and pieces of Kris' artwork. Customers from all over the world often make a day of experiencing the store, and Carla realized that many of these customers can't afford the high-end product, so designing logo product at a lower price point for this customer evolved into a permanent position.
What was Carla Sozzani like?
She is incredible. Not only is she poised, intelligent and confident, she is kind, patient, and unbelievably giving. I didn't get to work with her every day as she travels quite often to Paris, Miami, etc. so I would create 50 or 100 different versions of whatever product I was working on and then about once a week I would meet with her to edit. She has such a keen eye and knows exactly what works for her store and her customer. The most interesting thing about working with her is that she was never afraid to take risks and try new things. It was so exciting going to work every day because I never knew what I'd be working on next! One day I was co-branding a cell phone with Samsung, the next day I was at the Superga factory designing co-branded sneakers with their head designer; I got to make handbags with Ama (they make Chanel bags) and trench coats with Mackintosh of London. She decided one day that no one was making a good oversized cashmere cardigan that season, so we would! She made one phone call to the sweater factory that makes the amazing Prada cashmere cardigans, and they made ours!
Follow the jump to read more!
How did it help you understand the fashion industry better?
Just being around Carla and in 10 Corso Como every day was inspiring and eye opening. I learned about running a successful luxury business. I also learned about myself and the kind of designer I want to be in two ways: first I learned that I never want to pigeonhole myself into being just a sweater designer, or just a pants designer or a handbag designer. I really enjoy the overall concept of a collection, and merchandising across categories. I've been very lucky (and of course choosy so not just luck) since then in that I was able to design outerwear, wovens and knitwear at LAMB, and at Kate Spade I designed not only RTW but also 12 soft goods categories (including hair accessories, leather gloves, scarves, etc). Second, I think just having access to that top tier of the fashion industry – being around Carla's peers and friends but also having access to her incredible archive (mostly Romeo Gigli) and the unbelievable clothing in the store — helped me to focus on honing my own personal design philosophy and appreciate the things I love that are my style, and the things I am happy to admire from afar.
You were in the first Academy of Art University NYFW Show – what was that experience like?
We never expected in our wildest dreams that we would be showing our collections (our blood, sweat and tears!) during New York Fashion Week! We worked so hard that whole year, and the San Francisco show was so incredible and such a wonderful experience – that was amazing enough! When I found out that a few of us were chosen to also show at NYFW, wow, well, I don't really remember what my exact reaction was but I can imagine it must have been utter shock and disbelief. In hindsight, it was the least stressful experience and didn't mirror at all what NYFW is really like – our collections were done months in advance and someone else took care of model booking, styling, transportation, even steaming – what a dream! But it seemed like a whirlwind at the time, and I have never taken it for granted. I remember how amazing it felt to watch my collection walk down the runway in Bryant Park. I was so proud of myself, I felt so lucky to be a part of this incredible industry that I love. And of course, it opened up a lot of doors and I know that I got a lot of respect and credibility from it.
Expand on your time at Kate Spade:
My title at Kate Spade was Senior Designer of Ready to Wear and Soft Goods. It was really an exciting time at Kate Spade and this is why I jumped at the opportunity to move there. Deborah Lloyd, the former EVP of Design at Banana Republic, is the fabulous President and Creative Director at Kate Spade. She is as inspiring as Carla and I am very aware that a big attraction for the job was how much Deborah reminded me of Carla. She knows her customer, she is a good and quick decision maker, and she has a fantastic and precise style. Above all, she taught me the importance of staying true to the DNA of your brand, expanding upon your vision, but never changing identity. When I started in 2006 I was the whole Ready to Wear and Soft Goods team, so it was a very big job. But since it was just me, I was exposed to so much. I was doing all the raw materials sourcing (learning who to call for certain qualities, how to source them from Asia, and just making the connections with mills and reps in general was absolutely invaluable), I was sourcing production (from Italy, India, and Asia), as well as designing the collection! The press responded to it really well, and under Deborah's leadership, we really helped to put the brand on track to an even better place than it was 10 years before. Eventually I got a wonderful team, and we were designing a full RTW sportswear collection, as well as knit hats, scarves and gloves, blocked hats, leather gloves, woven scarves, hair accessories, pajamas, gifting items, and beach items, and it was fantastic!
Where are you working now and what are you doing?
I am the Design Director at Shoshanna, responsible for the RTW collection and swimwear. For collection, I source the inspiration for twelve monthly deliveries, create a color palette, and along with my team, research and develop fabrics and prints for approximately 50 styles per month. Our collection is mostly dresses, with a few key sportswear and knit pieces mixed in. I work closely with our Creative Director to ensure that the collection stays true to the DNA of the brand and is the right product for our loyal customer – a woman who is flirty and feminine, values fit first, and appreciates beautiful color, print, and fabric quality.
Do you go to Paris often and if so, what do you like about the city?
The best part about going to Paris is taking a breath from the nonstop insanity of producing the collection and taking the time to observe what is going on in the city. And it wouldn't be the same in any other city – there is inspiration everywhere in Paris. Firstly it's the women on the street – Parisian women are effortlessly chic, and it's so interesting to see how they are styling themselves in the newest colors, textures, and accessories. Then there are the amazing department stores! Paris department stores take risks and showcase what's new – much more so than the U.S. department stores. Best of all are the boutiques – I like to spend a day in the Marais at L'Eclaireur and Merci where I can see up-close the amazingly inspiring creations of hard to find designers such as Azzedine Alaïa and Azzaro, and then I spend a day on the Avenue Montaigne and Rue Faubourg Saint-Honoré taking the time to visit Dior, Chanel, Alberta Ferretti, and the incredible Lanvin store (always with a well deserved break at Angelina for a hot chocolate and macaroons!). On my first few trips to Paris I was so intimidated by these stores that I only admired the clothes from afar, but now I walk right up and touch and feel everything, making a mental note of fabrics, details, colors and techniques I like that I will try to incorporate into our own collection in our own way!
When you return to NYC, are you happy to be back?
I don't even sleep a wink on the plane home from Paris because my head is whirling with ideas for the new collection. It is hands down the most inspiring way to begin a new season, and even better if you can be in Paris with your design team and all be on the same page about what has inspired you!
What are your favorite things about NYC?
New Yorkers are fashion people, and whether you work in fashion or not, if you live in NYC you express yourself by what you wear. I love that in NYC you can go to a diner in a cocktail dress, and you can go to a nightclub in pajamas. Almost everyone on the street has a point of view about fashion, and it is both inspiring and liberating.
Do you miss San Francisco?
All the time! I grew up in NY, and I think that it was really important for me to move to another metropolitan city to gain perspective as a designer. After so many years in NY I was quite uptight! I was able to relax my style and my design process in San Francisco, and it was key to the successful development of my own unique personal design philosophy. Still now I find myself getting caught up in the insanity of NY, and I wish I could be back at Chrissy Field sketching on a Saturday afternoon. The coffee shops in NY aren't calming at all; if anything they are more stressful than the office! What I wouldn't give for a Grove Cafe nearby!!
What advice would you give the students in the School of Fashion?
Take a job at a company whose design philosophy is closely aligned with yours. We are so lucky to love what we do, and there are very few working people who can say that. If you take a job you don't want just to have a job then you run the risk of taking pencil to paper but nothing comes out. That's not why we all set out to do this. I know the job market is tougher these days, but there are jobs out there for talented designers. I know because I have hired at least one person almost every year for the past few years. Intern somewhere you love, somewhere aspirational. Eventually your dream job will come. You'll know it's a company you want to be at because you will have the best problem — too many ideas! And there will always be another season and more ideas! Find a home somewhere that makes you excited to get out of bed every day and get those ideas in your sketchbook, and it will be the most satisfying job in the world.