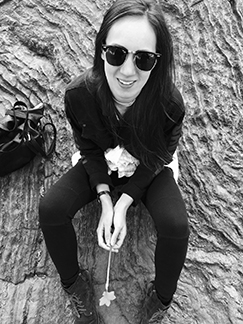 For the 2012 Graduation Fashion Show, Jacqueline Rabôt, 2012 BFA Fashion Design, collaborated with Julie Seltzer, BFA Textile Design, on a womenswear collection that was one of the highlights of the show. Abercrombie & Fitch was so impressed by her collection and portfolio that they offered her a design position after the show.
What have you been doing since graduation?
I started my career working at Abercrombie & Fitch and Hollister and have since transitioned to work as a designer at Free People.
What do you love about your job?
I love that the company that I work for has a similar aesthetic to my own. It's refreshing that I am able to envision myself wearing the clothing that I design.
What is your average day like?
A day in the life at Free People is exhilarating. I find myself doing everything from mocking and draping on the form, sketching product for multiple deliveries, fitting on models, researching the latest trends and presenting our work to the buyers and head of the company.
Where have you found inspiration lately?
My main source of inspiration is thrifting and vintage shopping. There are some hidden gems of thrift stores in the Philadelphia area and I can spend hours on end sorting through the used garments to find something rare and spectacular. I would urge anyone in the NYC area to check out the 'China Through the Looking Glass Exhibit' at the MET – it was one of those exhibits that will stick with me for a long, long time.
What is your favorite memory from your time at the School of Fashion?
The memory that stands out most prominently was during those last hours of completing collection. I think I will always remember the intense scrambling to sew on that last bead and hem the final dress. I distinctly remember the chaos on the top floor of the Polk building and then the relief and joy once every garment was completed and handed in.
What was your biggest challenge during your time as a student?
My greatest challenge was managing every aspect that senior year entails. I was juggling a part-time job, completing collection, working on my portfolio, attending four other classes, working on multiple side projects and applying to jobs (which some require expansive projects). I remember it as a whirlwind and if I stopped moving or slowed down, I would fall behind. Once the semester was completed, my hard work had paid off and every stressful moment was worth it.
What was the hardest fashion lesson you've learned?
To not overanalyze fashion. It should in fact be very simple to criticize your work by asking yourself the question of "Is it beautiful?". I learned that from professor John Bauernfeind in the School of Fashion and that is the mantra that I use when critiquing my work to this day.
Any 'insider information' from the fashion industry that could you share with fashion students today?
Personality and being level-headed is as important as being talented and creative. When you're working with co-workers day in and day out and you see them more than your boyfriend and your family, it's important to get along. Add a stressful job in the mix and you'll quickly realize the importance of a smile and even temper.
What advice would you give to students?
To be open about the job that you take after graduating. The chances that you will land your dream job directly out of school is rare. Be patient. You have your entire career ahead of you!