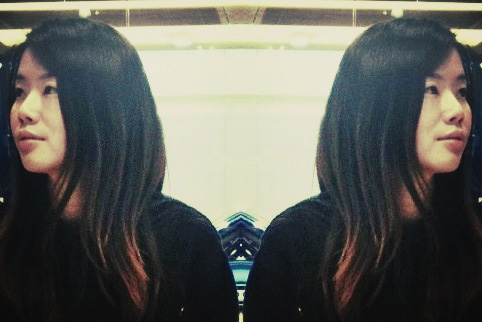 In today's Alumni Update, we catch up with I Shan Liou, who graduated from the School of Fashion in 2009 with an MFA in Fashion and Knitwear Design. She collaborated on her senior collection with design student Myoung Hee Kim, which debuted at New York Fashion Week for Fall 2009. Currently, I Shan lives in Los Angeles and works at the contemporary line, Patterson J. Kincaid, as a knitwear designer.
You were able to show your graduate collection at New York Fashion Week. How did you feel after the experience?
It was an amazing experience in my life and I am extremely thankful. I am so grateful to Simon [Ungless], becuase he brought me and Myoung Hee Kim together as a team. It was a stunning idea that combined knitwear and textiles. Learning how to collaborate and work with others helped me a lot when I got a job. Fashion industry is all about the team work and coordination.
As a student, you were featured in Sally Congdon-Martin's book, Emerging Fashion Designers I – how did it feel being included in the book?
My jaw fell to the floor when Edith told me that I had been featured in Sally Congdon-Martin's book. I still cannot believe that my work was printed and that I was labeled an "emerging designer." I was so surprised and honored.
After graduating, what did you do?
I was doing freelance for couple of companies such as Levis and Pottery Barn for a few months. Then I moved to Los Angeles and started to work at a local private company as an assistant. After 3 months, I got a job offer from my current company.
Follow the jump to read more!
You now work at Patterson J. Kincaid in the sweater department. What is your job like day to day?
Each day, I am sourcing for production as well as designing the sweaters. I am doing all the material sourcing from overseas and domestically. It is my job to ensure that the yarn quality, stitches, and trims are right for our target price and customer. I work closely with our creative director/merchandiser to make sure our collection is cohesive and in line with our ideal customer.
What skills did you learn in school and while making your final collection that you use in your work?
I learned a lot of textile terms for knitwear, that are so useful, especially when sourcing overseas. Myoung Hee is very talented textile designer and she taught me how to select and apply prints to specific knits and sweaters. It helps me a lot in my work right now, because I have a great background of knowledge that helps me each day, from designing to sourcing for all of our knitwear pieces.
What do you love most about your job?
It is a very fun job! I love my folks at work – they are awesome! We have so many crazy ideas everyday.
What is your most prized possession?
Seeing my designs go from sketches to the stores!
For more Alumni Updates, click here.