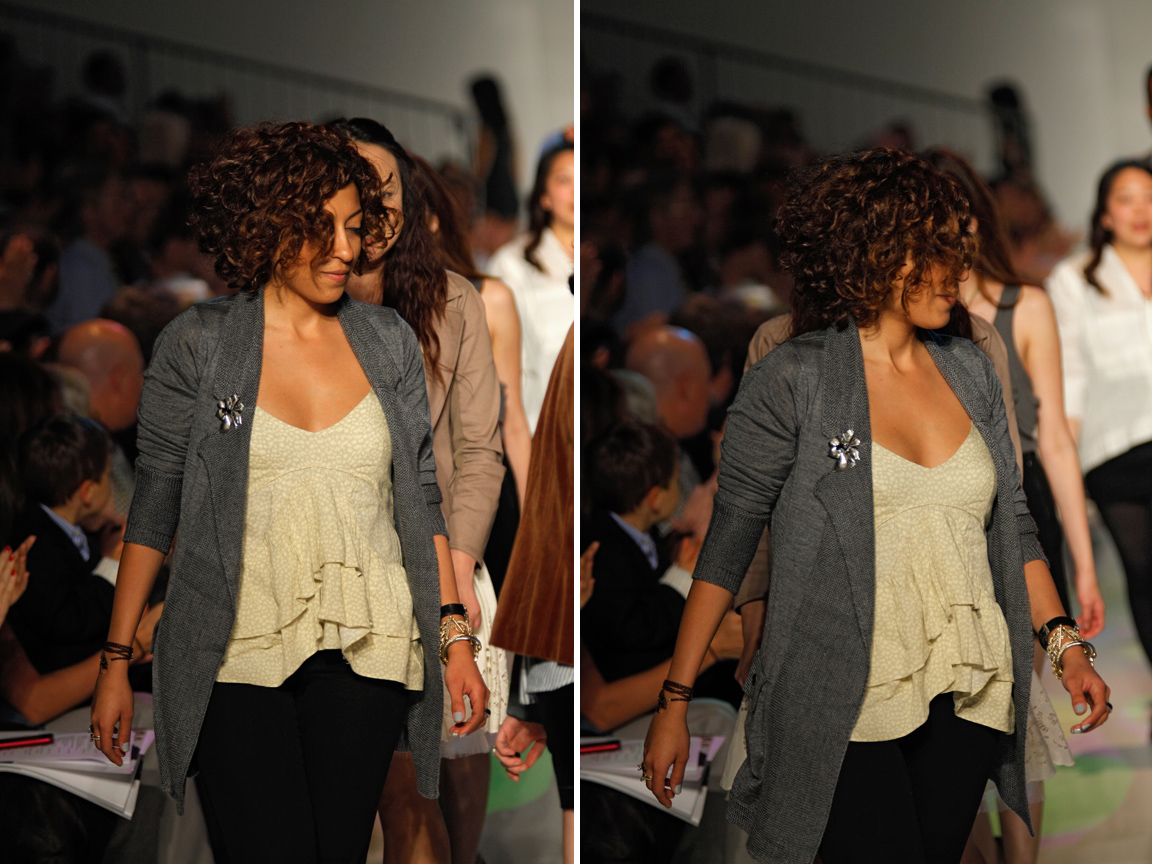 Fayrouz at the May 2011 Graduation Fashion Show
Fayrouz Abi Assi graduated from the School of Fashion in May 2011 with a M.F.A. in Fashion Design. She showed her senior collection, which was inspired by the Depression Era and lives of Arab desert dwellers, at the 2011 Graduation Fashion Show. After spending the summer traveling, finishing up school, and visiting with friends and family – she started her career right here in San Francisco. We caught up with Fayrouz to hear about life after graduation!
What was it like having your collection debut at the May 2011 Graduation Fashion Show?
Working on Senior Collection was one of the most fun experiences ever! I never went into it thinking "I'm guaranteed in", I just really wanted to experience it and push the limit in terms of creativity and problem solving. It totally changed me; my mind now works in problem solving mode, and its so much fun!
As for debuting, proudest time ever, until something else tops it.
How did you spend your summer after graduating?
I spent my summer traveling to Lebanon, Dubai, Las Vegas and Los Angeles, also finished up my last semester at the Academy of Art University, interned at Welcome Stranger, and entertained family and friends that flew in to see me! By the time October came around, I found myself working full time at Welcome Stranger!
Follow the jump to read more!
How did you get involved with Welcome Stranger?
I was actually recommended by my teacher John Bauernfiend; I was really excited since my design aesthetic is so similar to Welcome Stranger. I first met with the brand manager, and hit it off right away, she then introduced me to everyone and I was surprised at how fast I put my skills to work and got comfortable there!
What do you do as the Production and Sourcing Coordinator?
If there is a suggestion being made, an idea being changed or a vision being updated, I am the one to do it. My typical day involves calling our pattern maker, checking on markers, inputting fabric choices, updating sketches, visiting new factories and most importantly, discussing design decisions.
What have been the challenges of applying what you learned at the School of Fashion to your job and the real world?
The challenge is thinking in numbers. Everything becomes numbers. And I mean, everything. It's called making money.
What are your interests outside of fashion?
Traveling, stand up comedy, and most recently cooking!
What other brands do you admire?
Acne is a high one on my list at the moment, I also absolutely Loved Topman's Peacoat Project (a Collaboration with 6 designers).
What is playing on your iPod right now?
Rihanna's We Found Love, Katdeluna's Drop it Low, El Product By Akon featuring Omega, Jcole's Work It Out, Otis by Jayz and Kanye, and Gyptian's Hold Yu – It's a constant party in my head!
For more Alumni Update, click here.