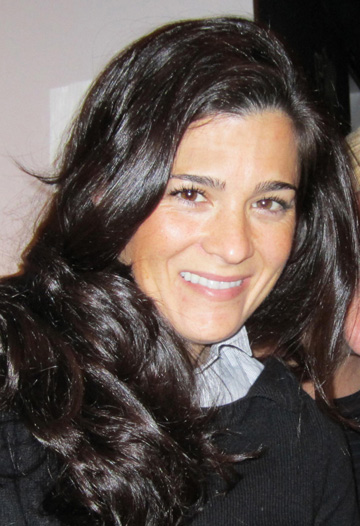 In today's Alumni Update, we catch up with Cara Chiappetta, who graduated from the School of Fashion in 2011 with an M.F.A. in Fashion Design. She now has a job that she absolutely loves and learns from everyday! Read on to find out more!
You debuted your senior collection at Mercedes-Benz Fashion Week S/S 2011 – what was the experience like?
In one word: surreal. In three: a great honor. I remember working in NYC in 2000 near Bryant Park and walking past the white tents in the chilly-city early mornings promising myself that I too, would be under those tents- as a designer. I just never expected it happen so soon, and at Lincoln Center, no less. It was a promise I kept with myself and I am so grateful for the opportunity and as a designer, so grateful to have not let myself down. And so grateful to represent my brilliant Directors, professors, and fellow students at the Academy of Art University. The experience overall was very stressful, very challenging and yet, all the more enlightening.
What were the most valuable lessons you learned while creating your collection and presenting it in New York?
Flexibility, respecting and adhering to deadlines, adaptability, and that asking questions are key. Oh! And happy accidents. Happy accidents are so precious – I learned the actual process has its own fuel and to embrace the amazing unexpected things that happen along the way. My best work probably stems from those "I think I thought I did, but what just happened? …because that looks good!" As much as I seem to function as a type A personality- which I think helped me along the way- I let myself get lost in the design process. I learned my valuable lesson of letting go. It was a special time for me. I had the freedom to revisit and analyze everything I ever loved in this great big world and everything that ever inspired me. I was able to identify myself as process-based; I had to go from A-Z, to circle back and find E. If that makes sense. We were taught the tools in school, and I relied on them to tap into what defined me as a designer. That was exciting; suddenly my habits from the past began to make sense. I knew I was exactly where I supposed to be, which was probably why I exhausted all options and opportunities throughout the program. Gonbee at one time declared I was masochistic – but I still argue that it was my time to really push myself.
I had to make a last minute change ten days before the show; it was a bit daunting at the time, but taught me the most invaluable lesson of crisis management. I had to remake six pieces in the collection – for reasons I should have reasoned through prior. But hindsight is 20/20. I would not change what I went through. Honestly, that part of the process has really helped me in the most stressful situations. I refuse to allow myself to get into this "fickle-pickle." I now have a very calm demeanor – even more so than before – and am able to think clearly in hectic situations. I made a pact with myself that I will never let myself cry, consume copious amounts of Cheetos, and call my mom like I did that one afternoon – as I attempted to source new fabric ideas in Berkeley. Never. Will. I. Again. (Until the work is complete, of course.) I lost 3 precious hours that day that I could have used to keep moving forward. As long as I gave 110% effort, I knew I wouldn't look back with regrets. And I don't, which is very settling.
Follow the jump to read more!
After leaving San Francisco, you worked as a freelance design assistant at Ann Taylor. How did you begin working with the company/what was the interview process like?
Honestly, I chased Ann Taylor. I don't want anyone to think that I "fell" into this. I attended a career fair in October 2010 as I knew I had to start the job search process ASAP. I flew from SF to Chicago that week, and on the day of the job fair, I jumped on a plane in the morning to NYC, attended the career fair and flew back to Chicago that night. I had met with one of the HR recruiters at Ann Taylor at that event. I received a call three weeks later from another HR rep, and flew back to NYC from Chicago in December to meet with her.
I was told I needed more experience but that she would send my resume onto a recruiter at a freelance/temp agency. My credentials were then passed onto not one, but two, more recruiters at the agency. Finally, in January, I met with my recruiter and filled out the paperwork for "ready for hire" status. I was called for a job (on a Monday to start Tuesday at nine am), at the Ann Taylor Tops department – wovens, cut and sew, and sweaters. I assisted the tops team for about three weeks, and loved it!! When the job ended I pursued my recruiter for months but after no reply, I sort of gave up on them. I was freelancing, but let it be known I had my resume at seven agencies in New York City. In the interim, and in order to pay the rent and buy more ink cartridges for projects for interviews, I temped for hedge funds, law firms, and babysat – all the while interviewing for full time positions.
The last week of August I received a call to assist the design team in Ann Taylor Factory for a month. That was at 1:00 PM on a Monday afternoon and I was told to start the next morning. I did. Ten days later, the assistant manager position became available. My stomach dropped; I knew that I could potentially be a candidate for the position. Even as a freelancer, I was asked to hit the ground running. Talk about a learning curve!!
Three months later, I was offered an official interview with HR. Two weeks after that, I was offered an interview with my director and one week later, I interviewed with my EVP. That's almost seven interviews and nearly 13 months of pursuing a potential opportunity! Nothing comes easy, however in retrospect, I think the stars may have aligned for this one…
And now you've been hired full time as the assistant manager of design development, congrats! What is the process like for a garment at Ann Taylor, from start to finish?
Amazing. I work for Ann Taylor Factory, one of the four divisions of Ann Inc. My division is a crazy little animal in the grand scheme of things and I love it. It is so challenging. I design for merchandising-driven division and I work within many parameters. I design in this little box of limitations. My division is specifically merchandise-driven; the product must follow the specific components to the seasonal buys, stay within budget, and be fresh and new each time.
As a team, we begin building our color palette for the season. Simultaneously, we also begin building our concept boards – with color direction, silhouettes, and detail ideas for that delivery. The trick is that we create an entire store – as opposed to a collection – which is the challenging part and something very new to me.
The garment begins as we build our line and basically create the store set. For example, we work with the fabric team to find the best fabrics that fit our vision for the delivery. My experience as a designer is very helpful here! I draw from my experience sourcing fabrics and working within a budget, optimizing our vision for the season, but staying within our means financially.
Then we build our line – and this is basically where my merchants and I must stay on the same page each day. Things constantly change through the process, and I am familiar with that feeling from building my own collection at the School of Fashion. I am also responsible for coloring up prints for my garments; this is very fun, and has improved my eye for color dramatically. The prints will come back to me as strike offs, which I comment on for engraving, color, and overall aesthetic. Little by little, our season is finalized within meetings and the garment travels through production and is passed back to us for fit samples. So much fun! I love our fits – it is a time when the vision is actualized. From then on, it is constantly tweaking the garment specs, along with input from the analysts, and the final buy is made.
How do you approach things differently now that you're designing for a large company, and not as a student?
Well, now I have to think of my customer! We give her Ann Taylor at a lower price point. I am constantly asking myself: Would she wear this? Is this why she came into the store? Does this fit our vision as a team? It is not about be me anymore – it is all about HER. And truly, it's about designing beautiful things and presenting them in an entire look for that woman who desires the Ann Taylor style. She wants to be a part of it, and it's my job to carry that through. So not only am I utilizing my design skills, I am also learning how to create the "store." It's vital now to stay current with the shows, with the market trends, and generally speaking, in what direction the industry is moving. Designing for her – and what she wants – is the challenge of working within these limitations. It was worth every minute I worked Black Friday this year (from 12am-4am) in the Jersey Gardens outlets. It really inspired me and helped me stay focused on my customer and what she desires.
What do you love most about your job?
I absolutely love that I am learning (because it's imperative) a more analytical perspective of fashion design. The merchandising part of my position exercises that left side of my brain and that is thrilling! I am so excited to manage this position at full potential. I love the fact that it moves very fast, it changes everyday, and it involves a lot of problem solving.
I really love developing, coloring, and commenting on all of my prints that appear on our skirts and dresses. I never take for granted that my eye is now very exercised in color. It is my job to make certain the mills achieve our color standards, and it can be very tricky at times – critiquing the aesthetic, engraving, and overall color of the prints. (On a side note, this makes shopping now for myself extremely difficult.)
I love the company and really love the Ann Taylor history. I also really love my Factory team. It's so important. I am learning so much through my Director, my SVP and my team of merchants. I also work with one of my former fellow students, Ariel Greene! Ariel is on the dress production team; I talk to her everyday and manage the dresses together. It was so fun when we figured we both graduated from the same program, same year!
And it's absolutely so much fun to work for a company with which I feel I have a personal history. In college (Boston) I worked for Ann Taylor with one of my dear friends from school. My best friend from home (Chicago) worked for LOFT for many years. My mother always shopped at Ann Taylor. And when I first moved to NYC after college, my roommate (and now best friend) and I had the same suit from Ann Taylor. We would trade pieces so that combined we had a 5 piece suit. It's just really, really fun to be a part of it now. At times it feels like a dream but I guess my relationship with Ann Taylor through the years makes it that much more real. And way, way more fun.
For more On Online, click here.