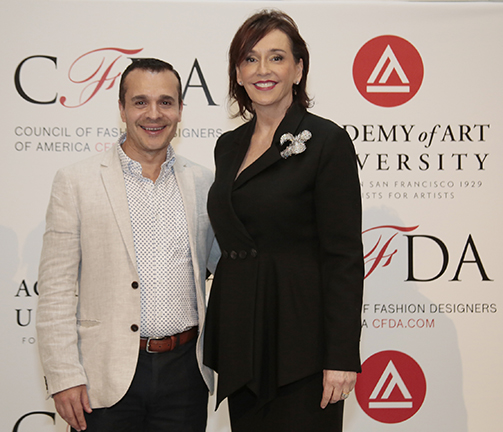 Antonio Luna, 2012 BFA Menswear Design Alumnus, presented his senior collection at the 2012 Graduation Fashion Show. In April 2013, his collection was selected for the Academy of Art University Fashion Show during the San Francisco Museum and Historical Society gala, Standing Ovations VI—San Francisco Style Gala, an annual event celebrating the city's unique contributions to the fashion industry. Earlier this year, he launched his eponymous collection and online store.
How did you come to study in the School of Fashion?
Since childhood, I have been drawn to fashion and design. At the age of 14, I began to design special-occasion dresses that my mother would sew for my older sisters. However, the social climate in Guadalajara did not encourage men to pursue careers in fashion. I pragmatically completed a degree in Business Administration, moved to California, learned English, and began working in hospitality. This career paid reasonably well and offered growth potential, but the work did not inspire me.
I started taking fashion classes at City College of San Francisco. After two years, one of my instructors advised me that Academy of Art University offered a full scholarship to one City College fashion student each year. I knew that the Academy of Art University had an incredible four-year fashion program, and a scholarship was the only way I could get in. For the next six months, I put together a strong collection of seven looks on a budget of $4,000, which I earned waiting tables. Of the 14 students who competed, my collection was selected as the winner and I was awarded the Presidential Scholarship by Dr. Elisa Stephens. That night changed my life forever.
What is your favorite memory from your time at the School of Fashion?
Presentation days were the best. Although nerve-wracking, I learned the most about my aesthetic and the way I communicate though fashion. I also learned about the way my classmates approached challenges and channeled their creativity. This interactive structure created a rich learning environment.
What was your biggest challenge during your time as a student?
My biggest challenge was the cost of living in San Francisco. The School of Fashion curriculum is rigorous and the projects demanding, leaving little time for a part-time job. I earned a few hundred dollars per week as a waiter. After rent, my income was spent on fabric and supplies. While producing my final collection, I had to sublet the living room of my one bedroom apartment in order to buy shoes for the models. I am very grateful for that experience because I learned to be very resourceful.
Thinking back to when you were creating your senior collection, do you have any advice for students who want to create a collection for one of the University fashion shows?
Be honest with yourself in every sense – your aesthetic, your resources, your timelines, and your skills. If you decide to go for it, don't hesitate to give it your all. Work the hardest you can. At the end of the day, your work will speak for itself on the runway and that is the best feeling of satisfaction.
Did you always know that you wanted to start your own line?
No I didn't. At some point I wanted the security of working for somebody else. A year after the final show, I had evaluated several options but couldn't commit because I wanted to continue to explore my own aesthetic. It has been an organic process. I have always been a hands-on person, and having my own label means that I get to learn all aspects of creating, manufacturing and merchandising my garments. I had to expand my design aesthetic to acknowledge the commercial needs of a sustainable business. I identified a niche segment of the market for special occasion menswear and I have a defined style that resonates with creative professionals.
As a designer, what is your typical day like?
I wear many hats, my day changes depending on the stage of production. If I am creating a collection, I sketch new designs, develop patterns, cut fabric, and sew samples.   It is very important for me to sew my own samples because I learn so much through the trial and error process of creating muslins. The development phase is what I enjoy the most.
Since the Bay Area garment manufacturing industry lacks the centralized infrastructure of New York or Los Angeles, the manufacturing phase requires frequent travel. My pattern grader is located in the Bayview District of San Francisco, my cutter is in the Mission, and my contract factory is in Oakland. Since I work closely with each, I find myself running back and forth to troubleshoot unexpected issues, which inevitably arise.
In the commercial or marketing phase, I focus on customer engagement and information technology (IT). For the last collection, I developed my own website and digital look book. This required me to create concepts, hire vendors, and learn the technical skills needed to run an online store. I also designed the marketing materials, including the brand style guide, stationery, business cards, and packaging. I review the status of inbound or outbound shipments daily and check emails nonstop. Finally, I commit significant time and resources to public relations and social media.
Where do you find inspiration?
Art and Architecture are my primary inspirations. I like the contrast created by the light and shadows of a building, or the compilation of colors that clash or embrace each other in harmonious or dissonant ways in a painting. Boldness can be created with simple lines and a stroke of color on a monochromatic background. I am also fascinated with the detailed construction of vintage military or police uniforms because they are skillfully crafted and define a historical masculine aesthetic.
Tell us about your new collection.
My collection is deceptively simple, it is structured yet has a soft quality. I incorporate subtle details into my garments, which translate into an understated sophistication. For Fall 2015, I used heavy weight cotton for shirts, cotton twill and canvas for pants, and wools in varying weights and colors for jackets. The palate is mostly hues of blue and teal-blue, with accents of warm ivory and rust red.
My customer is a creative professional. He works in the arts and needs special occasion garments to wear to parties, gallery openings, concerts, photo shoots, or even a first date. For these occasions, the ubiquitous uniform of jeans and a blazer won't cut it, but a suit is not edgy enough. My customer turns to me for garments that will help him tell his unique story through menswear.
How is the launch going?
The first phase was the launch of the website/online store. The website was successfully launched in July 2015. The second phase is partnering with small contemporary boutiques for product placement. Careful selection of a stockist will increase the probability that my garments are available to the right customer at the right time.
What are your goals for the rest of 2015 and 2016?
For the rest of 2015, I will be developing small production runs of garments from the Fall collection. In addition, I have already begun to work on the Spring 2016 collection so that the samples and look book can be in front of buyers by the end of February.
Antonio Luna's collection is currently being sold at SHOP657, a unique shop that sells Academy of Art University Alumni and current Fashion Students' merchandise exclusively. Check out the Antonio Luna Collection on the website, Facebook, and Instagram.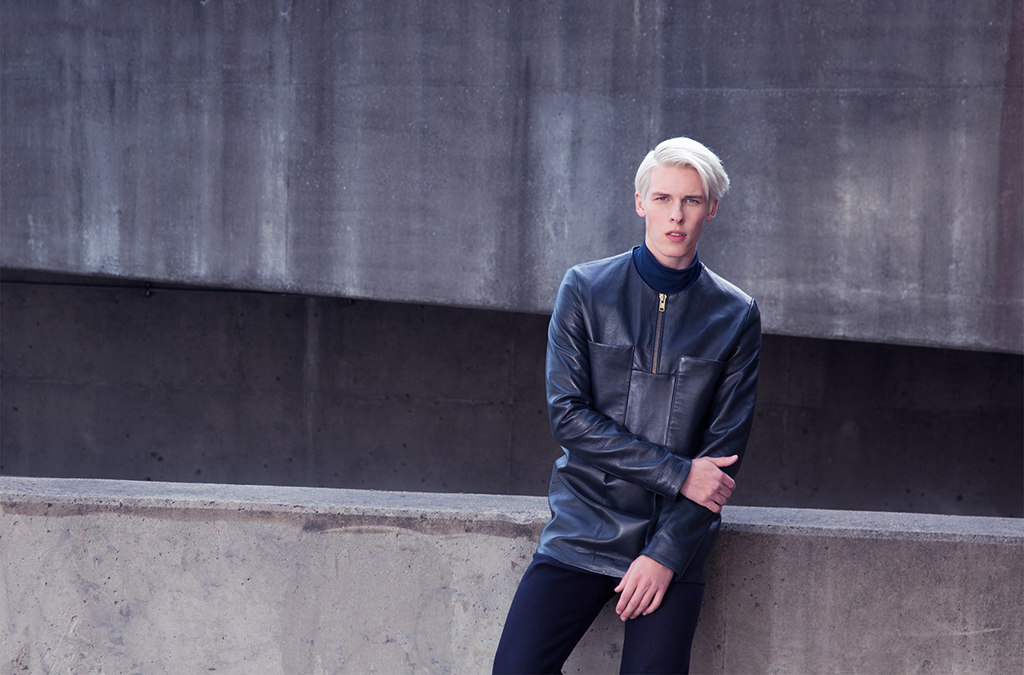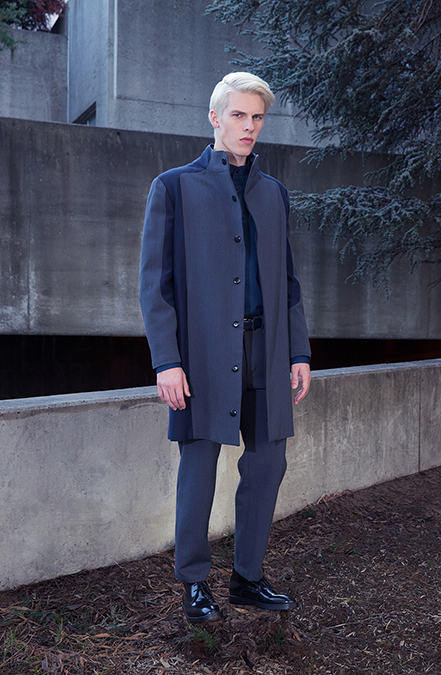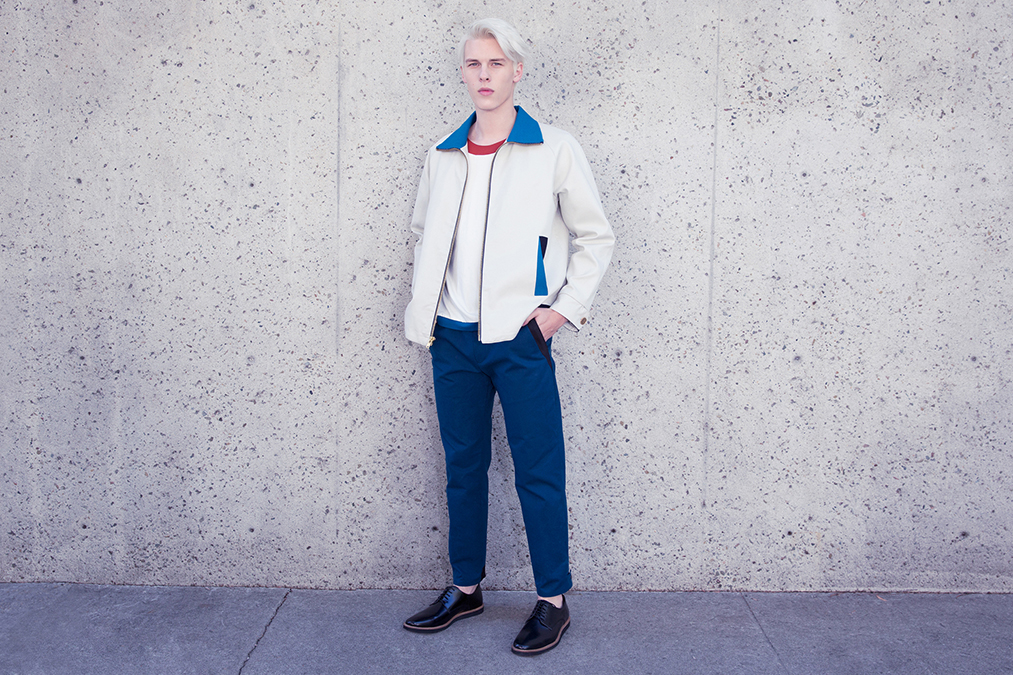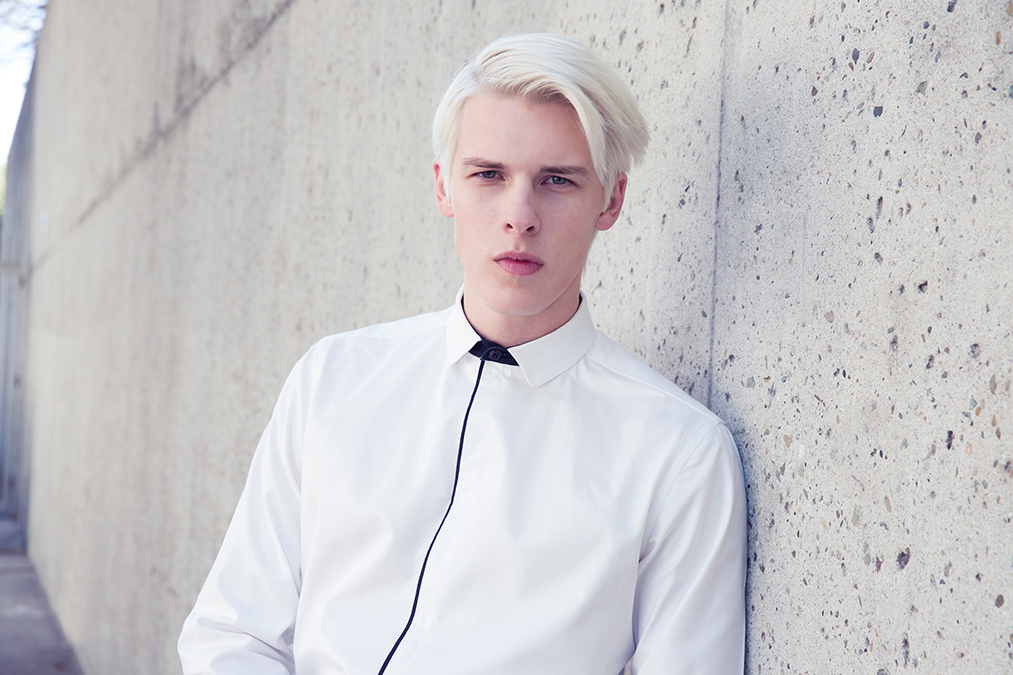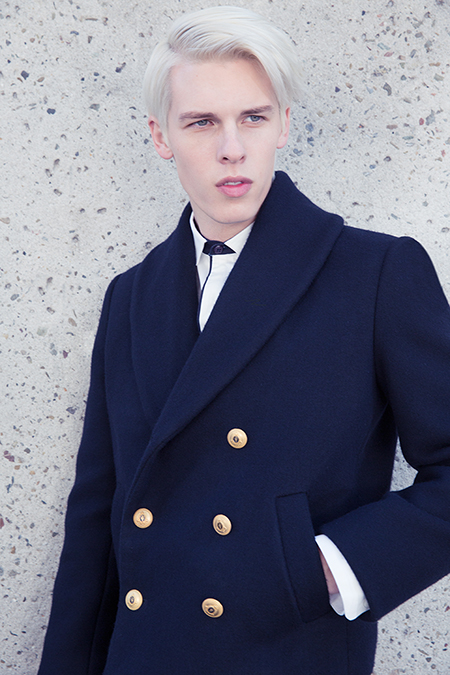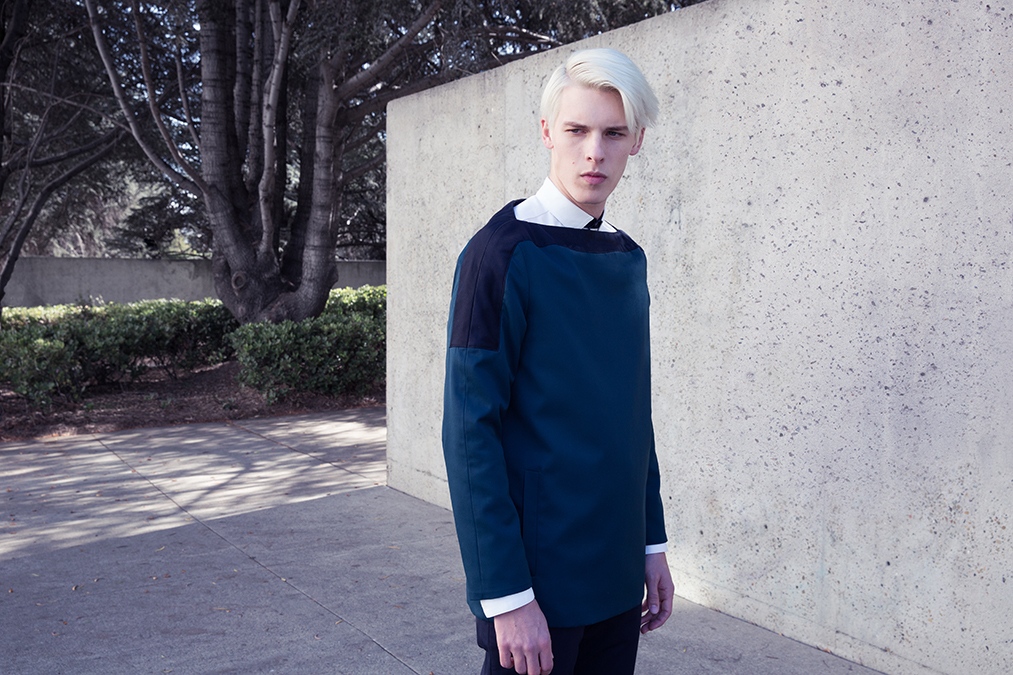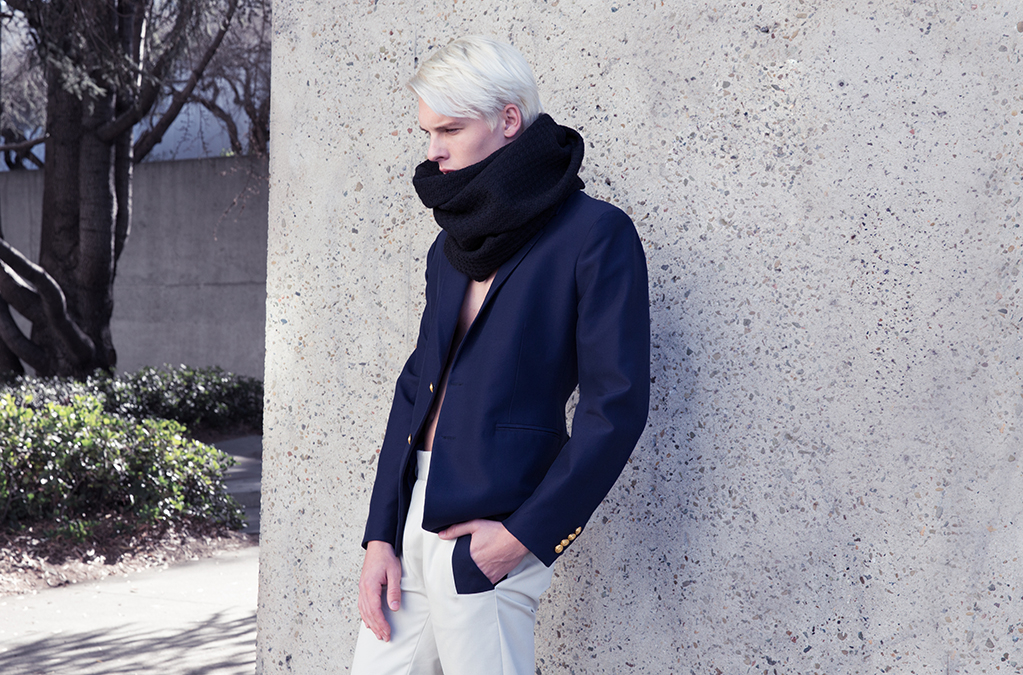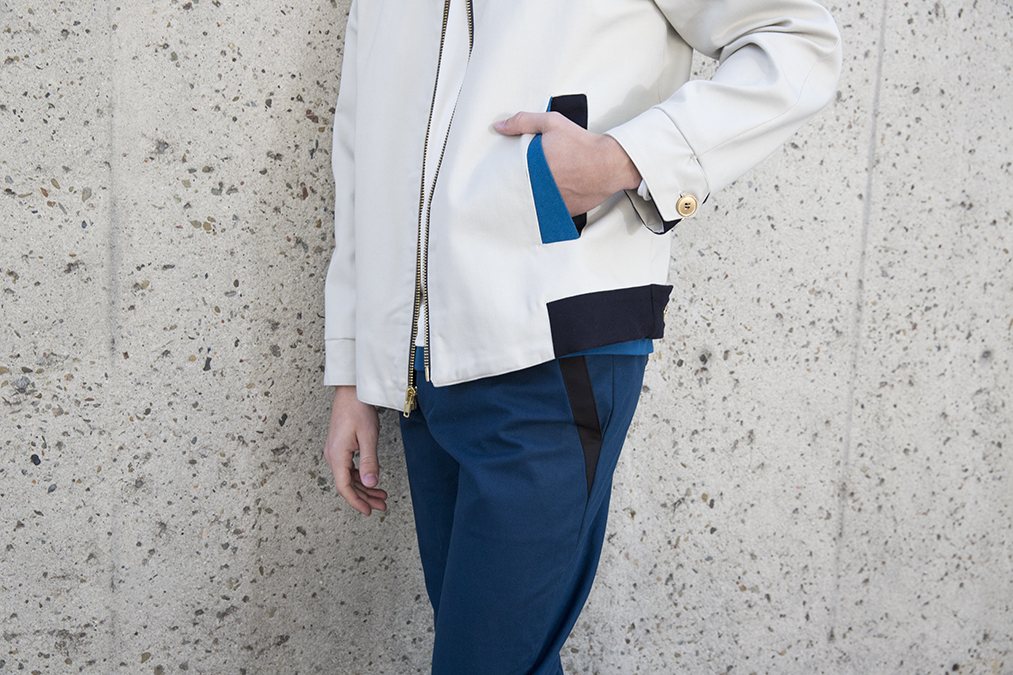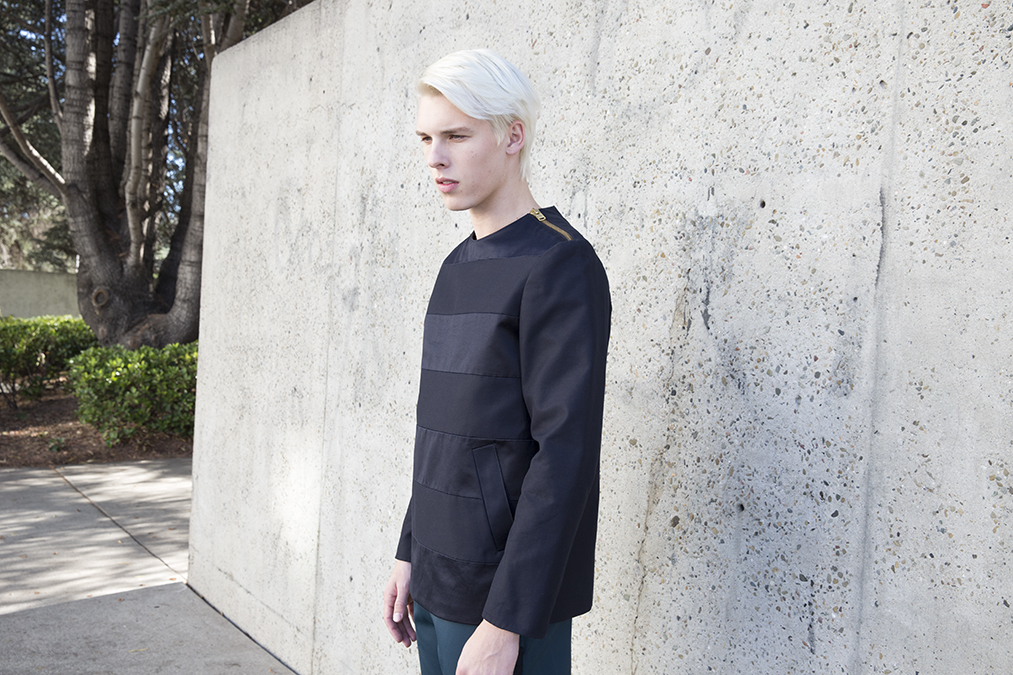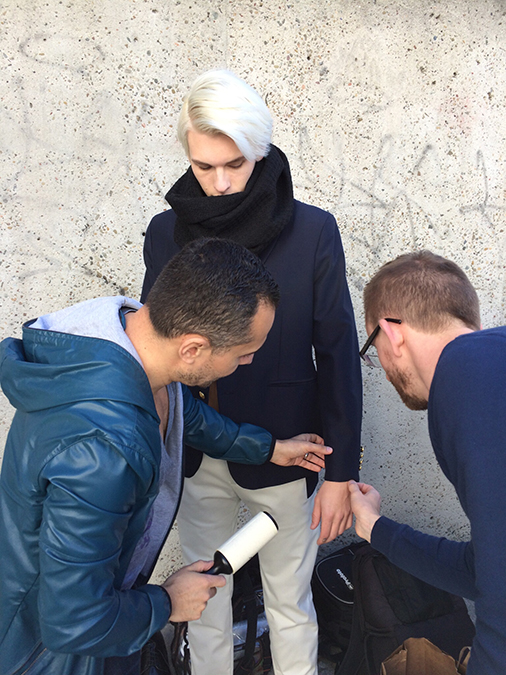 Photography: Claudia Goetzelmann
Styling: Konrad Janus
Model: August Gonet
Make up: Olga Pirmatova