Quintessentially British, with a French flair. In other words, a true contrast, "like a decadent dress with bare feet." It's a disparity that Alice Temperley likes to explore, and has done since her days playing dress up as a teenager living in the British countryside of Somerset.
Temperley would travel to London to buy men's velvet suits from a small shop on Endell Street, customize them, and wear them out on the town with a pair of beat up Converse. "Wearing a man's suit gives me confidence and makes me feel more in control when dressing up," she said.
The thirty-nine year-old, prized fashion designer still conveys this kind of versatility in her designs, relaxed yet luxuriously self-indulgent. Temperley London, the brand that Alice launched in 2000 with her then boyfriend, (now husband) Lars Von Bennigsen is reputable for its opulent fabrics depicting timeless glamour and exquisite craftmanship.
Temperley cites Paul Poiret the early twentieth century French fashion designer, known for his controversial kimono coats and loose-fitting dresses, as her inspiration for her latest Winter '15 collection. She focused on elongated silhouettes using beautiful fabrics, intricate patterns, and eccentric pairings of embellished  dresses with men's smoking slippers.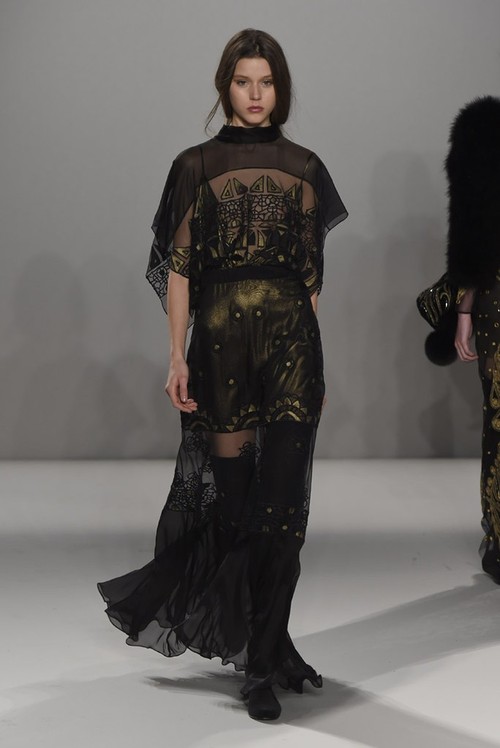 A layered silhouette of adorned bronze and black chiffon over opaque thigh high hosiery and a high neck-line was a modern twist on the Parisian 1920s evening dress. Temperley keeps the look casual with velvet flats, and a loosely-tied, slightly disheveled hairstyle.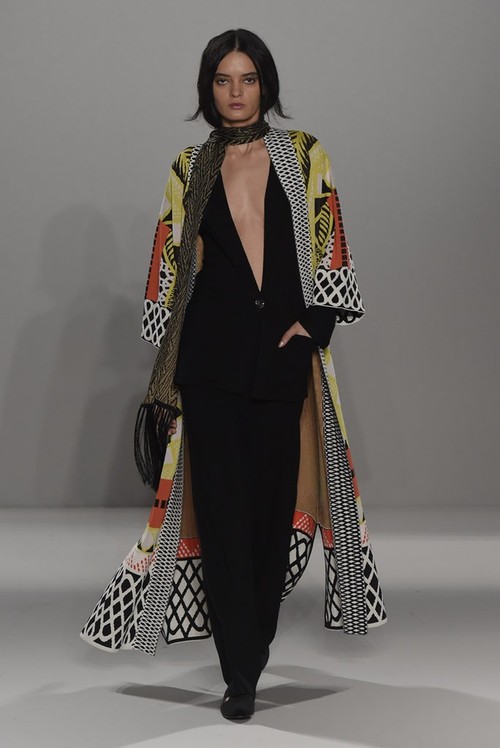 A languidly tailored suit with a plunging neckline is accessorized with a men's dinner scarf, and a cashmere jacquard coat for an effortlessly elegant look. The oversized coat is a contemporary take on Art Deco with strong colors and boldly delineated stitching reminiscent of the decorative art style.
Temperley had a few close friends model her designs on the runway, with noticeably-pregnant, British model Jacquetta Wheeler, catwalking the designer's bronze micro-sequin slipdress, and model/author Sophie Dahl wearing a black velvet tuxedo dress. Her first time down the runway after a ten year hiatus.
The Temperley London customer is elite. Celebrities have worn her extremely luxe designs, along with multiple members of the royal family. Temperley was appointed Member of the Order of the British Empire (MBE) by Her Majesty the Queen in 2011 for her services to the fashion industry.
Temperley says of all her hard work in the industry, "Putting on fashion shows feels like getting married several times a year. You have so much to organize and then suddenly there's silence. I'm never sure what I'm meant to do the day after." Keep calm and carry on, of course.
By: Faye Harris