San Francisco is in for some gloomy weather this week. The key to staying comfortable is lots of layers, hot beverages and fun things to do. Sometimes you just got to take responsibility for providing your own sunshine on cloudy days! Wrap yourself in some beautiful scarves and venture out for these art-tastic activities.
Tuesday, April 11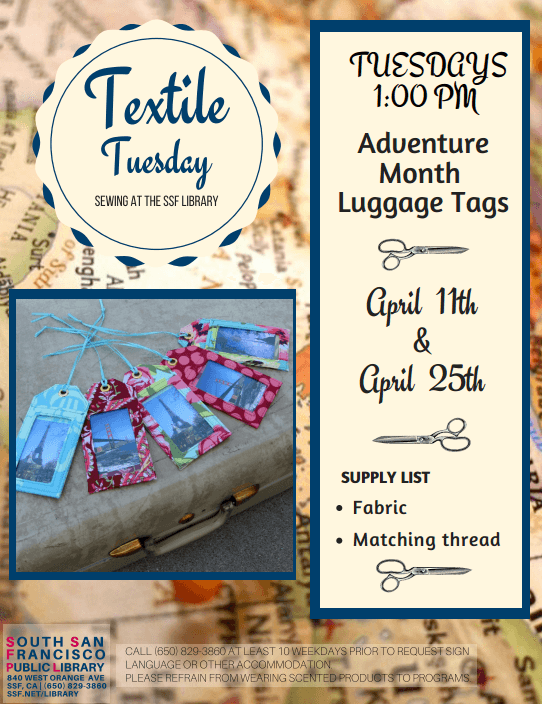 Textile Tuesday: Adventure Month Travel Luggage Tags
1 pm – 3 pm
Cost: Free
Love to sew? Check into the South San Francisco Public Library to indulge yourself in some sewing projects. First-timers will start a project assigned by the workshop staff.  Thereafter the last is open to participants to finish prior Textile Tuesday projects or bring in their personal works-in-progress. Creative luggage tags are the item of the month to celebrate travel and adventure. Make new friends, learn new shortcuts and tricks, share your knowledge and creativity with the whole group!
Wednesday, April 12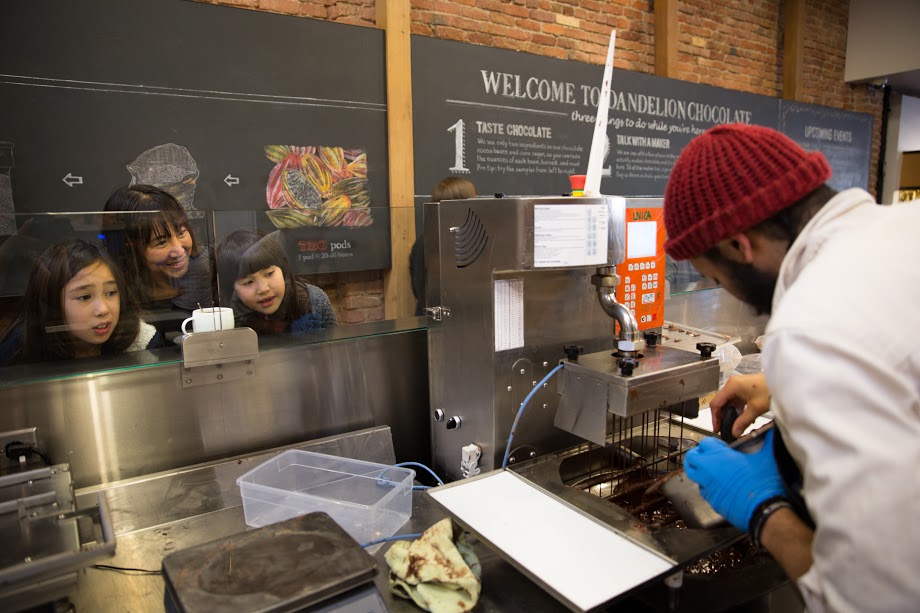 Dandelion Chocolate: Factory Tour & Guided Tasting
6 pm – 6:50 pm
Cost: $5
Ever wonder how does chocolate come to be so delicious?! This bean-to-bar introductory tour will literally walk you through the process. A member of the Dandelion team will explain each how and why step in an actual working chocolate workshop! The production is paused for the day by 6pm, so you'll see videos if certain machinery isn't running. Proper footwear with closed toes is required. If you bring a friend named Charlie to this chocolate factory, you may just get extra brownie points!
Thursday, April 13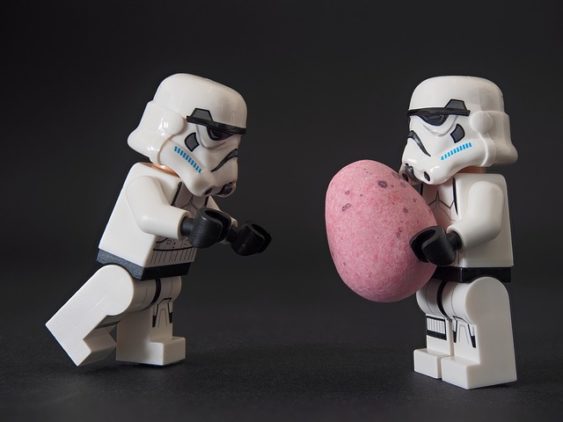 Lego Club: Make & Create Space Stations
4 pm – 5 pm
Cost: Free
Take your imagination to the stars and build a space station! You can model your own fantastic outpost or tackle the International Space Station replica. For research beforehand, feel free to watch the new (really scary) sci-fi thriller Life that takes place on board the ISS. Monthly themes are suggestions; free design is always encouraged. Duplo bricks provided for children, in case you bring your younger brothers and sisters for some futuristic siblings bonding time. The works are displayed on premises until the next Lego Club meeting.
Friday, April 14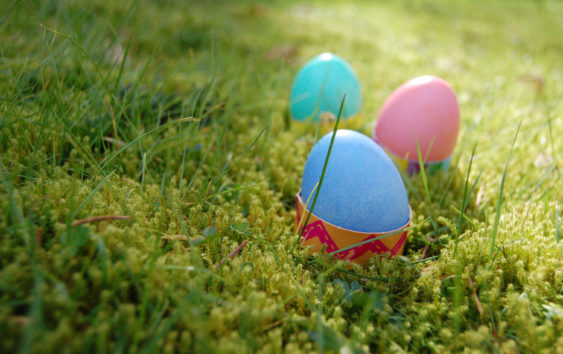 Spring Easter Egg Hunt @ Pier 39
4 pm – 6 pm
Cost: Free
The iconic Pier 39 is turning thirty-nine years old this year and to celebrate the occasion, you're invited for thirty-nine Fridays of cool activities! Fresh seafood with amazing views, unique local shopping bargains, and special events featuring their famous sea lions. Easily the best location for a traditional Easter egg hunt! Come on a solo mission or bring your friends for a team effort.
Saturday, April 15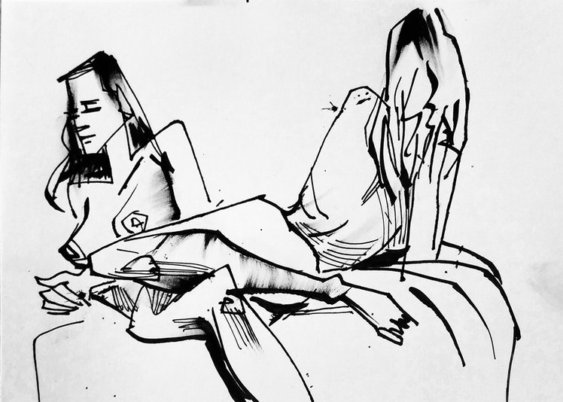 Sketchboard: Figure Drawing Art Class & Live Music
2 pm – 5 pm
Cost: $5 – $15
Want to try some new drawing techniques while practicing your skills? Come to the Monument (140 9th Street) and help boost the Upper Haight art scene one creative community event at a time. Figure drawing accompanied by live musicians takes place every third Saturday of the month. There will be an opt-in instruction on drawing from life during the first 30 minutes. While few easels and materials are available for drop-ins, everyone is encouraged to bring your own supplies if you can. Good idea for a good cause!
Sunday, April 16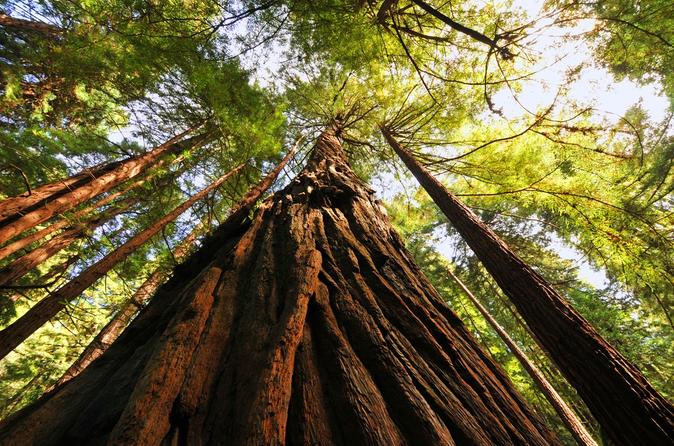 North Bay Sunrise Tour of Muir Woods
6:30 am
Cost: Free
Early bird gets the worm; and you're guaranteed to score some Instagram magic on this guided sunrise tour through the Muir Woods National Monument. While setting the Sunday alarm clock for dawn might seem just plain ol' wrong, it is a particularly beautiful time to visit an old-growth redwood forest. You'll learn about the indigenous plants and animals, and be able to snap some amazing close-ups and panoramas. Dress warmly, ideally in layers, and make sure to reserve a spot by calling (415) 388-2596.