San Francisco runs on faith in the extraordinary. Its creativity never ceases to amaze. We offer these highlights weekly in the spirit of "sharing economy" that's taking the country by storm and transforming entire industries and the way we experience urban living. This week, you can explore spirituality through dance, learn about the fascinating lives of (extra)ordinary people through film, partake in a feminist art happening, and much more.
Tuesday, November 7
Get Stress Off Your Chest
Where: Expand.Yoga, 482 Potrero Avenue, San Francisco, CA 94110
Cost: Free
Calling all ambitious millennial girls aka @supergirlssf! Whether you're stressing about classes, feeling pressure to do well in a new job or looking to unwind through guided meditation, this class is designed to invite gentle fun into your life. Join a mind detox session to feel supported and empowered to push through all the inevitable challenges with a touch of strength and joy.
Wednesday, November 8, 3:45 pm
Franca: Chaos and Creation
Where: Castro Theater, 429 Castro Street, San Francisco, CA 94114
Film Only: $10
Film & Prosecco Reception in the Castro Mezzanine after the screening, 5:30-6:30pm: $18 (must be 21 or older for the reception).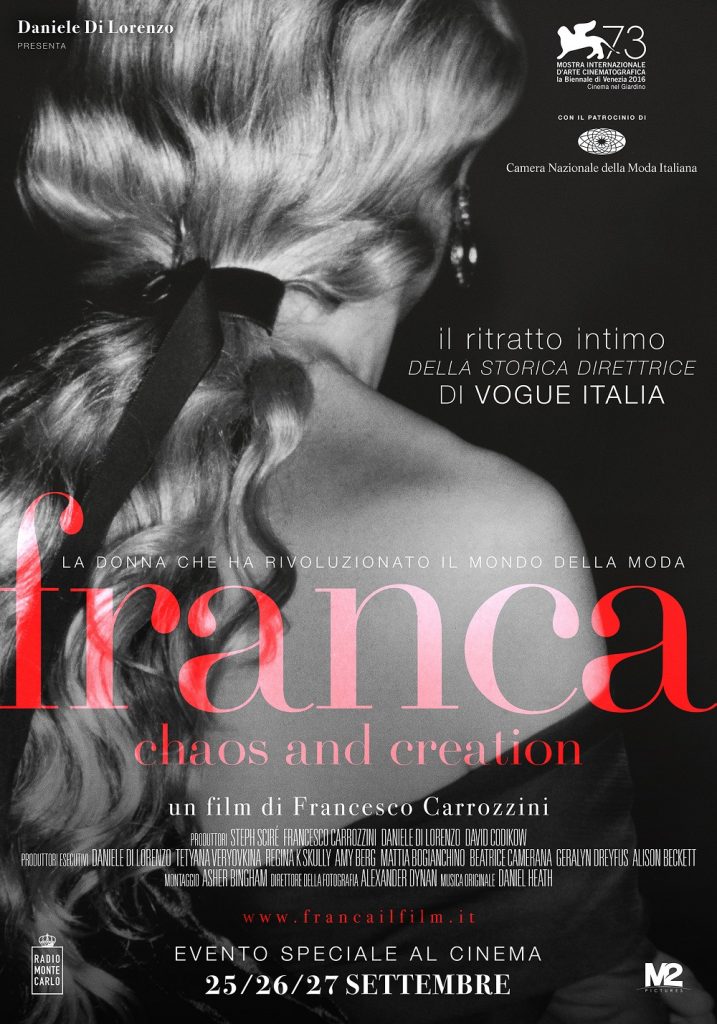 Co-presented by Academy of Art University School of Fashion, the New Italian Cinema Festival will pay a special tribute to Franca Sozzani, the late Editor-in-Chief of Vogue Italia. This documentary is an intimate portrait directed by her son Francesco Carrozzini. She turned the Italian edition of Vogue magazine into a worldwide cultural phenomenon through her unrivaled willingness to embrace controversial ideas and champion new voices and faces in fashion. Franca Sozzani set the editorial bar high and has launched many groundbreaking careers. Book your seats online. This film is a must-see for any fashion enthusiast. A discussion and Q&A session will follow the screening with Simon Ungless, the Executive Director of the School of Fashion at Academy of Art University, and Tony Bravo, Style Writer at San Francisco Chronicle and SF Gate. In addition, there will be an installation of select pieces from the collections of Academy of Art University recent graduates Nina Hui, Jiran Xia, and Laura Hidaka.
The Italian Cultural Institute of San Francisco (Istituto Italiano di Cultura) and New Italian Cinema Events of Florence, Italy present New Italian Cinema, November 8 -12, 2017. The festival opens on Wednesday, November 8 at the Castro Theatre, 429 Castro Street in San Francisco and then continues Thursday, November 9 to Sunday, November 12 at the Vogue Theatre, 3290 Sacramento Street in San Francisco. Celebrating its 21st year in San Francisco, this annual presentation of dynamic cinema will bring Italy's newest directors and the country's veteran filmmakers to Bay Area audiences, who will have an opportunity to experience the richness of Italy's cinematic treasures. For more information, visit http://newitaliancinema.org
Thursday, November 9
Dark + Light: Jay Blakesberg Rock & Roll Photography
Where: Harvey Milk Photo Center, 50 Scott Street, San Francisco, CA 94117
Cost: Free
Who are your favorite rock 'n rollers? Chances are that photographer Jay Blakesberg has documented them on tour or in portrait sessions over the course of his 40+ years in the music industry. He began taking photographs at age 16 with his father's camera and spent years traveling the world on assignments for Rolling Stone magazine. "I have felt for a long time that what I was doing is visual anthropology," explains Blakesberg.  "I truly believe that the modern day rock and roll experience is a unique tribe whose story should be documented and told. I hope these photos help tell this story!" The first personal gallery exhibition features 120 rare images. Queue up your music player and spend a couple hours with the music legends like BB King, Neil Young, Carlos Santana and others. For more information and opening hours, check out the website.
Friday, November 10, 6:00 pm – 8:00 pm
Spectacle – Ingrid V. Wells Solo Exhibition
Where: Glass Rice, 680 8th Street, Suite #240B, San Francisco, CA, 94103
Cost: Free
Check out this exhibition and other events at this gallery space!
San Francisco based artist Ingrid V. Wells investigates the idea of the feminine spectacle. The bright, colorful, sparkling oil paintings "deliver a feminist message, commenting on the ridiculous lengths that women must go through in order to achieve equality and respect. This line of inquiry speaks to the pressure of maintaining the ideal woman's voice as charming, precious, and small. Together this work aims to provide a place of subtle reflection and ultimately to dismantle the patriarchy (in the sweetest way possible)." Check out this exhibition that runs until December 16th and other events at this gallery space!
Saturday, November 11
San Francisco Transgender Film Festival
Where: Roxie Theater, 3117 16th Street, San Francisco, CA 94103
Cost: $12 – $15 sliding scale. $65 Festival Pass.
The San Francisco Transgender Film Festival (SFTFF) is celebrating 20 years of screening films that promote the visibility of transgender and gender variant people and challenge the mainstream media's negative stereotypes of their communities. SFTFF provides opportunities for transgender and gender variant media artists, builds community through film and performance events, and engages audiences in cross-community dialogue.
For a complete list of screenings and ticket information, visit the official website. Please, note that the 9:00 pm show is closed-captioned for deaf and hard-of-hearing audiences.
Sunday, November 12
Sweat Your Prayers
Where: Presidio Performing Arts Center, 386 Moraga Avenue, San Francisco, CA 94129
Cost: $15
There are many ways to experience spirituality. Prayer is one such practice. In some cultures, spiritual ideas are expressed through movement. Choreographer Gabrielle Roth guides her students through prayer via dance in pursuit of dreams and wishes. "Sweat is an ancient and universal form of self-healing, whether done in the gym, the sauna, or the sweat lodge. We do it on the dance floor," says Gabrielle. Participants in the weekly class explore five stages of rhythm and movement: Flowing, Chaos, Lyrical and Stillness. To learn more about the practice and sign up for a session, visit the City Waves website.
Text by Marisa Bojiuc, MA Fashion Journalism & FSD Fall 2017 Intern