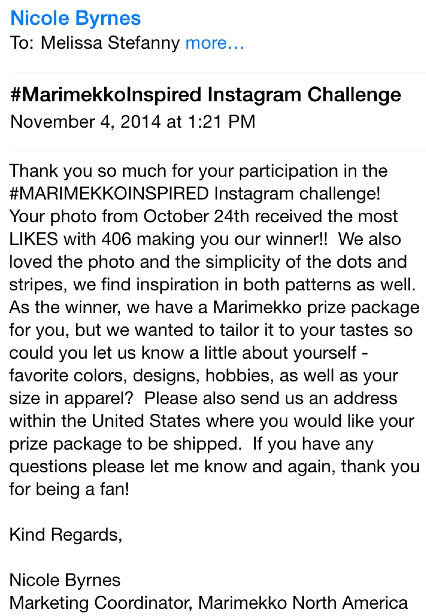 Marimekko, a Finnish company famous for their brightly colored fabrics and original prints, issued a challenge on Instagram. The challenge was to take a photo of an inspiring image found in everyday life. The photo that got the most likes on Instagram would be named winner.
With 406 likes, Textile Design Major Melissa Steffany won the challenge. She will receive a Marimekko prize package valued at $500 and add a very impressive award to her resume.
Melissa, who is a fan of Marimekko's style, was introduced to the brand by one of her textile instructors, Jennifer Jeon. Since then she went to visit their Palo Alto store and has been following them on Instagram ever since. In September, she learned about the contest and entered four photos. Her last submission was the winning photo and can be seen below.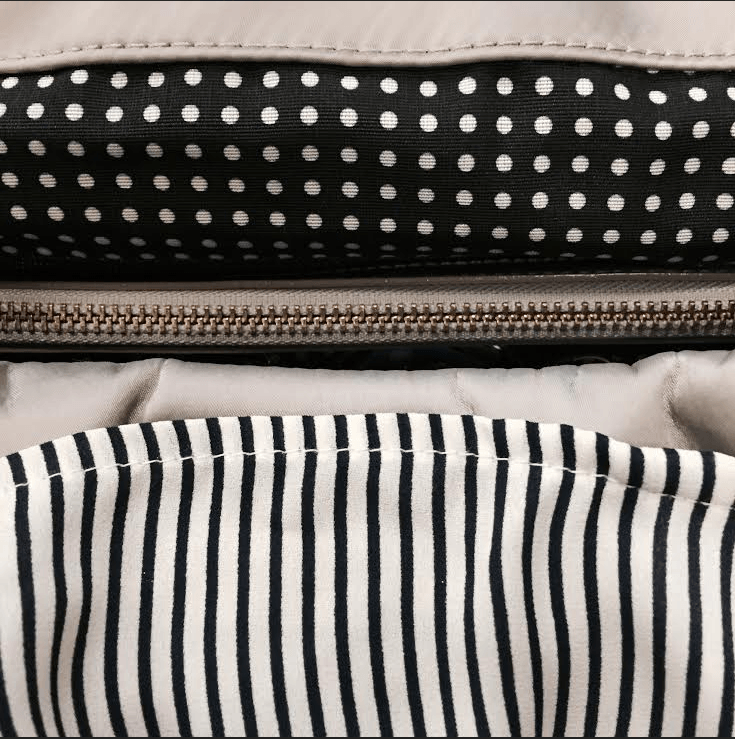 Melissa Steffany, who is expected to graduate in May 2015, told Fashion School Daily about how she got the winning photo and how she felt when she knew she had won.
Fashion School Daily: How did you learn about the #MarimekkoInspired Instagram Challenge? What inspired you to participate?
Melissa Steffany: One of my textile instruction; Jennifer Jeon introduced me to this brand since my work is similar to Marimekko's. After she told me about Marimekko I checked out their store in Palo Alto and started following their Instagram account. I don't remember the exact date, but around the last week of September 2014, they announced their contest through their twitter and instagram accounts. I was very excited about it! I did it for fun and also because I love Marimekko's style. I hope that I can someday work for them.
FSD: Tell us a little bit about your entry in the contest and how you picked the photo that you Instagrammed? 
MS: I uploaded four photos total to the contest. Since they were looking for photos that surrounded and inspired me in my everyday life, I took photos of architecture, nature, my sketchbook and anything else that reminded me of Marimekko! It wasn't hard for me to pick the photos that I wanted to post, because Marimekko's style is similar to my own; colorful and simple. The photo that I won with is a texture and pattern that I got from my bag's inner lining, zipper, outer case and my t-shirt. I was on Bart and was inspired to capture it on accident, it was not planned! I saw it and it reminded me of Marimekko and I thought it would be perfect for the contest. It was just a moment that somehow felt perfect. It was my last photo that I entered. I uploaded it on October 24th, a week before they closed the contest.
FSD: Were you surprised that you won?
MS: Of course! I was shouting when I read the e-mail! It was a mixed feeling though, because the photo that won with I didn't create specifically for this contest, it wasn't the one that I was necessarily looking for. When I took the picture, I got a 'click" feeling that it was the perfect one and it was!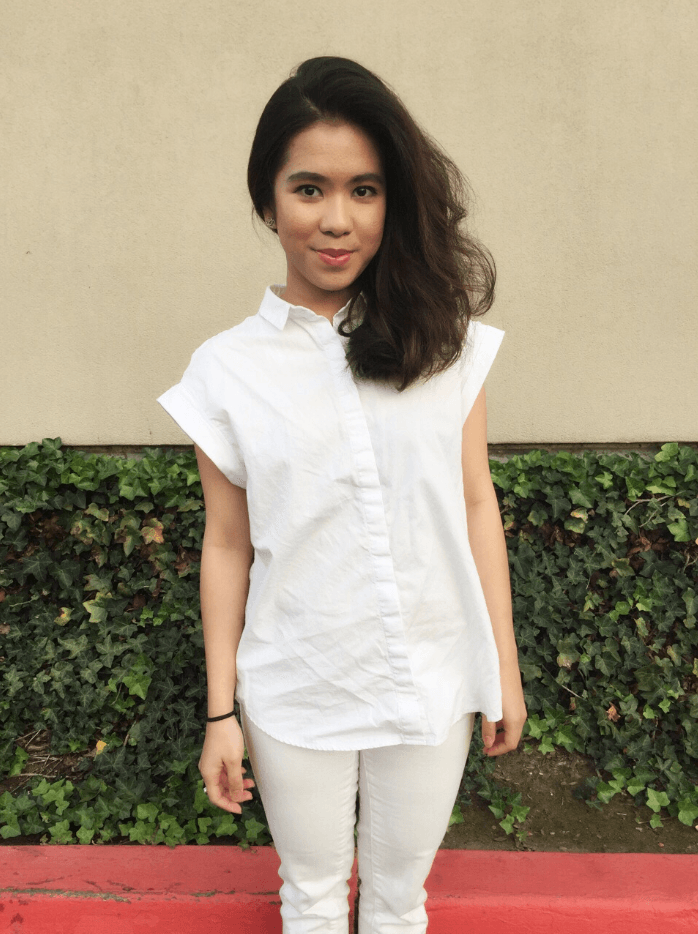 FSD: Are you currently doing any working or doing an internships?
MS: I am still looking for an internship, but I am currently a freelance textile design and illustrator. My latest project was designing a fashion app. It will launch soon and it's called 'Voila'.
FSD: How do you think winning this contest will impact your future?
MS: Marimekko really suits my textile style and I would love to work there. This is a great opportunity for me. Besides my gift package, a member from the corporate offices is going to give me a tour of their New York flagship store in December. She is going to meet with me in person, since she knows I am a Textile Design Major. Hopefully, this is the beginning of my journey in the textile industry.
Congratulations to The Academy of Art's Melissa Steffany, winner of Marimekko's Instagram challenge! Follow Melissa on Instagram @melissastefannys and see what other inspirational photos she comes up with!
By Tess Collins