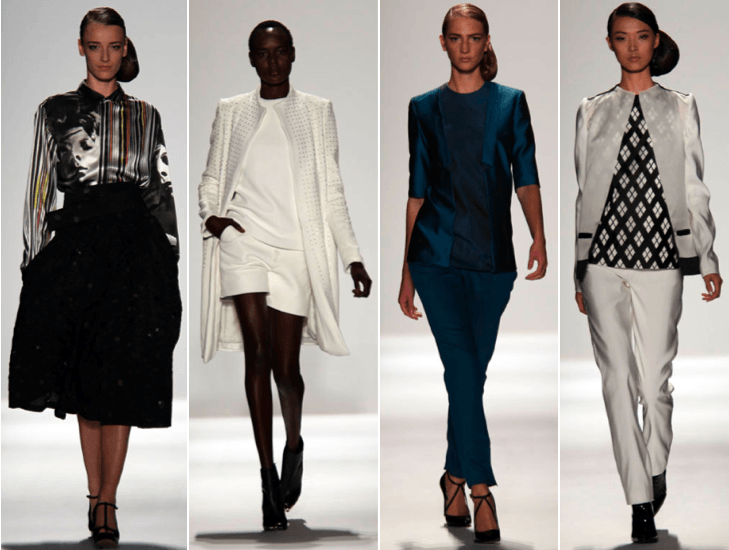 Looks from the French Textile Collection, Iglika Vasileva Matthews, Jisun Lee & Liza Quiñones, and Yanfei Fan. Photo Courtesy of Randy Brooke/WireImage.
For my second stint at Mercedes-Benz Fashion Week I was most eager to see what the Academy of Art University had to bring. I arrived at Lincoln Center on Friday evening with the stylish boyfriend in tow, decked in our finest fashion forward outfits. The lobby was a buzz with the newest Mercedes Benz models on display, a VIP cocktail lounge and a swarm of photographers in a frenzy over the hottest celebrity to walk in the room.
Once the theatre doors opened I wormed my way into the second row and waited anxiously for the show to begin. The French Textile Collection was the first to present, this was a collaboration sponsored by UBIFRANCE, the French Trade Commission, and designed by eleven fashion students consisting of: four MFA Fashion Design students, five BFA Fashion Design students and two BFA Textile Design students. There were a variety of edgy prints, colorful pieces and statement dresses.
Follow the jump to read more!
The show then proceeded with eight women's wear collections. I was surprised to find that all of the designers were women. I was thoroughly impressed with the impeccable tailoring on most of the garments. Iglika Vasileva Matthews is definitely a designer to look out for. All of her suede pieces were wearable and extremely chic. I couldn't help o0o-ing and ah-ing at the beautiful dark green and turquoise silk suits designed by Jisun Lee with textiles by Liza Quiñones. Yanfei Fan did an incredible job of presenting bold contemporary checkerboard looks with the use of feminine feathers and tailored silk.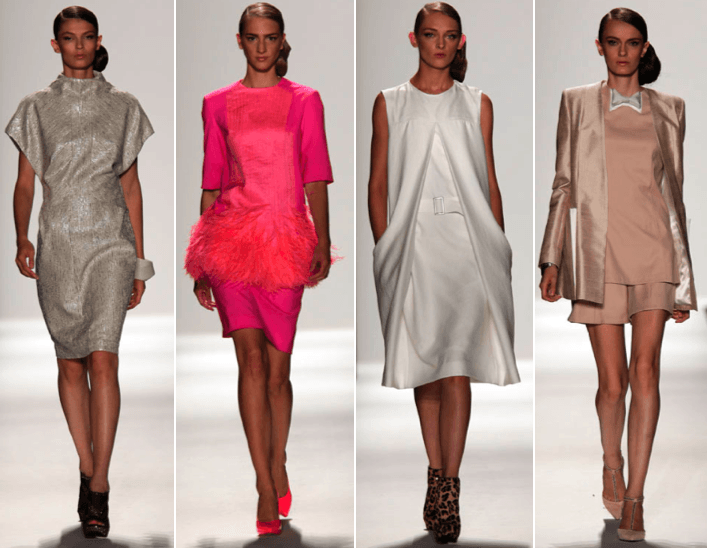 Looks from Jie Jessie Liu & Tanja Milutinovic, Ginie C. Y. Huang, Stephina Touch, and Jarida Karnjanasirirat. Photo Courtesy of Randy Brooke/WireImage.
Jie Jessie Liu designed innovative necklines combined with playful prints by Tanja Milutinovic. My eyes just about bulged out of their sockets during the rainbow procession, designed by Ginie C. Y. Huang, that illuminated the show. It was a parade of perfectly structured suits and dresses all in solid bright colors, complete with generous feathers. Stephina Touch presented a stunning all-white collection. I was intrigued by the mix of thick belts and sharp collars with flowy shapes. Although all the pieces were done in the same white fabric she was able to give each look a story that was brilliantly executed from top to bottom. Jarida Karnjanasirirat was able to create unique 3-D structures through extended forms on the collars of each garment. She cleverly chose silver and champagne silk colored fabrics that gave off a futuristic metallic feel.
The show did not disappoint, and the audience cheered for the stream of forthcoming female designers. It was a proud day to be an Academy of Art University student.
Written by Ashley Castanos, MFA Fashion Journalism.