It was all about transformation at the Academy of Art University Fall 2015 Mercedes-Benz Fashion Week show. Sculpting and shaping were the hot beauty trends being applied to models.
The scene backstage at Lincoln Center on the day of the show, Valentine's day,  was extremely fast paced yet organized, with a huge number of people working to complete varied tasks all within a short span of time.
Each station backstage was arranged in a systematic way for efficient, speedy work for this large scale production. To get every facial feature covered in the short time allotted, multiple artists worked on each model simultaneously. One makeup artist worked on makeup while a hair stylist perfected the model's hair.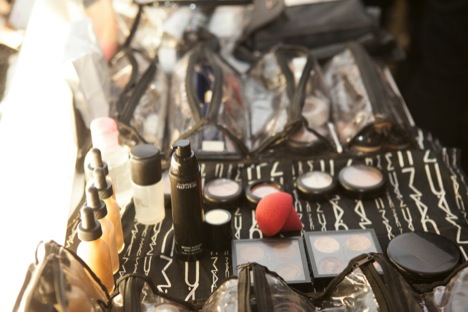 MAC has always been my go-to source for every event and styling shoot that I have produced while attending Academy of Art University so I was thrilled when I found out that Victor Cembellin, senior makeup artist for MAC Cosmetics, would be the lead artist for the show creating the looks together with the MAC PRO team. With over 20 years of industry experience, Cembellin's credits include freelance editorial makeup artist, educator at the Academy of Art University and also Senior Makeup Artist for North America at MAC Cosmetics.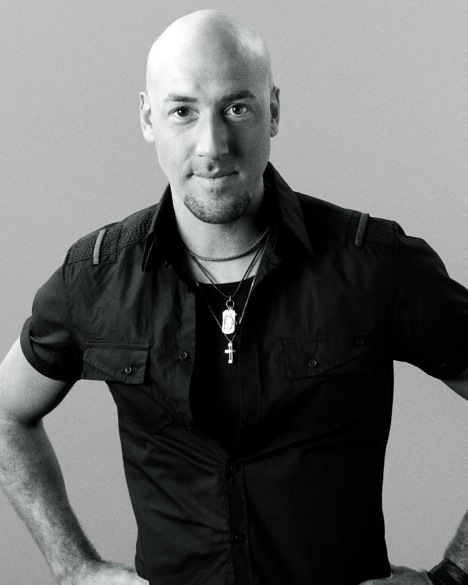 Backstage Cembellin masterfully created the looks on the models using several key products, including MAC Cosmetics Studio Waterweight Foundation, which will be released in the fall. "This season we are playing with architecture, we are playing with the shapes of each of the models eyes, " explained Cembellin.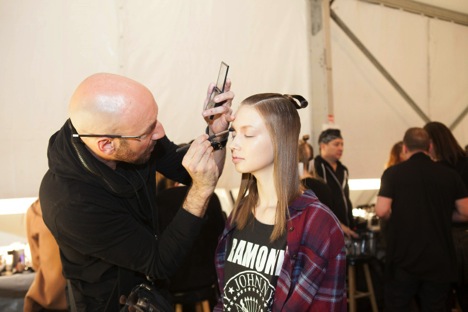 To get this look, the MAC Pro Team played with several products. 'Baby Don't Go' is their sculpting product along with a cream colored base from MAC called, 'Hush'. Instead of playing with color, the team of artists experimented more with placement, shapes and tones. It was all about sculpting and adding a dynamic shape to each of the model's eyes.
Complementing the sculpted makeup look was a sleek, almost wet-looking hairstyle with a samurai knot dreamed up by hair guru Jon Reyman for Aveda.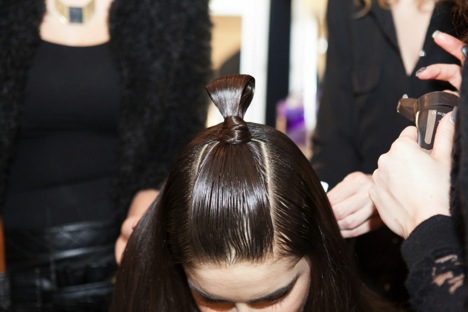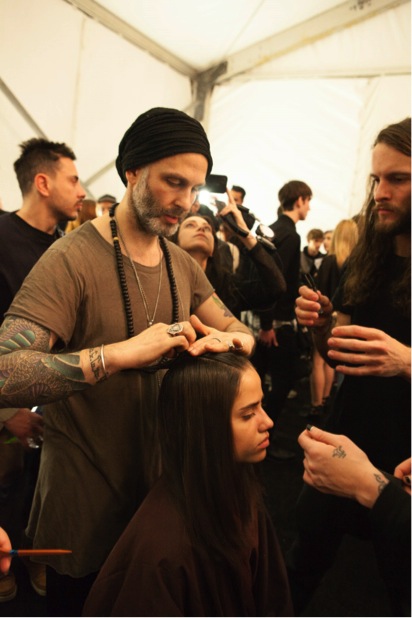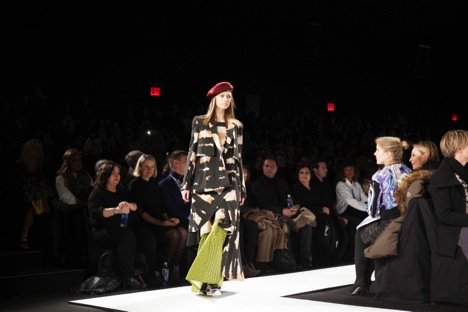 I was able to steal a few minutes of Cembellin's time to ask him a few questions, these were his responses:
Jeanie Walsh: How do you start your day?
Victor Cembellin: I enjoy taking my dog, Pinto Bean, for a walk in the morning, carving out time for a coffee run, and if I'm good, going for a quick jog.
JW: How many years now have you been the makeup artist for the Academy of Art University shows?
VC: The first time I keyed the Academy's show was New York Fashion Week Autumn/Winter in 2009. I have been privileged to connect with Simon Ungless and so many other wonderful talents. There have even been lavish editorial spreads, covers of countless magazines, and the honorable opportunity to become an instructor at the Academy of Art University itself.
JW: What was the inspiration behind the look for the Academy of Art University Fall 2015 show? Where do you draw your inspiration and ideas from?
VC: It's the designer's moment to showcase their signature collections, so it's important to create a look that complements while creating continuity throughout the show. As a makeup artist, I have always considered myself a storyteller who draws inspiration from various sources. This season I wanted to tell a moody beauty story with a nod to 1990's supermodels by using the architecture of each model's fa­ce as the focal point.
JW: Which products did you use at the Academy of Art University Fall 2015 show?
VC: The star products for the AAU show were MAC Cosmetics Baby Don't Go Pro Longwear Blush to sculpt cheekbones, MAC Cosmetics Coquette Eye Shadow to define the eyes and create a bit of mood and androgyny, MAC Cosmetics Hush Cream Colour Base for natural highlighting of facial contours, and MAC Cosmetics Studio Waterweight Foundation to invisibly conceal and neutralize lip tones.
JW: What are some other shows that you are creating the look for this season?
VC: MAC Cosmetics is supporting over 70 shows this season in New York alone. There are a lot of different looks, but at the same time, a lot of consistency backstage. Personally, I'll be working on Carolina Herrera, Rachel Zoe, and Oscar de la Renta. I also designed the look for the 45 male models at Perry Ellis.
JW: Do you have any runway beauty tips that can be used for street wear beauty?
VC: One of the biggest beauty buzzwords right now is "reality." The makeup trend is to visibly improve and reveal your best features without necessarily trying to change your look. This can easily be achieved with a product like MAC Cosmetics Studio Waterweight Foundation, which provides coverage that appears virtually invisible to the naked eye.
JW: What are the biggest beauty trends right now? What color palette and products are currently trending?
VC: Last season we celebrated minimal makeup. Bridging into fall, we're keeping skin clean and fresh but adding signature statements like a bold lip or a strong liner. In terms of color, we're seeing black liners replaced with graphite, pastels with shots of grey added to create a unique tonality, and the return of metallics.
 JW: What are five things you're loving right now?
VC: 1. Matte Lips: Watch out for this trend and for the new MAC Cosmetics Retro Matte Liquid Lipsticks, which are being sported all over NYFW.
Individuality: Fashion and makeup have become so much about celebrating identity and creativity.
Classic novels: Because they force me to put the iPhone down.
Food: I'm attempting to become a "foodie" (although it's a bit expensive to dine out in San Francisco).
Hair: I have purely done makeup for 20 years and I'm now trying to learn the basics of hair
JW: Was beauty something you were always interested in? Where do you see yourself headed in the next few years?
VC: I actually discovered beauty while performing in theatre back in high school. I immediately loved makeup's transformational qualities. This was during the time when artists like Madonna would use fashion, hair, and makeup to redefine their identity for a brief moment. I knew I had to be a part of that magic.
Only time will tell where I'm headed. It's so unclear where I may find myself working or travelling to next, but this marks my 20th year with MAC Cosmetics. Another role I love is working at the Academy and lending my experiences to emerging artists who are embarking on their creative journeys.
Follow Victor Cembellin along in his career with MAC Cosmetics on Twitter at @MAC_Victor_C and on Instagram @victorcembellin.
By Jeanie Walsh, MFA Fashion Journalism
Follow my blog, 1Trendii as I share my experiences of working in PR at the School of Fashion. My cousin Stacy Murphy, a Boston-based photographer, flew in to help me capture the backstage energy to share with all of you. We created a short video of backstage footage from the Academy of Art University Fall 2015 fashion show at Mercedes-Benz Fashion Week (MBFW); in the video you'll find interviews with lead makeup artist Victor Cembellin and his MAC PRO team, Aveda lead hairstylist Jon Reyman, School of Fashion Executive Director Simon Ungless and many more.